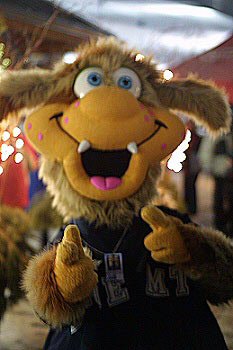 Words and photos by Mike La Anyane
Last weekend, Blue Mountain held its second annual BoardSports Swamp n' Slide event in the Village at Blue Mountain, Ontario. The Swamp n' Slide was an invitation-only rail jam set up for the winners of Blue's Wednesday and Friday night competitions. Top riders who had placed in other previous competitions at Blue throughout the year were also invited to register for the event. The course consisted of a kinked box, wall ride, and a flat rail set up over a "swamp�. Riders sessioned the course in the afternoon, and nine were chosen to ride in the finals later that night.
NSC rider Charles Grant tames the swamp.
The finals began at 9:00pm that night, as crowds of spectators gathered around the course to watch. People in the village condos came to their balconies, and eager spectators pulled out cameras. The competition was set up in a sort of jam format, where riders were free to hit the course when they wanted while they were judged. After a brief delay while the final preparations were made, the competition began.
A competitor slides the kinked box.
Most of the skiers opted to hit the flat rail above the swamp. NSC rider Doug Bishop, however, decided to step it up by attempting 450s onto the kinked box. Unfortunately, he didn't stick any until the competition was over, but still managed to land himself in fourth place. Third place went to Alex James with a switch 270 onto the kinked box. NS Clothing team rider Charles Grant came in second after hitting the flat rail with several switch-ups and switch on, 270 outs. First place went to thirteen-year-old Spencer Schnarr, who was throwing switch-ups on the kinked box, 270s off of the flat rail, and one-footed wall rides. All the competitors in the finals received prizes after the event as a reward for the excellent skiing.
Jodi Cooke shows that girls have swamp steeze, too.
Final Results
Men
1. Spencer Schnarr
2. Charles Grant
3. Alex James
4. Doug Bishop
5. Zack Shields
6. John Sobei
7. John Kennidy
8. Max Hill
Women
1. Jodi Cooke
The Blue Mtn. mascot hits the kinked rail.
OH SNAP!