Badass, hardworking, sincere, pioneer, mentor, legend; behind these and the slew of other adjectives lies one of the most OG people in skiing, Jimbo Morgan, founder of Tomahawk International. Jimbo's network reaches through all of action sports and beyond, this is a man that has truly done and seen it all. This is no exaggeration, his list of accomplishments runs far too long to include in just one article. The list includes: being a member of the very first North Face Extreme Team, starting and naming the K2 Factory Team, being a member of the factory team for skiing, snowboarding and telemark at the same time, skiing in the 1992 Olympics, being a founding member of Electric Visual, and of course the starting of Tomahawk International in 2006. Jimbo has been an innovator from the beginning, from his roles with Electric and Skullcandy all the way back to the 1980's when he was one of the first people to do grabs on skis. Former Powder magazine editor Steve Casimiro once told Jimbo that he wouldn't run shots of him grabbing his skis, because "POWDER isn't a snowboarding magazine". Defying critics such as these has kept Jimbo true to skiing and true to his beliefs. This passion and innovation shows only a glimpse of the experience and impact that Jimbo has brought to snowsports over the years.
Despite these great achievements, Jimbo's name isn't one you'll see in the news running his mouth; ask an average skier on the mountain and its pretty likely that they don't even know who he is. Jimbo has never had a large public persona, having only completed one full interview in his lifetime, recently with Heckler Magazine This interview came with one stipulation, Jimbo's answers were not be altered in any way. The publisher's choice to change and cut Jimbo's responses, a fact that is still denied to this day, has left him with a bitter taste for the media, bringing about complete media silence. While this may seem extreme, the incident only further reinforces Jimbo's passion for snowsports and the lifestyle that accompanies them. Since the Heckler Magazine interview, Jimbo has plain and simple let the brand and the lifestyle he has created do the talking.
This lifestyle reaches far beyond Tomahawk International and deep into the hearts and souls of the people that are a part of it. Athletes, friends and family do not make up a team and supporters, but the Tomahawk International tribe. This tribe is represented in two simple words: Bleed Black. Simple they may be, yet they carry the weight of many. But what do they mean? We don't need Jimbo to tell us, the tribe speaks for itself.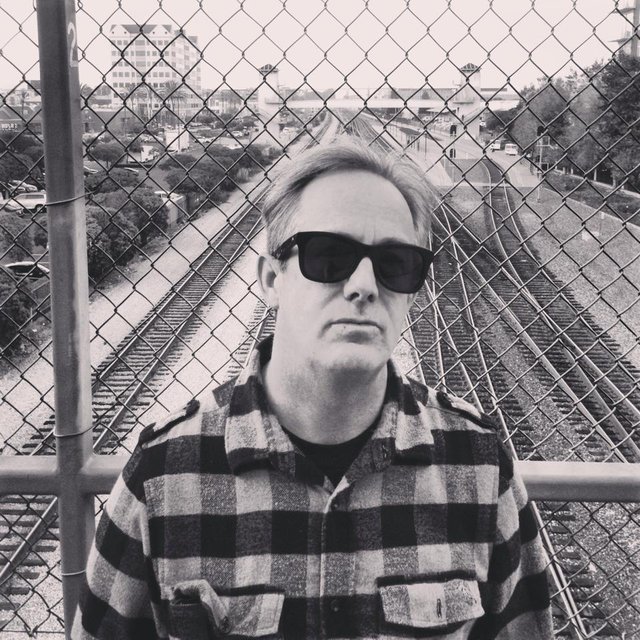 Parker White:
How long have you known Jimbo?
I've known Jimbo for almost Ten Years. Ever since he gave me my first pair of Electric goggles at the V.T. Open back in the day.
What can you tell us about Jimbo that others might not know?
He is an OG from an Industry who has re-invested himself and everything he has back into that industry. He's won professional events in both Skiing and Snowboarding. Father and Husband, Not to mention he's one of the proudest, most straight-shooting, hardworking person's I've ever met. No bullshit wit that guy.
Can you tell us a story about your travels together?
Haa.... Some of them not really.... One really good one though was our Flight to Japan together. One of the flight attendants (Old Mexican dood Manny) sarcastically asked Jimbo how he could get a pair of the $250 pair of Headphones he had around his neck. Jimbo took them off and just gave 'em to Manny. He said he was kidding and Jimbo said he wasn't hahaha. The flight attendant put us in our own room in the back (me, Jimbo, and T-Rains) and fed us free liquor the entire flight in-interrupted. After a while Jimbo had convinced a concerned Fiancé, who was meeting his Japanese father and mother in law for the first time, how fucked he was for all of his Chinese tattoos. "They're moral enemies, the Chinese and Japanese" he said. "Plus tattoos are taboo in Japan anyways, only the Yakuza have them and they're not allowed anywhere." "You know how many places Brad Holmes and I have been kicked out of for our tats.... You're fucked". Quite possibly re-lapsed this high school janitor, if nothing else definitely ruined any chance of a first impression. At the end of the flight Manny gave Jimbo a bag full of Wine, Champagne, and Beer for his generosity. I'll spare the details of the rest of our trip and our interactions with the Australians in Niseko. There's not much of a point to the story actually but it's just funny and gives a little insight into who Jimbo is. Gives everything to his people or people he can tell are Good Hearted And sugar coats / spares no bullshit for anyone else. What a G.
Jimbo rarely appears in the media and has a very mysterious public persona. Who IS Jimbo Morgan?
You don't see Jimbo in "public" or in "the media" because he is working his ass off 24/7. He doesn't have time for Parties or Events. You see his creations and his people in those places. Jimbo Morgan is an OG, straight up and down. One of the most sincere, hardest working doods I have ever known
Where is Tomahawk going? Onto the backs of all our fans. kids and people, who are down to support a real industry and movement directly.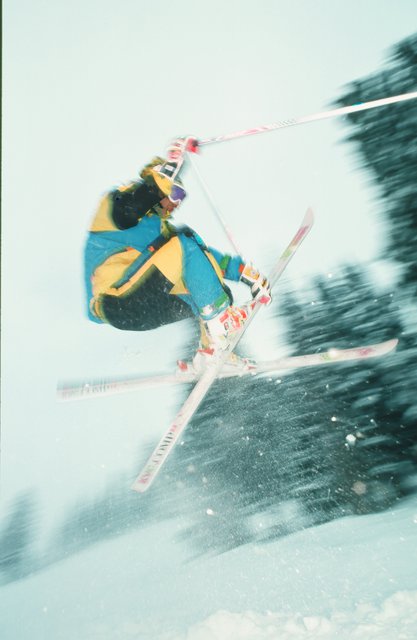 Jimbo grabbing mute before it was even called a mute circa 1987.
These are the kind of shots that Powder wouldn't publish.
Photo: Christian Schneider
Chris "The Dahrkness" Logan:
What are your earliest memories of Jimbo.
First time I met Jimbo was at the VT Open in like 06/07. My Rossignol TM at the time, Paddy Kaye, introduced me. Jimbo was the Electric TM and was there filming and taking photos of Rainville. I had just made it into finals and Jimbo said something along the lines of, Alright man this is your try out, lets see what you got.
What could you tell someone about Jimbo they might not know or give us a story.
A bunch of years ago, Parker and I drove up to Tahoe from Mammoth to meet up with Jimbo. Berman was doing some filming for Turbo at Squaw, and Jimbo had talked him into letting us come up and hit some of the features. After filming one afternoon we all went down to Le Chamois, a bar at the base of the mountain where a ton of locals were partying. Parker and I were like 17 and 18. Two young looking skids with a couple pitchers of beer. Some guy turns to us and asks if we are even old enough to be drinking. Jimbo replies, There with me and they can do whatever the fuck they want. Dude just says ok, and we continue to party. Jimbo is a legend.
How has he helped you in your career?
He has and continues to play an enormous role in helping my career get to where it is today, and also just in my life. He was always pushing parkers and my name to the people at Electric. Helping us get an ad even before we were filming with level 1, and every year since then. Helped get us the opportunity to film with level 1. Helped us out tremendously with our new Big Picture project. He's just the fuckin man. Always lets us crash at his place up in tahoe. He was never just like a team manager. He's a homie, a mentor. I give him a shout just to say wudup, see how everythings going, have a good laugh. Hes always been somebody that I hit up when I need advise on anything ski related, or whatever. Jimbo's thing that he has always said to me is that he's not going to promise me anything, he is just going to work his ass off for me to try and get stuff to happen. And he always delivers. Always gets that shit done and never asks for anything in return. Like I said, Jimbo is just the fuckin man. A boss. A true OG and just the realest dude out.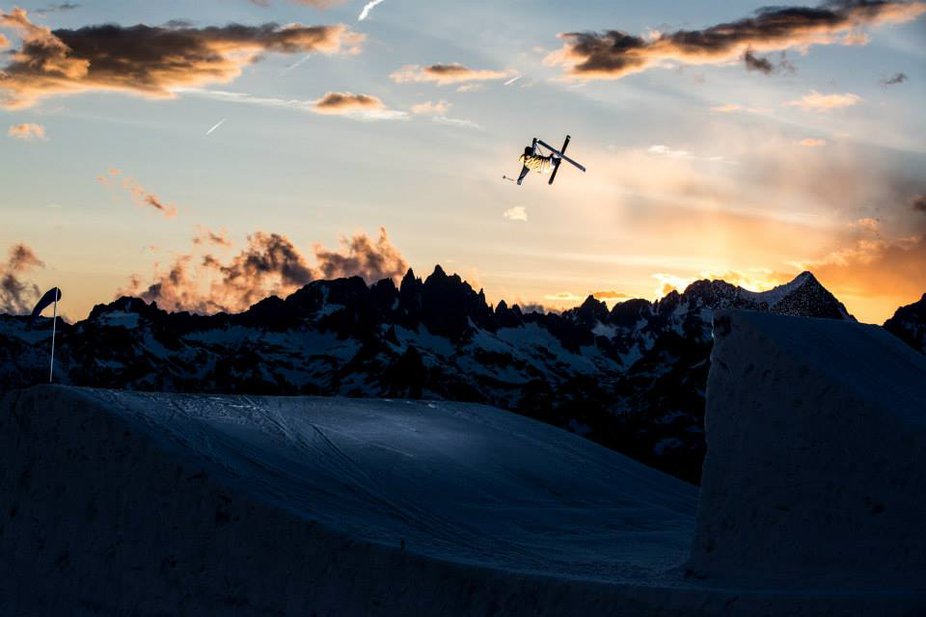 Chris at Mammoth Mountain
Bob Klein:
I am Bob Klein, I have been friends with Jimbo for about 25 years or so, he lived in Tahoe City and I grew up there. I am an agent and official title is Director of Snowboarding at Octagon, one of the largest sports marketing agencies in the world.
What can you tell our readers about Jimbo that they might not know?
Did anyone know that Jimbo became the driver of Shaun Palmer's tour bus on the first trip, because they found out the driver Palmer hired didn't have a license and they drove to Vermont for a MTB race, so Jimbo jumped in the driver's seat and was Shaun's road manager and bus driver. Not sure he was successful in "managing" Palmer, none of us has ever had much success with that.
Jimbo was also the manager and roadie for our band, Fungus. Palmer on vocals, legendary ski pioneer Brad Holmes on bass and old 7 Seconds guitarist Dan Pozniak on guitar. Jimbo was awesome, always down for a party. We played the Sacto skatepark once and it was before The Deftones were a big band. Palmer always insisted we only headline and I think the singer or one of the dudes in Deftones was pissed off that we were the headliners and their sound guy fucked up our show. Jimbo wanted to fight the drummer for talking shit and I was pissed at Jimbo for throwing gold away. He had a piece of Zelda's pizza that he discarded to try and fight the guy. I was more concerned about the pizza being wasted than fighting with the Deftones. Those guys suck anyway.
What is it with all you guys from Tahoe really being the forefather's of both the Snowboard and Ski movement and keeping it COOL?
I don't really know, besides we were all focused on having the most fun and pushing the limits as much as possible. It's the lake, the sky, the sun and the snow. It's the best place in the world. North Tahoe is pretty tight knit and if you have half way decent skills, you're going to be in the mix and everyone just has fun going for it and pushing limits. The terrain and snow helps a lot too…..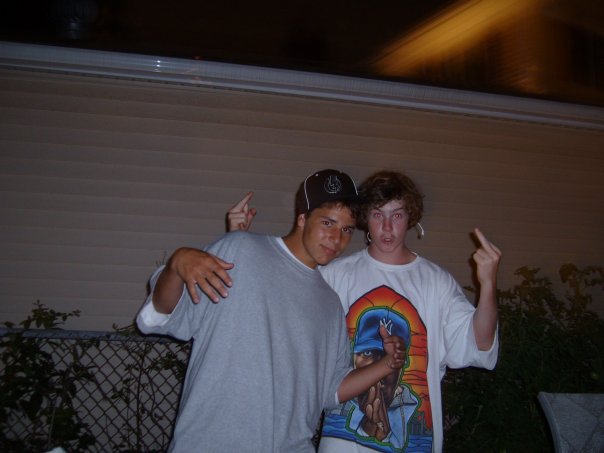 A young Parker White and Chris Logan circa 2007, the year they met Jimbo. The two have come quite a long way since then.
Jerry Logan:
Have you met or interacted much with Jimbo? What are your thoughts about him?
Years ago, I think it was at the VT open, he was searching out new talent. I know he spotted my son Chris and Parker White at the same time because they were both going to the Mt. Snow Academy and they were both competing. And I've interacted with Jimbo on the phone numerous times, and actually he was very instrumental in helping my daughter Devin, unfortunately when she tore her ACL and she was down in the dumps down in New Zealand two years ago. He helped mentor her, helped her instill the confidence, told her to get back up and dust her self off and get back in there.
Your son Chris attributes a lot of his success to Jimbo, in his role as a team manager and a mentor, how do you see their relationship?
He's been a superior mentor to Chris, he's help keep him grounded, trying to steer him in the proper direction, not to get caught up in a lot of the outside nonsense that could possibly creep in, I'll leave that up to your imagination. You can get chucked into the vortex pretty quick with the booze, the pot and everything else. He's been like a father figure to Chris. Not only on that basis, but the relationship between Sean [Logan], Chris and Parker formed The Big Picture this past year. He helped all three of them set that up. He told the exactly how to go about setting up the corporation, in fact he introduced them to his accountant, and helped them set up their whole business. Helping them navigate how to speak to potential sponsors, Rossi, Orage, Electric, so from that basis he's been terrific. He's been an innovator in the industry, you see what's gone on andyou see how he embraced good young talent, he has a great eye for that. I think he's really helped propel a lot of these kids and send them in the right direction.
What is it like to you, as a father, to see where your kids are and what they are doing now?
What drove you to bring your kids to the mountain in the first place? Did you ever see things ending up the way they have?
I loved skiing as a kid. I was fortunate enough to be working on Wall Street at the time, we were weekend warriors, we lived on Long Island and we would go to Mount Snow, we started renting a place up there. That was the first stop in Vermont and that was as far as I wanted to go, four and a half hours on a Friday night. It turned out that they had an exceptional weekend program that got the kids acclimated into it, and they really took to it. They started skiing at a very young age, probably four, five and six. Devin, I believe was two years old when she started. I never in my wildest expectations did I imagine it. All three of them, Sean, Chris and Devin went to the Mount Snow Academy, which I think really propelled them. They had some great coaching up there. They did very well in the Northeast Circuit when they were doing that, won a lot of events and that type of thing, and that really gave them the taste for what was going on. Quite frankly, never in my wildest expectations did I ever think the kids would go as far as this. I mean this all stated out as a weekend program, and I just couldn't be more excited to see all three of them pursuing careers in the ski industry.
Any other thoughts?
I really just want to get the point across of how much Jimbo has done for the kids, and what a great guy he is, and how grounded he is.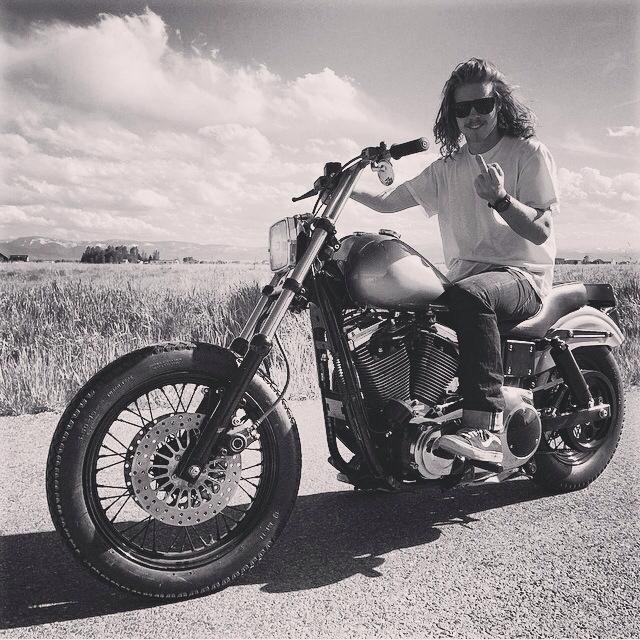 Chris O'Connell
What can you tell us about Jimbo Morgan?
I can tell you that Jimbo is awesome. He's so fun to hang out with, makes me laugh constantly. He's a well respected industry guy with a good golf swing and I think he once was a professional speed skier, so that's pretty awesome too. He's a ripping skier and he's been around the industry long enough to know where it all came from and that's important, it helps to know where you come from to understand where you are going.
What are your thought's on Tomahawk International?
I dig it. Cool brand and they have Ross the Boss Powers and Shaun Palmer on board, you can't beat that.
Jimbo says you and he have a special type relationship that if you call him to have your back on something or to shut someone down it pretty much happens without asking any real questions about why. It's just done. How refreshing is it for you to know someone of his stature has your back like that and yet you compete in the same arena?
It's a small industry and everyone has to help everyone else out. Armada wouldn't be here if it weren't for some other industry peeps believing in us back in the day and helping us change the sport, so we do the same when we can. I don't view it as competition, I view it as another brand growing the pie and growing skiing into what we believe it should look like. Most of the snow industry in general has each other's backs. It's the right thing to do.
Chris Jerard
First off, who are you? and what is your relationship with Jimbo? What do you do currently?
I've known Jimbo Morgan for 15 years. As one of the first guys at the inception of Freeskier magazine Jimbo was an important figure in the industry for us to know. So I got to know him. We got hammered a lot in the early days. Ask him if he remembers loading up at the liquor store with Jason Newell at the Bumps and Jumps in Steamboat.
I am the founder and CEO of a marketing agency called inkwell. We work with artists, athletes and brands to help them tell a better story and grow their digital audience to achieve their larger business goals. Via Inkwell I work with Travis Rice, Bobby Brown, Simon Dumont, the Association of Freeskiing Professionals . Outside of skiing my current passion is working as Chief Digital Officer for RESQWATER.
What can you tell us about the man behind the Tomahawk International brand?
He was an Olympian, a member of the first freeride team with K2 and a pioneer of the sport. As a photographer, editor and later Publisher of Freeskier it was always important to keep tabs on Jimbo. He was first a subject for my editorial work at the magazine, then a client for me as he consulted and guided advertising decisions for Skullcandy, Electric and Rossignol and along the way we have become close friends.
Where do you see Tomahawk International going in the next 5 years?
Tomahawk International has the potential to bridge the gap between mainstream interest in skiing and snowboarding and the core participants in these sports. Jimbo is taking all of his experience and knowledge and applying it in a way that only he could. He knows where the talent is as far as athletes and offers something unique - which is really hard to do in our sports. No one is more dedicated than Jimbo to his work and to skiing. Ive seen him bleed for his athletes. Literally. His work with major outdoor and lifestyle brands over the years gives him the inside scoop on how to make it all work. Tomahawk will continue an upward climb to "overnight success."
Tell us a funny Jimbo/CJ story.
My mom might read this. So the good ones… well none of them are appropriate. Most of them involve deviant behavior or things being broken. But seriously, my best memories with Jimbo involve being way up in the mountains someplace skiing. We've done several AK heli trips together at Points North - skiing up there is the pinnacle and there's nothing like being on the hill with Jimbo. It's definitely his happy place and the energy he puts off, the absolute passion for skiing, is contagious. There's also another memory of him somehow catching up to the 50 foot catamaran my bachelor party was on in Mexico in a little ponga that he commissioned in Puerta Vallarta. How do you say, "Find that catamaran now!" In Spanish? But that's Jimbo - always accomplishing what people tell him isn't possible.
Brandon Lilard
Who are you and what is your relationship with Jimbo?
Brandon Lillard, been around surfing my whole life. Surf marketing manager at Skullcandy and founder for stackingclips.com . Ive known Jimbo through working together back when he was at skullcandy and through mutual friends in tahoe.
What can you tell us about Jimbo and what you know of him?
Jimbo is one of the rare people you come across that has neither the time or energy for any Bullshit or fakeness in his life. Although im not a Skier I do have several friends that are top tier Professionals and when ive mentioned jimbo they all know him respect him and are stoked that Im buddies with such a authentic original dude. Just that fact makes me want to support his cause no matter what it is.
What do you think of Tomahawk and the fact Jimbo said he would not make a step into that arena without you there to guide the program at Tomahawk one day?
Jimbo saying that is as big of a compliment as I could get. To me it means that he recognizes that I live this and don't just work in the industry. Lets face it at the end of the day there are a lot of CEOs that don't participate in the sports that they make millions off and to me that's fucked. I know no matter what, Jimbo will be the same no matter how successful he is. And by the same I mean Awesome, generous, and true to the sport, lifestyle and people that got him where he is.
Terry White
Have you met or interacted much with Jimbo? What are your thoughts about him?
Well actually, ironically, I've never really met him personally. My son, Parker White, was on his team for Electric at least ten years ago, and then brought him along on Electric, Skullcandy and now Tomahawk. I've been on the phone with him a few times. I pretty much stay out of Parker's business affairs, but there have been a couple of times where I've had to work with Jimbo on a contract here or there. He looked after Parker, and really brought him along at the early point of his career. He made sure that he was getting taken care of and getting the attention he needed. I am very grateful for Jimbo.
How do you see the relationship between Parker and Jimbo, as a team manager and a mentor?
As parker's father, I kind of have to look at it from afar. You turn your children over to certain people and just sort of hope for the best, and I just got lucky, in that Jibmo took an interest in Parker and really looked after him. Parker left home when he was 15 years old, and Jimbo took an interest in him, guided him, and really helped him out. I think Parker is an exceptional skier, I think that's a fair thing to say without bragging as a father, but without Jimbo's interest, it would have been more difficult for him to be as successful as he has been. Jimbo really helped him a lot. I'm really lucky that somebody took an interest in my child and made such a positive impact.
What would you want to say to Jimbo if he was right here in front of you right now?
Thank you.
What is it like to you, as a father, to see where Parker is and what he is doing now?
It's a little bit different, I'm in a little bit different role than most fathers, because I was a skier in college, and also I was on three Olympic teams for kayaking. So, I'm not really trying to live my live vicariously through my son. I've sort of been through this, and I understand what it takes to get there as an athlete, the sponsorship deals, I've seen them before. What I've made an effort to do with Parker is really stand back and let him run his own career. If he wants my advice, he's welcome to ask for it, but I don't interfere. I'm very happy with how his career has progressed, and also in the bigger picture how he's progressed as a person and a professional athlete. I think he's done a great job. I think it's a lot due to Parker and Jimbo, they both work really hard.
Anything else you want to add?
I think my background gives me an advantage; I know when somebody's full of shit and when they're not, and Jimbo Is not. Jimbo is the real deal. His accomplishments, even before he entered the industry are solid, he walks the walk. I can't say enough good things about him. I think the industry is really lucky to have somebody like him, because he's accomplished a lot, he'll accomplish more, and he stands up for the guys he believes in. I've seen him go to bat for Parker, and I know he has for others, and that is pretty rare. He'll do it at his own expense if he really believes in somebody; you don't find that very much.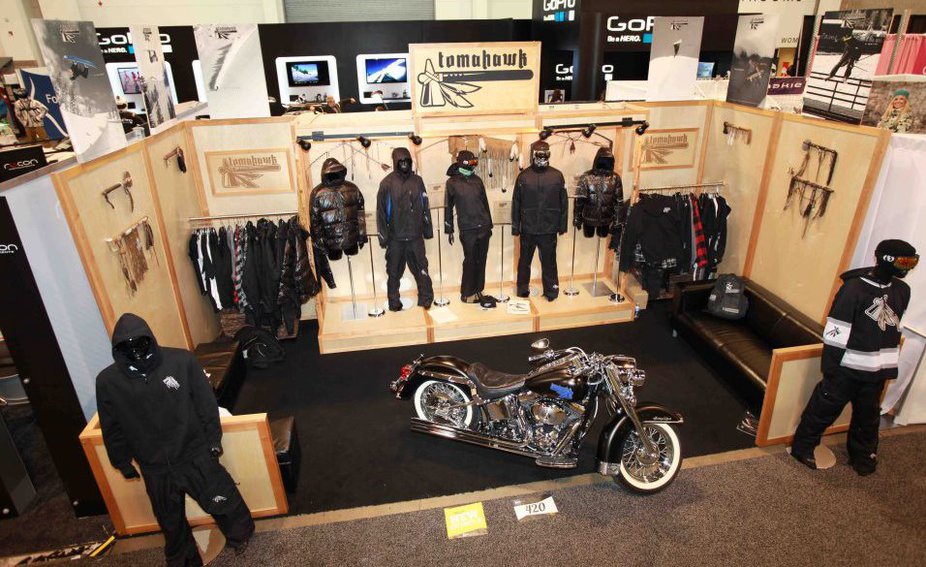 John Ware
What does it mean to you to have Jimbo and Tomahawk give you a shot?
Its so sick. Having a young company run by two legends (Jimbo and PWhite) bring me on is pretty unreal. When I met Jimbo last summer, I could immediately tell how much passion he has for what he is doing and how it rubs off on everyone around him. The brand vibe is super unique and practical which is exactly what we need in skiing right now. Im stoked to be apart of this growing brand and to watch how it will make its mark in the industry.
What do you hear about Tomahawk on the streets of Utah?
Black, waterproof, durable. Jimbo and PWhite. What else do you need?
Jon Hartman
Being so involved with Jimbo and Tomahawk tell us something about Jimbo that
most people would never know about Jimbo.
Jimbo is a hard partying roughneck that is the driving force behind Tomahawk from the smallest zipper details to the major marketing, but what you probably didn't know is that jimbo was an Olympic racer, set some speed records but is also a dedicated dad to his little guy Aiden. He also no longer drinks brown liquor.
Brand plans for the future? If you can let us in on anything.
Some very progressive outerwear and streetwear including a slim kit designed by the heshers of the team, should be some pretty swell stuff. Also some liberal hailing of satan.
What does it mean to you to be a part of Tomahawk?
Its being part of the best fucking team in skiing, being part of a tribe.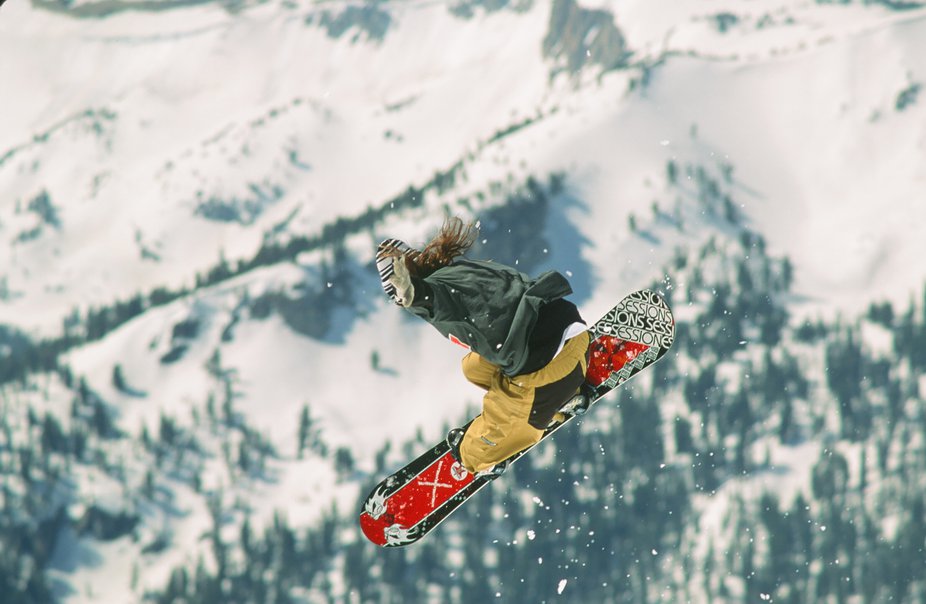 Jimbo ripping his snowboard in the 1980's
Photo: Christian Schneider
Kirsten Poulsen
What is your relationship with Jimbo?
I've known Jimbo for a long time. We became friends because we share that same passion. We don't only love the snowy mountains and shredding…… we actually need them. They are what keep us always having fun! Shredding makes us happiest…… period.
Jimbo and I are also both parents now so we have amazing kids to share this passion with! We are stoked!
What does it mean to you to ride for Tomahawk?
Tomahawk is all about being real and sticking to those things that are important to us in life. Riding for Tomahawk simply means that I get to enjoy my days, on or off the hill, in some gear that I can take pride in wearing.
What can you tell our readers about Jimbo?
Jimbo is Jimbo. He's different than most. He's very passionate, strong and true. The best kind of person out there….. at least in my book. He takes pride in what he does. Jimbo is Jimbo.
What's next for Tomahawk?
What's next for Tomahawk you ask? Well…… probably just a lot more good people getting after it and havin fun! And when you have fun amazing things happen! So look forward to some more good stuff from Tomahawk! And the gear will only continue to get better and better.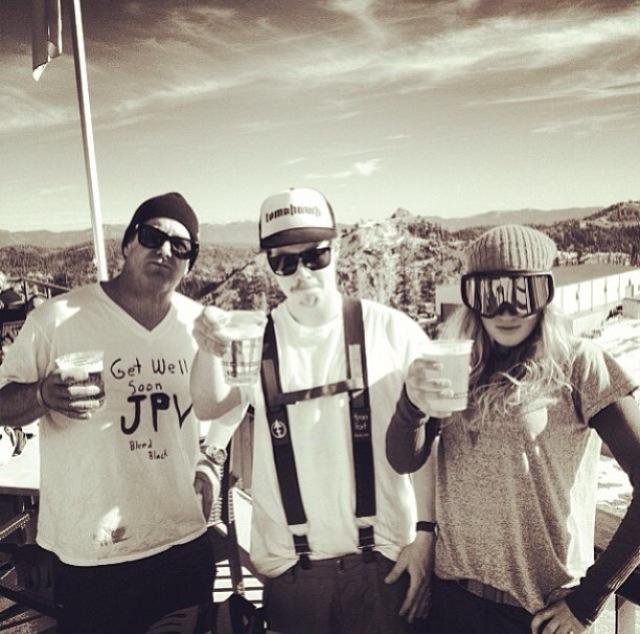 Jimbo, Parker and Kirsten
Tanner Rainville
Jimbo has had my back since day one, over the past ten years of my ski career there is nothing Jimbo hasn't helped me with. Jimbo is the best mentor I could have asked for, and one hell of a guy to call a friend. Without Jimbo there is no way I'd be where I am today, still loving life and skiing for a living.
How long have you know Jimbo?
I've known Jimbo since 2003 after I took 3rd in Slopestyle at my first US Open in Vail.
How has he helped you in your career?
How hasn't Jimbo helped me in my career? The guy has done it all for me in my decade of being a pro skier. Jimbo got me signed with Electric in 03, got me a pro model goggle for two years with Electric, one of which was a best seller. Helped me get into contest's, win contest's, party, travel, you name it. If I am ever unsure of something I call up Jimbo to get his two cents because he will tell straight up how it is, not blow smoke up your ass like some people in the industry. He is a true OG.
Tell us some jimbo stories, you two have traveled over the years what goes down when you
travel with a legend like that?
Anything can happen when traveling with Jimbo Morgan. He is still a kid at heart with a lick of Irish in him, if you piss him off, get the hell outta his way.
One flight to Japan, Jimbo gave a pair of shitty Skullcandy headphones to the head purser of our flight, and just like that we had the whole back galley to chill and party in for the duration of the flight. Another time in France after I had won a big air, two British twits were giving me a hard time... Jimbo handled that real quick and we were back celebrating.
Jimbo is a true ski legend, you can go anywhere in the world with him and somebody will be blown away that they are meeting Jimbo Morgan, what a badass. Jimbo has been through it all and is still here crushing it, what a true OG.
Do you have anything you want to say to our readers about Jimbo that they might not know?
If you ever have the pleasure of meeting Jimbo, shake his hand and thank him. He is a true ambassador of our sport freeskiing, and has done a hell of a lot more for our industry than anyone can imagine.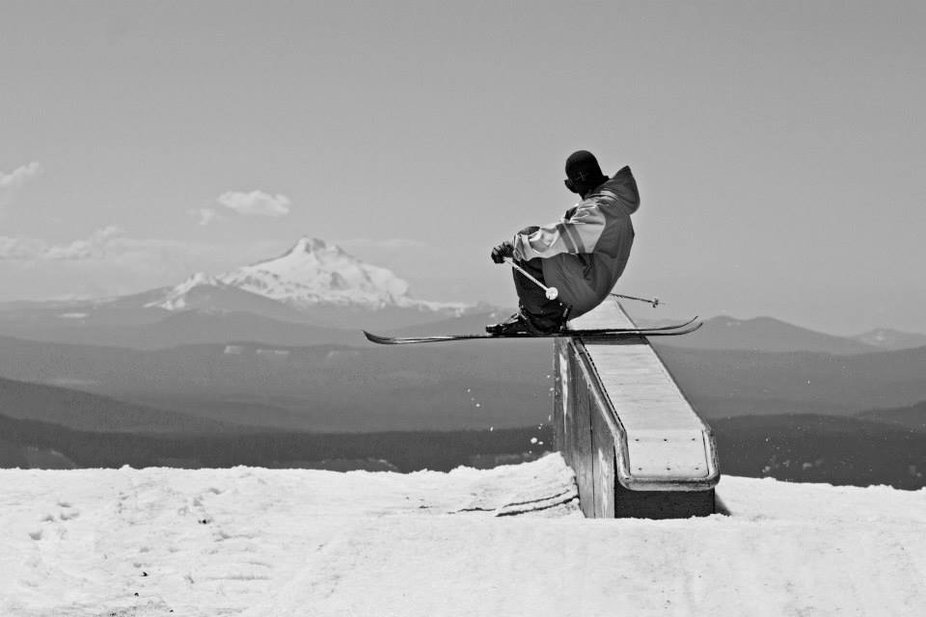 Skier: Jeff Curry
Photo: Rocky Maloney
Jeff Curry
What does Tomahawk mean to you?
Tomahawk is a movement that stands for "take no prisoners, take no shit". We put all of our energy into what we do because we want it to be the best in the end. We don't let anything stand in our way or keep us from riding hard. It's All or Nothing.
What does it mean to be a part of Tomahawk?
When I first saw a Tomahawk ad in Freeskier a couple years back, I was instantly drawn to the brand. I had a Tomahawk sticker on my car for two years before I got on the team. Last summer I got the call from Parker and Jimbo right before the summer season at Windells and heard that they wanted me to be a part of this. I had been working really hard to build my name not only as a coach but as a athlete, and I was really honored to hear both Jimbo and Parker noticed what I was doing. I had wanted to ride on the tomahawk gear the day I saw it, and to be asked to join the crew was just like scoring a dream job, I wouldn't want to be on anything else. Its an good feeling to be listed next to names like Ross Powers, Shaun Palmer, Parker, ect. The direction of the brand is in good hands with Jimbo and Parker roaring load in the front.
Tell me about your relationship with Jimbo.
When I moved to Oregon and became the Head Ski Coach at Windells, I approached Jimbo about Electric. At that point he had no idea who I was or what I was doing. Over the next year we were able to develop a program for the skiers I was coaching out of Windells Academy. I had looked up to Jimbo and his methods so I just wanted to learn as much as possible from his experience in the industry. His knowledge runs deep so when he talked I listened. Dealing with kids as often as I do I find his advice helping me with daily troubleshooting. Over the years of working with Jimbo he has become a friend, mentor, boss, team manager, chief, and daily motivator.
What can you tell us that people might not know about Jimbo?
Jimbo was in the 1992 Winter Olympic Games in France finished 7th overall. Jimbo skied on the world Cup Circuit for 5 years Jimbo was a speed skier going in excess of 140 plus miles an hr Jimbo helped create Electric.
Who IS Jimbo?
When I think of Jimbo, I'm always reminded of the speed skiing segment from one of Greg Stumps old films. Doc Martins, Leather Jacket, and some long blonde flowing hair straight out of California. Jimbo embodies the rock star of the ski industry. Although he has evolved over the years, you can still see his personality shine through his designs and concepts. He was an athlete turned Team Manager and now he has a passionate businessman building his brand in the mountains. Jimbo is the guy that has been a freekskier from the start before free skiing every existed.
Max Hill
What does it mean to you to be a part of Tomahawk?
To be patched into this Band of Warriors by Jimbo and Parker was empowering. This Club is not for the weak hearted. To wave a flag that says Tomahawk makes me proud to use my voice Jimbo has given me. It was encouraging, To inform kids their style choices should match their personalities, rather than back the shallow directions most companies products offer. If you're tired of what you see year in year out, come see us, we are more than happy to arm you appropriately. This is a movement we are moving.
What do you see yourself doing in regards to Tomahawk and bringing it in to Canada?
It has been almost distracting the amount of kids who approach me asking how they can get their hands on Tomahawk. It's not easy for a Canadian at the moment, And their was a time it wasn't easy for me even. It's not like I can walk into a retail store and beat the shop buyer until he orders tomahawk, however, I can sure as hell go in their and shake the shit out of him. Lots of stores have been showing interest so be prepared to see Tomahawk's Canadian chapter very shortly.
Where can this brand go next?
Signature series, accessories, Productions, Flagship stores, Team edits, and not to mention out of control. This brand is not detailed to only skiing and snowboarding's market, this is street wear, anyone can buy it and in the near future everyone will be buying it. Do yourself a favour, pick up a Tomahawk and stand behind us.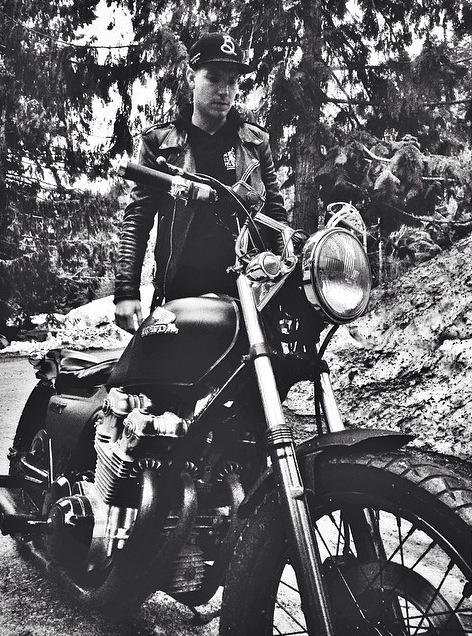 Ben Smith
My name is Ben Smith, and I am a kid that just wants to be doing what makes me happy every day.
Describe your relationship with Jimbo.
My relationship with Jimbo is great. He was the first person I ever met in the skiing industry, and he has been my first sponsor/mentor. Kinda raised me to be who I am in skiing today. Currently I ski and am finishing up high school. Hopefully working a bunch this summer and heading to windells to do some skiing for a month.
What has it meant to you to know Jimbo?
To me knowing Jimbo means your learning from one of the greats. He's done it all and seen it all. I trust his word more than anyone in the skiing world. I'm stoked to have been with him since I was 11 and to have learn from him.
Who IS Jimbo and what might people not know about him?
Jimbo is a great guy, and a very honest one. He Also is very supportive and helps me keep my head strait. What people might not know is that he is a great dad and he would do anything for his son Aiden. That kid is amazing.
Ian Compton
I am Ian Compton, a skier who lives in the woods of Northern VT. Jimbo is a friend and someone I fully respect. Him and Parker White are the reason I am on Tomahawk. My first ever "pro" check came from him way back from electric along with his support and life lessons.
What does it mean to be a part of Tomahawk?
Tomahawk is a group of people that all share common life qualities. Non of us are attention seeking assholes, I respect and look up to everyone on the "team". Though we are scattered around the country we all share the same feelings towards our sport/ life. Being part of a community like Tomahawk is beyond an honor. I owe Jimbo and Parker so much and will forever cherish the friendships involved.
What can you tell us about Jimbo that our readers might find interesting.
I grew up with Chris Logan and Parker White, they were going through Jimbo for electric at such an early age that I felt like I knew Jimbo before I even knew him. My first phone call with him still resides in my memory though. I had never felt so much support from someone so high up in the ski community world., Jimbo has gone faster on his skis then most people in this sport and he knows his shit about the ins and outs of the ski world. "DIY Ian" thats what I remember the most. "You got to do things yourself to get them done" he said to me, now I am starting to farm my land slowly and hear his voice in the back of my head when things are tough.
Where is this brand going?
Tomahawk is not a brand for the faint hearted, it's not like Saga or Northface or all those weird bright companies. The kids I see rocking our gear know who they are. They aren't trying to be someone else, they have there own unique style and don't want to associate themselves with the brightness of the ski world. Tomahawk will separate the jabronis from the people who truly love the sport. There's to much bullshit everywhere you go, Tomahawk is a black beacon of hope led by the greatest.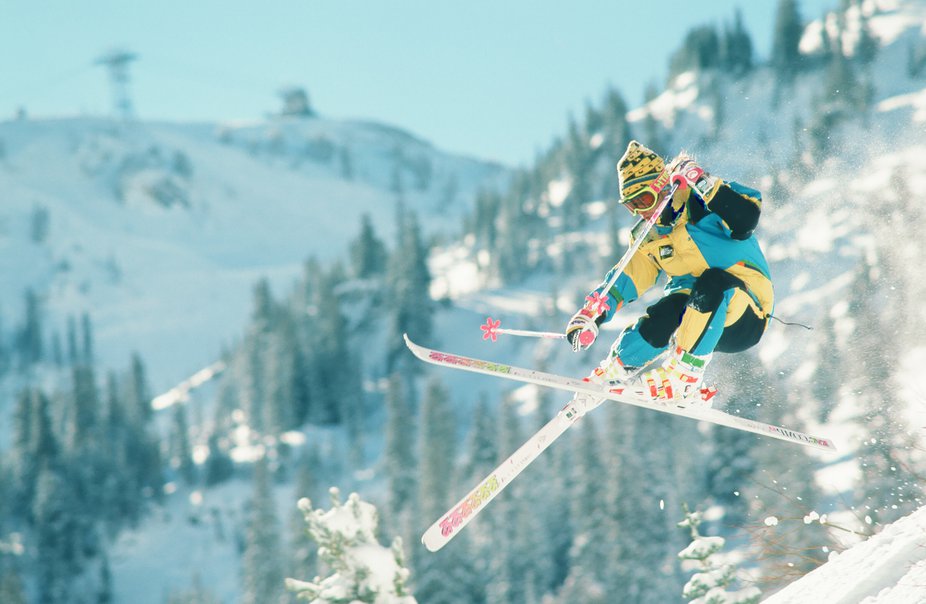 Jimbo shredding in the 80's
Photo: Christian Schneider
Dale Talkington
What might people not get about the dude?
You might not have known that Jimbo was an amazing athlete who was once a great speed skier and downhill racer. He has great insight in the industry of skiing snowboarding and action sports.
What can you tell out readers what it's like to deal with Jimbo as your sponsor and as a person?
Dealing with Jimbo has been a great process, Electric is one of my sponsors that I have had the longest and its been enormously important having Jimbo there. Whether it is gear, advice, or really anything, Jimbo is there to talk to and help you in anyway he can. It has truly been a great experience.
Liam Downey.
Via facebook after original publishing, 6/18
I never submitted my interview for this Tomahawk piece, in part because I'm a no-account idiot who hasn't had a phone for two months, and in larger part because I have always wanted to write a comprehensive Jimbo Morgan bio and was jealous to learn that someone else had beaten me to the punch. Thanks for everything, Jimbo, and please accept this little tribute by way of an apology.
Jimbo Morgan is out and out the coolest person I know. His achievements as a skier, snowboarder, and brand manager have made him a flagship for everything good and right in an industry that often seems representative of all the capitalistic and bureaucratic ills of society as a whole. When I blew my knee in 2010, Jimbo made sure that I got an Electric paycheck when all my other sponsors hung me out to dry. "When you're down is when you need the money," he told me, "here's a little something to get you back on your feet."
But it isn't Jimbo's loyalty as a friend and mentor, or even the creation of a brand that is the embodiment of the tribe ethos he knows to be lacking in snow sports, which sets him apart in my mind. Simply put, Jimbo is Jimbo. He has truly lived it, and when it changed, he recreated it in his image without ever compromising on his own high-minded ideals. He is the only person over the age of 50 that I've ever known to out-ski me on the hill, out-party me at the bar, and then go home to out-father anyone who cared to contend.
I guess the salient point here is that Jimbo is the last of a dying breed of individualists. While no one can aspire to change the face of skiing in the way that he has, we can all learn by his example: go hard, go fast, and if you do it right, you'll live the dream every day of your life.
Bleed Black.
Brad Dutton
Describe the relationship between your son Timy and Jimbo.
I feel the relationship between Jimbo and Tim went beyond Tim being an athlete. Jimbo has grown up and associated with many well established people who have performed at a very high level of competition therefore Jimbo has become very humble in his later years. I think Tim was a reflection to Jimbo and therefore he was able to connect with Tim on a very raw basic level no ego just man to man. When you are able to connect with someone at that level you can forge a relationship that only Jimbo and Tim truly understood.
Many people, in and out of the ski industry, turned their backs on Timy when he went through some tough times. What did it mean to you to have someone like Jimbo sticking with him through these hard times?
Yes many people did turn there backs on Tim, the ski industry, parents, coaches, and friends. But when you break it down Tim and many other athletes are only attracted to other people because of what they have achieved not for who they are. Athletes are a trademark used for marketing and profit so when one comes down the pipe like Tim who got involved with drugs the industry feels they need to protect their image and profits at any cost. Jimbo who is in the industry went against the tide and was willing to sacrifice his image and work with Tim because he saw himself in this young man. Yes it ment a great deal to me to have an old friend stand by Tim during this time.
Timy's comeback story is an incredible example of hope, what do you have to say about his trials and tribulations?
Tim was a very unique child extremely sensitive but emotionally very strong and driven like many top athletes are. I feel he felt like there was nothing he could not accomplish. Tim went after everything he did 100% either he was all in or all out and this is what started his drug use but also ended his drug use. When Tim decided that he was done taking drugs he was done, he was all in at the Time, and now he was all out. It was heart breaking to have a son who was a drug addict but because Tim's family knew Tim as a human being struggling with life we never turned our backs on him not once no matter how hard it got. Recovering addicts are some of the most incredible people because what they have gone through they really appreciate life and living that is what people loved about Tim, every day was a bounus for him, through sobriety he lived life to its fullest. This is why Jimbo hung in there with Tim he knew like i knew one day Tim would pull through. I cannot express in words how much i miss Tim i am so blessed to have spent the last eight years with a sober, incredible, young man.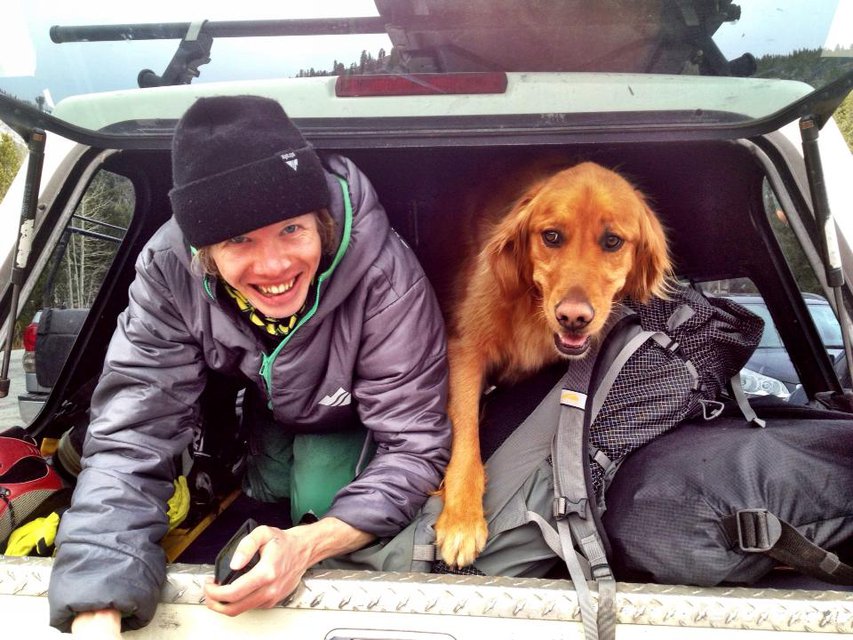 Timy Dutton 1987-2014 RIP
Sky Rondenet
My name is Sky Rondenet and I live in Truckee, California. I've been in Lake Tahoe for 18 years riding Squaw and have been snowboarding since I was 13. I use to snowboard professionally focusing on big mountain riding and transitioned into filming/photography. I've been doing that for about 10 years. I've known Jimbo for a long time through our love of Squaw Valley. Over time, we started hanging out more together on and off the mountain and our friendship grew. Now I can't imagine life without that crazy bastard.
What does it mean to you to ride for Tomahawk?
Tomahawk represents how I feel about snowboarding and my love and passion for being on the mountain. The brand is all about being real and not giving in to all the bullshit that comes along with being in the industry. Tomahawk supports athletes and artists that have passion for what they do...deep down in their gut. I think Jimbo is really tapping into something that the other companies have been afraid of. Jimbo is not afraid...
What can you tell our readers about Jimbo that they might not know about him as a person?
I won't say too much because I'll piss him off hahaha!! Jimbo is tough as nails and super sweet at the same time. He is very loyal and loves being on snow more than most anyone I know and that's saying a lot. He's devoted and protective of his sport and his friends. I couldn't ask for a better brother.
What is the Vibe on Tomahawk in Lake Tahoe right now?
The vibe is strong. We have an amazing tribe of people on Tomahawk that all have the same goal. To shred as much as possible and have fun doing it. Everyone on the team takes what they do to another level whether it's riding, skiing, skateboarding or drinking beer. Jimbo doesn't recruit pussies.
Who IS Jimbo?
Jimbo is a badass. Bleed black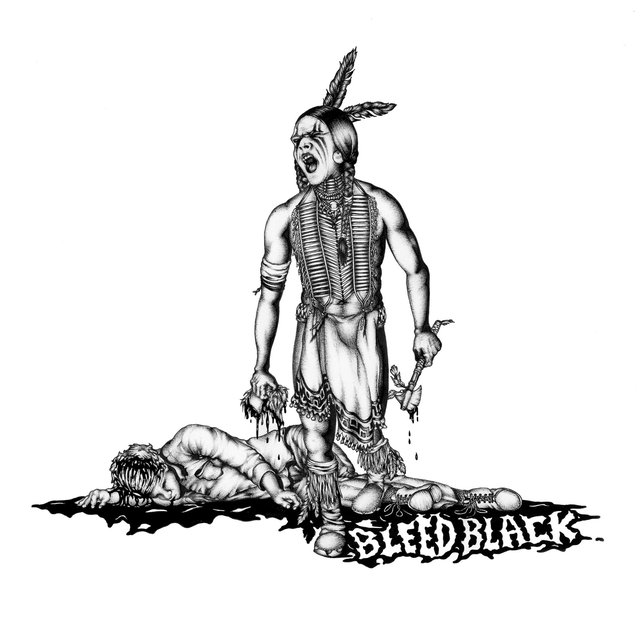 Bleed Black. Two simple words that carry the weight of many. But what do they mean? We don't need Jimbo to tell us, find out for yourself.