Hello everyone and welcome to the brand new Ohio Dreams park update blog! You have probably seen our banner ads on here for a while now, and we are stoked to have our own page to keep everyone on NS up to date with our plans for the summer and what is happening during both building and camp seasons. Getting this blog up and running couldn't have come at a better time because we have a lot of big plans for this season, most of which relate to the skiing side of things. However, I'm getting a little bit ahead of myself.
First, a little bit of basic info. If you don't know already, we are an action sports camp for kids ages 7-17 featuring skiing, snowboarding, BMX racing, BMX freestyle, skateboarding, inline, and scooter programs. We like to keep our weekly sessions a little smaller than some of the other camps, which provides the campers with a more personal camp experience along with a better camper to coach ratio allowing for more opportunity to learn and progress. While kids generally come to camp for a specific sport, they are more than welcome to switch things up and try out other sports during their visit. For more information on Ohio Dreams, shoot me a PM, check out our website at http://www.ohiodreams.com or give us a call at 1-800-963-3495.
Now on to what you are all here for, information on the upgrades to our skiing facilities. As I said earlier, we have a lot of improvements planned for this year, some of which are in the midst of being constructed, and others on which work will begin in the next week. Perhaps the biggest news is that we will be building a dry slope rail setup so that all you jibbers can work on your pretzel variations in addition to learning new tricks at the water ramps. The riding surface is over 130' long and 20' feet wide and features a sliding material called mSnow (http://www.m-snow.com). There will be a flat box and a flat rail that are 25' long at the top that will feed into a down box and a down rail that are about the same length. We also have plans to make additional interchangeable features that we can switch in and out on the hill.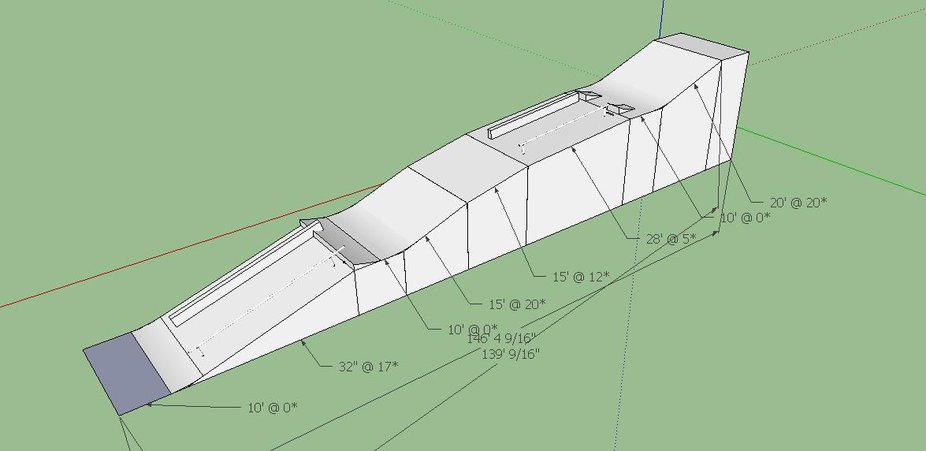 Here is a screenshot of the digital model of our new rail setup
The current BMX race training area will be replaced with our new rail garden
Next up, we are going to be installing a brand new Aussie Olympic flybed trampoline for those of you who like to learn tricks the bouncy way. This trampoline is the same type used at Olympic training water ramp facilities in Park City and Lake Placid and will allow you to learn your first back flip or float out double cork 12 mutes.
The third and final project in perpetration for summer time is a re-configuration of our water ramps. As it is, our water ramps are some of the best around and are designed specifically for freeride skiers. A wider in run and wider and mellower jumps make the ramps feel much more like a normal park jump than an aerialist's kicker. However, we still think it could be better.
Nick Goepper shows us what a cork 9 looks like on the big jump last year
For this year, we are going from three ramps to four. We will be moving our formerly big ski jump to looker's left of the hill and making it into a slip-n-slide only jump. The small jump on the right of the hill will also be exclusively for a slip-n-slide. Keep in mind this is no ordinary slip-n-slide, last year there were campers doing triple front and back flips off of the big jump and double front and back flips off of the small jump. The slides are a right of passage for new campers and are something truly unique to Ohio Dreams.
A camper brings around a backflip off the small slip-n-slide last summer
The middle two jumps will be our ski jumps. Both will feature a flip top extension system that will essentially make two jumps into four. The smaller jump will be 5 ft. tall with the top flipped down, and 6 ft. tall when the top is up. The new and improved big jump will be the biggest and best jump that we have ever seen at Ohio Dreams. It will be 8 ft. tall with the top down and 10 ft. tall with the top up. It has been redesigned with a larger radius and a higher takeoff to create a water ramp jump that resembles the feel of an on-snow park jump better than any other water ramp that we have seen. Double flips, double corks, and even switch doubles will all be possible with the new jump.
The jumps are getting rearranged and the old surface has been removed
That gap on the right is where the new big jump will go
Kody drawing out the radius for the new jump
One side of the new jump after being cut and layed out
J.J. who is our BMX freestyle director and jack of all trades, throws wood up on the ramp deck for the new jump
Chris Ashcraft, owner/operator of Ohio Dreams, lining up jump pieces to be nailed together
Ashcraft standing next to the framed lower section of the jump, flexes for the camera
Admiring our handy work from above
Ashcraft lines up one of the side panels for the extension
J.J. gives a some perspective on how big the new jump is
A view from the side...
...and from below
In addition to the improvements on the jumps, the in run hill is also getting kicked up a notch. We have removed the old sliding material in the middle of the hill and will be replacing it with mSnow, the same surface being used for our rails. mSnow is much faster and allows far better edge control than our old artificial surface, and will provide a more realistic, on snow feel with the ability to set an edge and carve.
Over the course of the next 3-4 weeks we are going to be doing a ton of construction to have all of this ready to go in time for the first week of camp that starts on June 27th. I'll be hopping on NS whenever I can find the time (which might not be as often as I would like considering all of our projects), to keep all of you guys up to date with photos, a few words, and maybe even some videos, so you will see everything coming together as we build it. We are also going to have some guest pro's coming out to help coach and do some skiing of their own, so keep a look out here for more news on who is coming out and when. There is a lot of work ahead, but everyone here at Ohio Dreams is really excited and confident that our hard work is going to result in an off snow freeski training facility far superior to anything that the ski industry has seen.
-Brendan Trieb
Freeski Program Director/Head Couselor