Want to get on the Freeride World Tour (FWT)? For most riders, this involves entering the Freeride World Qualifers (FWQs). In the early years of the tour, the qualifiers were just a way of proving you could ride, a way of getting your name spotted. Today however this has all changed. The FWQs are more competitive than ever, some saying guys competing in 4* FWQs charge harder than those in the actual tour as they have more to prove with over 50 events worldwide. So, how do the Qualifiers work? How can you progress?
The FWQs give you an overall world ranking and then split into regions (region 1 being Europe/Rest of the World and region 2 being the Americas). With only the top 3 men and top 3 woman from each category and region qualifying for the FWT, The Freeride World Qualifiers have become very much a league with over 700 men and 200 women skiers battling out to get to the next level.
Freeride World Qualifier star system:
The way I explain this to non skiers I know is think of it like a football league, The world tour is the premiership and qualifiers are the divisions. With the Verbier Extreme being the super bowl.
The FWQs are broken down into 4 categories from 1 to 4*. 1* being the lowest level and 4* being the highest. Generally riders will begin at either 1 or 2* depending on how popular the event is. A rider may compete in as many contests as they want over the season. But only the top 3 results count towards your overall ranking. For each event you are given a number of points depending on your position and level of star the event has being deemed. For a break down of points rewarded click here.
There are many factors that apply to choose the star level for a venue. The minimum amount of vertical drop (1* being 300ft, 4* being 900ft). How many distinctive lines the face has, steep sections and ease of access for judges/spectators/sponsors etc.
With organizers being able to choose different formats, events are often held on one day, But at higher levels can have a qualification day with cut off for the finals days or 2 days with an overall score.
Verbier Freeride weeks gives new rides a great way to get a head start with an option of competing in 3 2* events in 1 week
What it means for riders:
1* events are the start but with only 5 on the calendar and the lack of points rewarded it's not of great interest unless you really need points to get in your nearest 2* event or is a sister event to a 3*.
2* events for a majority of riders are where it all begins with 20 events on the European calendar alone. The level of riding at 2* events can have massive variation from people absolutely charging it, to people there just for a bit of fun.
3* events are where it starts to get a bit more serious often offering a qualifying and finals day. Meaning you have to be more consistent. Do you play qualifiers safe and risk not making the finals? or go all out and risk falling on the first turn?
4* events are the step below the world tour. This is where the U.S has the advantage with 7 events where as Europe only has 5. Winning one of these gives you a great chance at making the tour regarding points. A Majority now offering live feeds on the internet or extensive media coverage trying to match the world tours but with a third of the budget. To put it into perspective coming 25th is the same points as winning a 1*.
This year marked 4* Nendaz Freeride's first attempt at doing a live feed with not even a third of the budget the FWT has
The Registration challenge
Registering for events is just as frustrating. Regardless of how early you register it's all about registering before the cut off day with a seeding list being in place (FWT riders/FWQ rankings/unseeded) to select riders. A result stays valid for 1 year from the date of the event. Any results you get in February this year still count towards your seeding position for entries until the end of February the following year. Making it very hard for low/unseeded riders to skip into high level contests. Most of the time you don't know if you are going to be accepted into an event until 21 days before making travel plans very hard.
There is no cut off to how many events you register for, so register for everything you want to do and who knows maybe you get lucky. If you can't compete after being accepted they don't charge your card as long as you cancel within 3 days of acceptance.
Just because it's not the world tour, doesn't mean riders don't go huge
The other way into events is very much a case of not what you know but who you know. Each event has 5 Wildcard positions as chosen by the individual organizers . Whether it be a case of just asking them to get you in or as in some cases they use smaller contests to decide. For example winning the local event Dahu Freeride in Verbier gets you a wildcard to the 4* Nendaz Freeride.
On the rise are Sister events and National Series, 1 and 2* qualifiers offering the chance for the winners an entry to the sistered 3 or 4*. These are worth looking out for as it's a great way to gain great points. In France you have the Temmos series where you can claim French Freeride Champion (only if you're French) or The Swiss freeride Series (where anyone can become Swiss Champion).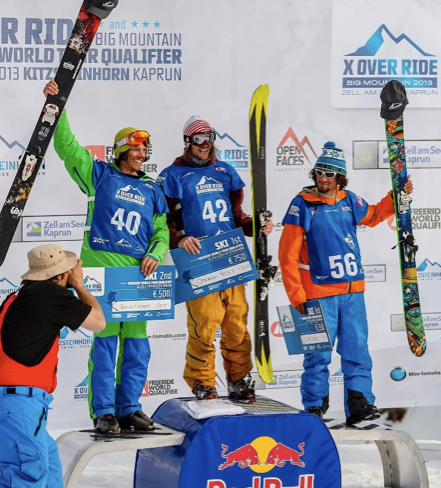 It's where we all want to end up
Most people enter these events because they live and breath skiing. It's a great way to meet fellow riders with as much passion for the sport burning inside of them as yourself. It's why even at the highest level you still have riders comparing lines, joking around and just generally having a good time up until go time.
If you have the time I seriously suggest getting into an event. Even at lower levels it's fun to push yourself you don't have to be in it to win it. The only age limit is 18+ (you have the junior tour for those under 18). They just ask you are competent enough to get down the mountain.
Words: Oli Allen