Once again summer is in full swing and with it the seasonal migration to summer camps in Whistler and Mt Hood for some, South America for the truly lucky, and summer jobs for the rest of us. But in a break from the usual, a small Canadian based group of skiers and snowboarders calling themselves 'Beyond Boarding' (http://www.beyondboarding.org) is putting in work towards positive change in the world simply through the positive energy that exists in our sport.
The brainchild of snowboarder Tamo Campos and assisted by Eliel Hindert amongst countless others, they are a group with three things in common: they all love snow, they all think the world could be a better place, and they all think that the shred community could do a little to help out and a lot to inspire change around the world.

Later this month the group of five skiers and snowboarders, along with five volunteers is headed to build a series of floating farms in the impoverished jungle city of Iquitos, Peru. Recently devastated by rampant flooding, and subject to long-term problem of poverty and little access to basic farmland. The group worked with the local community of Iquitos to discover what the people of the area needed the most, and sought to bring it to them in a way that would not only be sustainable after the group left, but could grow well beyond the initial project.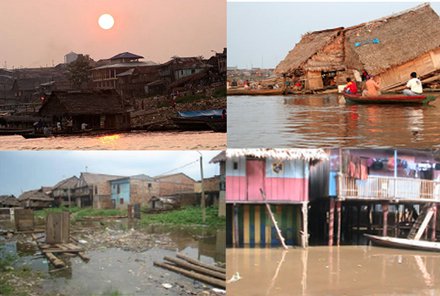 The city of Iquitos, Peru and its flood affected areas.
Through the help of companies like Salomon Snowboards, Dakine, Coala Tree Organics, Sitka, and Surface Skis; and outside organizations Hope International and The David Suzuki Foundation the group has been raising funds to supply materials, hire local labor, provide additional aid, and establish a scholarship fund for the community.
Beyond Boarding will be releasing two documentaries this fall to raise awareness both on this project and on their recent Zero Carbon Winter. In the meantime check out their teaser for the project and visit them at http://www.beyondboarding.org to see what they're up to, support their projects, get involved, and get inspired to initiate your own change.