Best Job in the Ski Industry – Matthew Manser, Atomic Global Product Manager
A job in the ski industry, for many skiers the opportunity to work within the industry they love so much would be a dream come true. Skiing every day and getting paid to do it would of course be amazing, but unless you are good enough to go pro or you fancy teaching kids how to pizza and french fry, its pretty unlikely, so what other options are there for you to work in the ski industry and are they any fun?
Luckily working within the ski industry, is not solely limited to being good on skis. Ever take a camera up and film your buddies? Well maybe you could work in ski media. Like designing things and building stuff? Maybe you are the next Jlev. Liftie at your local hill? Work your way up to CEO. OK that last one may be a bit of a stretch, but the point is there are endless possibility's for working in the ski industry.
To give you a little more insight into what it's really like working in the ski industry, I got in touch with four people within the industry, each with a very different job, to find out exactly how they got to where they are today. Over the next four weeks find out everything you need to know to get a job in the best industry in the world.
To kick things off is a person I'm sure most of you will know better as onenerdykid, Newschoolers original boot guru and Atomic boot designer, Mathew Manser.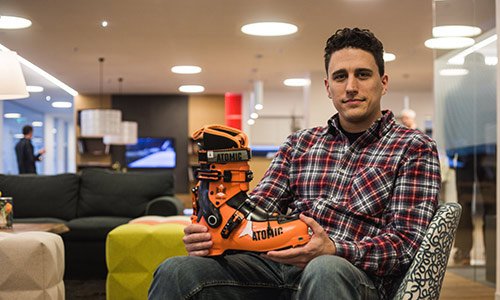 If you have spent any time in the Newschoolers forums chances are you have seen some of Matt's posts. Better know to most Newschoolers as Onenerdykid, he is the real gear expert of the site, and has helped countless members with gear related questions and in his current role as Global product Manager for Atomic, he is in a position I'm sure many members are jealous of, myself included.
The Austrian Mountains where Atomic are located and Matt now calls home are a very different setting to where it all began for Matt. Like many Newschoolers Matt grew up on the East Coast and I began by asking about his earliest memories of skiing.
Tom: Can you remember your first time skiing? Was it with family and where was it?
Matt: "I grew up in Central New York state (315!) and my parents had me, at the age of 3, skiing on the little slope in our back yard with those simple plastic skis that strap to your snow boots. It was probably that same year that we would go to Snow Ridge and Toggenburg where I learned to ski with real gear on real ski slopes."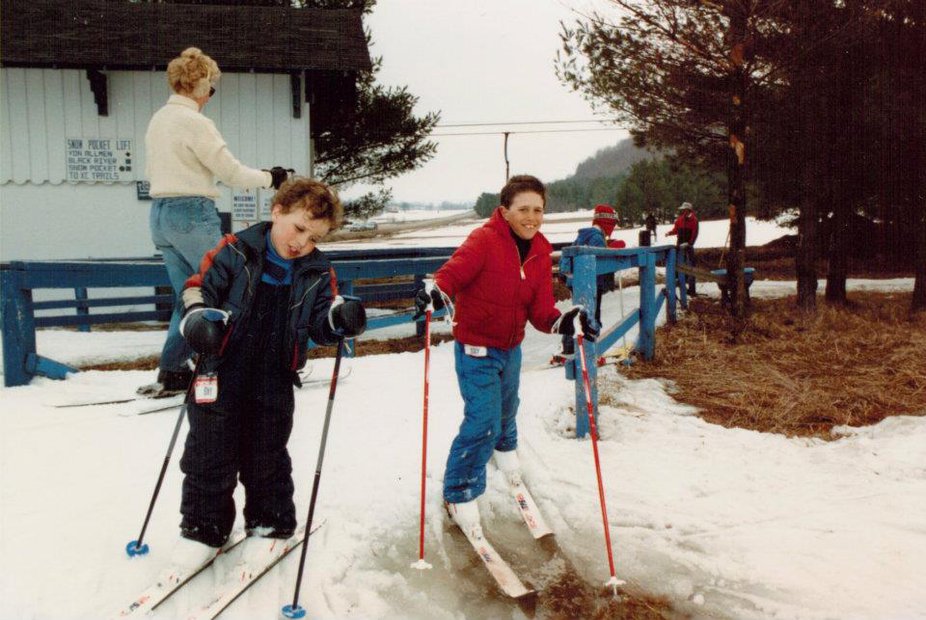 Most of you probably never experienced rear entry boots and straight skis, but this was how Matt (red coat) and many others got started.
Tom: How much did you ski growing up?
Matt: "Before I could drive on my own, it was basically every weekend with my family. But my mom was the school nurse, so whenever we had a school break or a snow day she would always take me & my brother up to the mountain and we'd all ski together. And whenever I wasn't skiing, I was watching ski movies. I think I've watched the Blizzard of Aaahhhs at least a couple hundred times. This was a time when it was near impossible to find skiing content, so those early Greg Stump movies were all I had when I couldn't actually get to the mountain."
Tom: Was skiing an important part of your life and did you know you wanted to work in the ski industry?
Matt: "Like a lot of skier kids in the 80's, I grew up with the dream of being a pro extreme skier- I wanted to be like Scot Schmidt or Glen Plake or Seth. But eventually reality began to set in and I realized that's probably not in the cards, especially when my local mountain only had like 500 feet of vert haha. At the end of high school, I sort of gave up on the idea of making a living through skiing and I generally had no idea of what I really wanted to do. The idea of having a real job was so distant to me at that time, I mean I had another 4 full years of school to get through and that will take forever haha."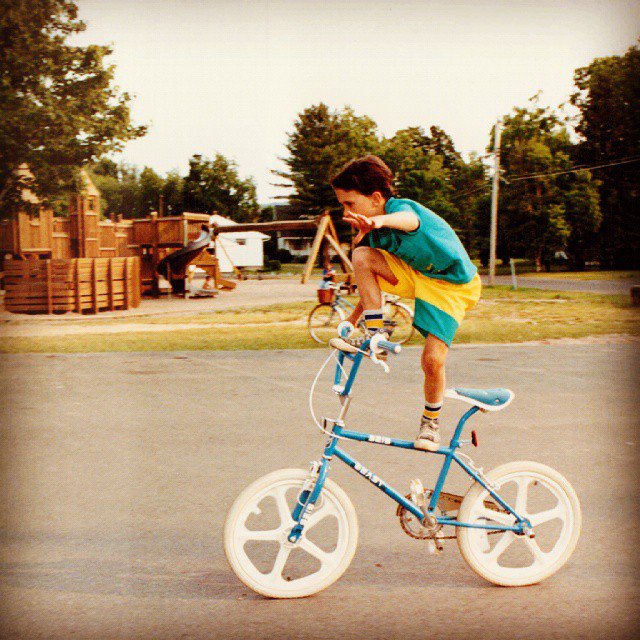 Even early on Matt liked to do things a little differntly
Tom: What was school like for you? Did you enjoy it and what subjects were you good/bad at?
Matt: "Honestly, elementary school was really tough for me. Like a lot of kids, I was bullied and made fun of, which totally sucked. And once I got to high school, I struggled to find my own way, I hated ball sports, and I was also rather shy. I had a lot of angst and pent-up aggression towards all of the jocks and other douche bags, and I would escape it all through reading, music (going to hardcore shows), skiing in the winter and bmx in the summer. In my teens, I literally couldn't wait to go skiing again, it was how I stayed sane during the winter. I could get away from all of the nonsense and for those few hours on my skis nothing else mattered. I was in my own little world."
Tom: Growing up what did you want to do for a job?
Matt: "In high school, one of the things I took an interest to was writing and since I was pretty sure my extreme skiing career wasn't going to happen, I thought I wanted to be a writer. Creative writing, journalism... I wasn't quite sure which but I enjoyed both and thought it was a good start, so I went with it."
Not knowing exactly what you want to do when you grow up is pretty common. I can say for sure at the age of 16, I really did not know what I wanted to do when I was older, but it is about that age when you are expected to choose what you want to do for further education. I actually choose to study Music Technology, which is a world away from what I now do, so I was interested to know what Matt studied and if it was relevant to what he does now.
Tom: What did you study at university?
Matt: "In my first semester, I was an English major pursuing the writing thing but I was exposed to a basic intro to philosophy course that blew my mind. The professor was incredible, and he cut through everyone's bullshit arguments, which I thought was super awesome. He introduced us to systematic, rigorous thought that could be applied to and enhance any field of study or profession. Being able to do that really interested me, so at the beginning of my second semester, I switched to philosophy but still without any solid idea of what I wanted to do. I just knew that I really enjoyed it and it was answering a lot of life's questions that I had. It was either in my sophomore or junior year that I decided to become a professor and positively impact people's lives the way my professor had done for me and other kids. So that meant even going to even more school haha."
Tom: Were you involved in any ski clubs or teams?
Matt: "Honestly, at this point I wasn't really skiing that much, except when I would go home for Christmas break. It was always kinda there, but at this particular point in my life it kinda faded into the background. I was enjoyably busy with school and it was hard (for me at least) to do anything at college outside of college. Looking back, it would have been nice to ski more but I guess it just didn't play the same role as it did in high school for me."
Like myself Matt followed a quite different path educationally compared to what he now does, so how did a Philosophy major end up working for one of the biggest Ski Brands in the world?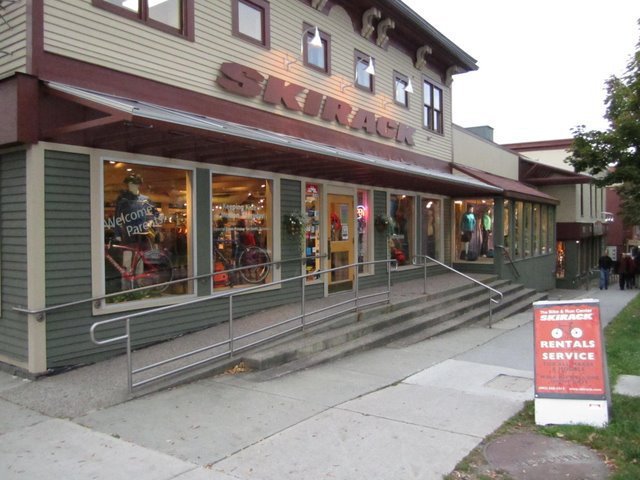 Although not the first shop Matt worked in, Ski Rack really was the shop which helped Matt (as well as a few other industry guys) get there foot in the ski industry door.
Tom: When did you first work in the ski industry? How did you get your first job?
Matt: "When I was in grad school (now in Boston), I needed a part-time job in order to pay my insanely disproportionate rent and I noticed a "now hiring" sign in the window of a ski shop (Bob Smith's Wilderness House, which I think has since gone out of business?). And I thought to myself, "This could be pretty fun". They basically hired me on the spot and it was here that I got reconnected with my love for skiing. Being around skiers and gear, all of the positive feelings I associated with skiing came back and it felt great to have that again. I started out doing basic shop rat stuff but eventually was asked to help fit some ski boots. The head boot-fitter there was this crazy pedorthist (and Jackson Hole Air Force member) named Gordon, who would later go on to invent the Aline footbed. He and a member of his boot-fitting company (then called Sole Systems) took me under their wing and I learned everything I could from these guys. I absorbed it all like a sponge and took a real liking to the hands-on stuff like shaping footbeds, the stretching & grinding work. At some point, I began applying what I learned in philosophy and created fitting systems and strategies to make the fitters' job more efficient and effective. I eventually became the head boot-fitter there, when Gordon left to pursue the Aline project full-time."
Tom: Did you ever try to pursue a career in your field of study?
Matt: "When I finished my Master's degree, I decided I would "take a year off" from academia and do the boot-fitting thing. At that point, I had just fit the boots of one my childhood heroes, Doug Coombs (he and Gordon were good friends), and I was fired up to work with more guys like him. I figured, if I couldn't be a pro skier, it would be super rad to be able to work with guys like Doug and contribute to their success."
Tom: How did you come to work for Atomic?
Matt: "After Boston, I moved to Burlington, Vermont and got a boot-fitting job at the Skirack. After about a year, I became the Alpine Buyer and sought to turn the shop into a premier boot-fitting destination that catered to fitting freeskiers & all-mountain skiers, which I felt were being massively undeserved since most proper boot-fitting was typically targeted towards the race crowd. I began working with the Meatheads, MSP athletes, and other X-Games athletes, so I got to meet and work with pros like Ingrid, Sarah, C.R., J.P. and Tom which was incredibly rewarding. During that time, I became friends with Jason Levinthal and helped him out with the Full Tilt boot program when that was getting started. That in turn helped open the door for me to work with other boot brands and give input on their future designs/strategies, which I really enjoyed. One such brand was Atomic and they wanted to show me a prototype for the Live Fit boot and this is how I met my current boss, Jason Roe. He's actually Canadian and prior to Atomic was the Director of the Whistler Ski School and also one of the guys responsible for getting the Whistler Bike Park started. Given that we were both skiers, mountain bikers, and boot aficionados we had a lot in common and quickly became friends. Unbeknownst to me, he was actually searching for someone to be the alpine boot product manager at Atomic. I guess he liked my ideas because he eventually asked me if I wanted to join the team in Austria. As a boot nerd, it was a no brainer for me and I said yes."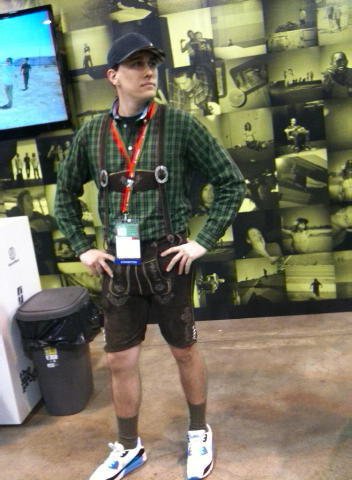 Just another Saturday night out in Austria
There you have it, although you may think that part time job in a ski shop is only good for a bit of pocket money, if you work with the right people and put in the effort it really can lead to much bigger things. Retail is sometimes looked down upon, but in terms of making connections with people in the industry it is a great way to go, but once you have worked your way up, what is it really like working for one of the biggest brands?
Tom: Can you briefly explain what you do day-to-day?
Matt: "In general, I manage the boot range from idea to finished product. Depending on the time of year and our development cycle, I could be informing the R&D team on what we need to make or working with industrial designers on the external shape of the boot or graphic designers on what graphics/colours/fabrics are to be used or meeting with retailers & athletes on what they would like to see next or fit testing/skiing prototypes or working with our marketing department on creating the story behind the boot. There are some other things which I am probably forgetting, but that's mainly my job in a nutshell."
Tom: What do you enjoy the most about your job?
Matt: "I love being a part of a development team that is genuinely living, breathing, thinking about ski boots every day. It seems that no matter how many awards we win or championships we win, they're never satisfied, they're always wanting to improve things and take things to the next level. And I think that is reflected in our boots. So when I see skiers stoked on the results of our efforts, it's one of the most rewarding feelings I've felt."
Tom: What is the worst part of the job?
Matt: "Some people might not know this, but we only have one boot offer for the whole world. That means the boots you see in Central New York are the same ones being sold in Japan or here in Austria. So trying to get all of the different countries aligned on colors is one of the most frustrating parts of my job. For example, what might work for France doesn't work for America or Germany but Japan loves it. So to set colors that everyone can agree on is mega annoying and ultimately impossible because you can't make everyone happy all of the time. When I see a new color proposal, I can already tell which countries will love and hate it haha."
Tom: Being that you are an active NS member do you ever wish you could take Atomic in a more Newschoolers direction?
Matt: "You know, one of the things we always tell people in the Gear forums is to get the boot that fits you the best and ignore if the boot is made for "park" or "powder" or "all mountain" or whatever. To a very large extent this is true and I don't think it will ever change, so I will always need to focus on making the best biomechanic solutions for the needs of skiers. And...as I alluded to before, there is something new from Atomic coming out that I know the NS crowd will be all over, despite it not being a "park" boot. Provided that it fits your foot, it will provide legit benefits that freeskiers of all levels will totally appreciate."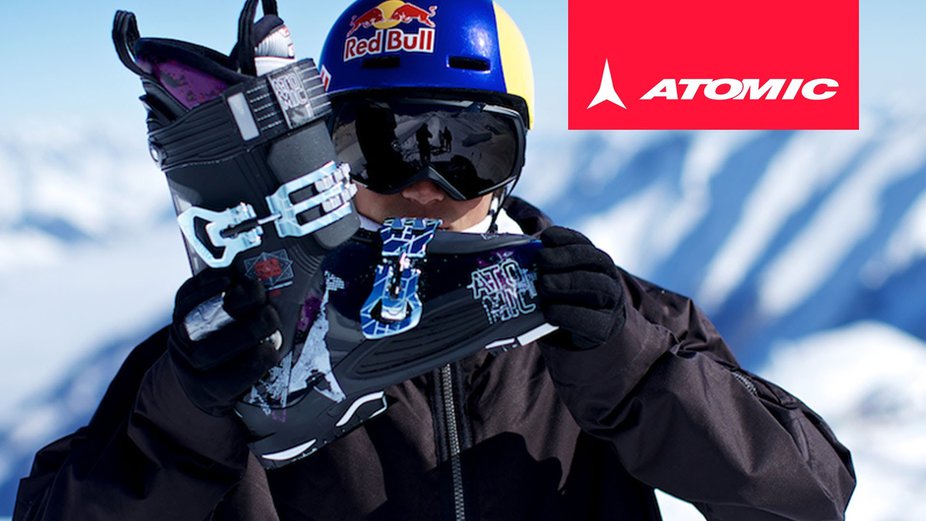 The overload is just one of the boots Matt has been involved with since joining Atomic
Matt has worked on a number of boot projects including the Overload and Waymakers, the all new Hawx 2.0 and most recently the Backland touring boots, but I was interested to know what products Matt was most proud of.
Tom: What product that you have worked on at Atomic are you most proud of?
Matt: "It's all been a crazily awesome experience, but I'd have to say the new boot that we are launching at the coming ISPO/SIA 2016 is what I'm most proud of. It's really been a project that I've had in my head for a long time and I think a lot of people are going to be stoked on it. Those who have already seen it, they can't wait to get a pair. I'm looking forward to the time when I can openly talk about it, but we're unfortunately not at that point yet ;)"
Tom: So now the big one, how much do you get to ski these days?
Matt: "Isn't that the joke of the ski industry? I work in the ski industry, so I don't get the chance to ski ;) Honestly, I am a weekend warrior now and I get about 40-50 days a season. It could be more, as we can ski during the summer up on the glaciers, but by that point I am fully in bike mode haha."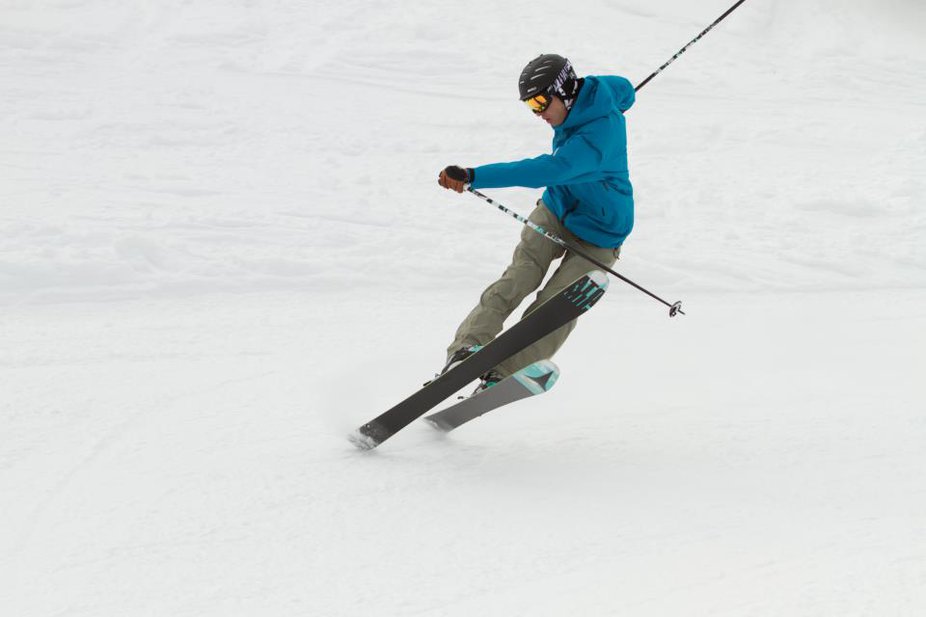 I'm fairly certain this is not how most of the Atomic engineers test gear, but its nice to know Matt is there, keeping the freestyle alive.
Although Matt has certainly got one of the better job's in the industry (I think so anyway) I wondered what he may be doing if Jason had never asked him to come join Atomic.
Tom: If you could be doing any other job, what would it be?
Matt: "If I wasn't at Atomic, I think I would shoot for a product management job in the bike industry. Or go back for my Ph.D. and teach philosophy. Hard to say honestly- the thought of not doing my current job would suck."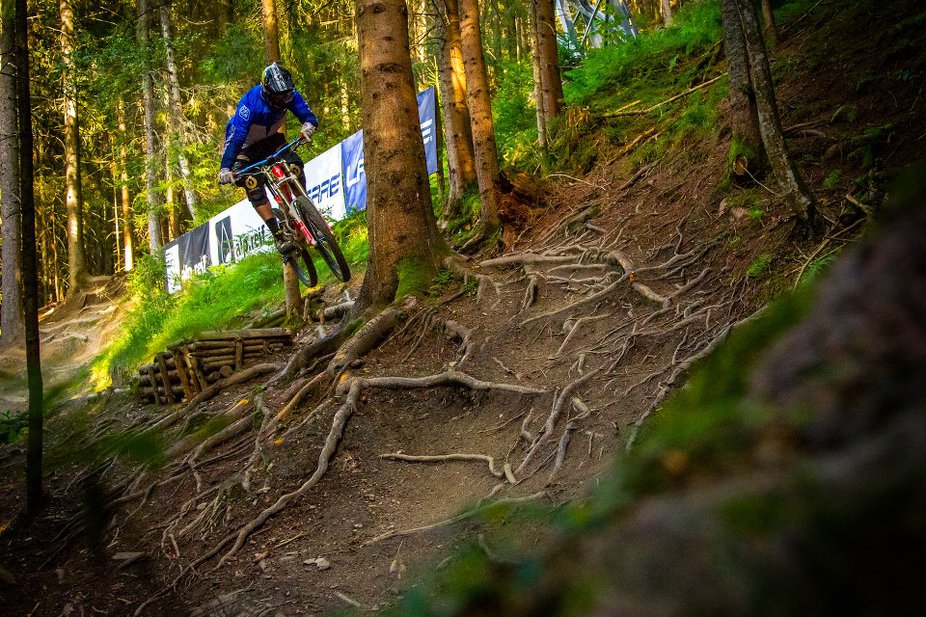 Weather it's covered in snow or dirt, Matt is happy, so long as its pointed down.
To finish I wanted to know if there was any one piece of advice, Matt would have liked to have given his younger self
Tom: If you could give your younger self one piece of advice, what would it be?
Matt: "Well, since I am super stoked and grateful where I ended up, I wouldn't want to say anything too drastic that might derail the path that I have ultimately made ... But I guess I would tell myself, "Don't take Latin as your foreign language in college. German is going to be much more applicable." That was a fairly useless decision no matter how you look at it."
So there you have it. If you want to design boots study Philosophy, work in a ski shop and learn German. OK that may not work for everyone, but it does show there is certainly not just one path to take. Getting your foot in the door is the important aspect and luckily getting that first job in a ski shop often is not that hard. Education of any type will always be helpful, in all aspects of your life, but don't stress to much about what you study. So many of the people I know working in the ski industry, have degrees which are seemingly totally irrelevant to what they do today, but few regret what they studied. Most of all though, Matt shows that with the commitment to learn and work hard anyone can get to that dream job.
Next week is the turn of Dave Brownlie, CEO of Whistler Blackcomb Ski Resort. Find out how an accountant from Vancouver became the CEO of the largest ski resort in North America and what running a resort the size of Whistler, actually involves.
Thanks to Matt for talking the time to answer all my questions.