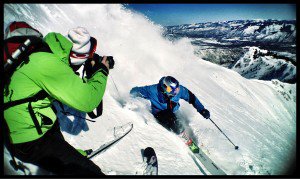 Day 4 here, coming at you–almost live–from Aspen/Snowmass. We've had an epic previous 3 days…and today the weather turned milky on us. Just white everywhere, with no snow…so we took the morning off which allowed me to wrangle a bunch of behind-the-scenes photos for your viewing pleasure. 30-something photos here from our iPhones, point and shoots, micro 4/3′s etc. Big thanks to Andrew, Erik, and Jerard mostly for helping me compile some of these.
Click through the tabs above to check out all the images.
As a heads up, we DID end up getting one of our shots in town last night and we're back at it this morning…it's 5:28am as I'm typing this right now and I'm due for call time here in 17 minutes so I gotta run. Feel free to ask questions of the images if you have any – I'll answer what I can. And be so kind to follow along in the other channels, my Twitter @chasejarvis, my Facebook page, my Google+ page – which are EACH getting exclusive content this week. And be so kind to follow the great crew at Aspen/Snowmass on their twitter handle too…@aspensnowmass. Stay tuned for more helicopters, kids, and world-class athlete stuff coming up.