Went a little too early to Hafjell today. Slushy and warm afternoons doesn't mix too good together with freezing cold nights. Every single track made with the cat last night had turned into the most frightening death-course I used to call park. With no edges, ice got me and I had to give up after one hour of skiing.
I went down to the car, brought up my jumping-pair of skis (Salomon Pro Pipe 2011 model), with fresh edges. As they are a little smaller, they are more easy to handle on icy conditions.
The sun was shining though, and I got to ski with the skiinstructor in Hafjell, Magne. He is really good at skiing and we sessioned out for a few hours before I called it a day. My body was beat after this weekends competition.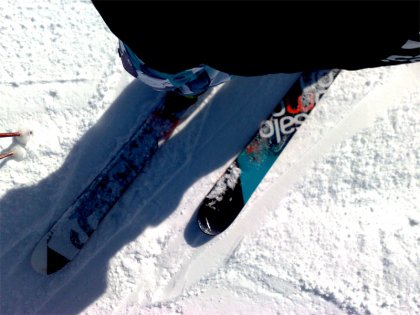 Gotta learn to love these skis, only I can't hit rails with them. Sucks when you really want to! I have promised myself that these are for bigair purposes only!