Words and Photos by: Jamie Walter
It's been a while since I last shot a major freeskiing event. Turns out, when you work full time at a ski resort, you don't often get the opportunity to attend events at other mountains. So when my boss nonchalantly asked me if I wanted to go to the Dumont Cup finals on Saturday instead of work, it was a no brainer; I had my first opportunity of the year and I was going to take full advantage of it. Less than 48 hours after being given the green light, I was packed up and on my way over to Sunday River.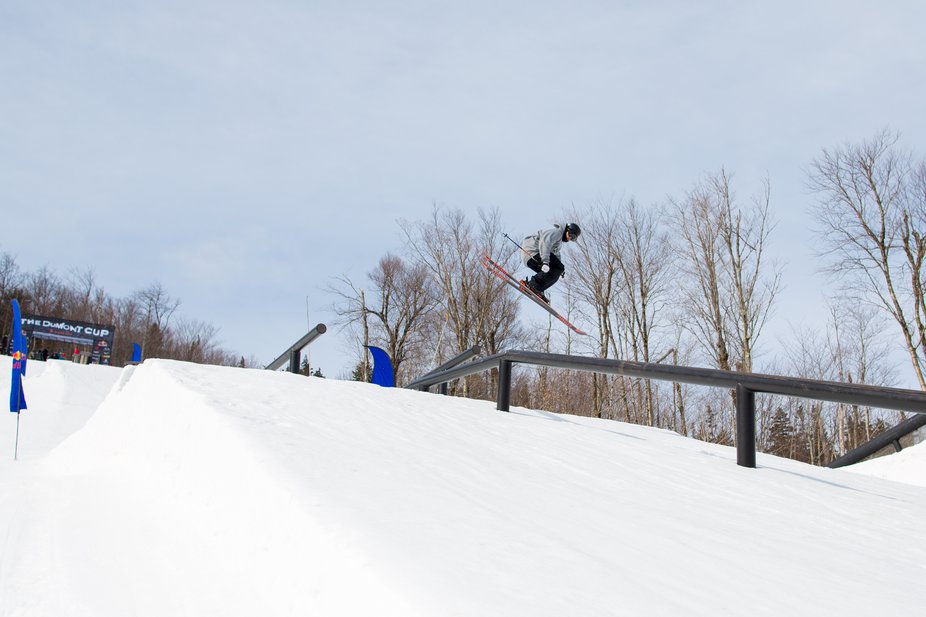 Gus Kenworthy disaster transfers from a flat rail to flat-down rail on his way to winning the 6th annual Dumont Cup.
Mother nature brought a smorgasbord of different precipitants, fog, and warmer air to the area on Friday, which made it difficult for the 90 or so amateurs trying to throw down and move onto Saturday's semi-finals. According to some of those competitors I spoke with on Saturday, speed was a prominent issue in the jump section and held them back from sending technical tricks; tricks that they would need to land perfectly if they wanted a chance amongst the big dogs.
Fortunately, the forecast sounded much more optimistic when I woke up Saturday morning. The few lingering clouds would eventually clear and allow the sun to shine, and temperatures would rise into the high 40's. The past few times I've attended the Dumont Cup, the final day of competition has always had great weather, and this year was no different.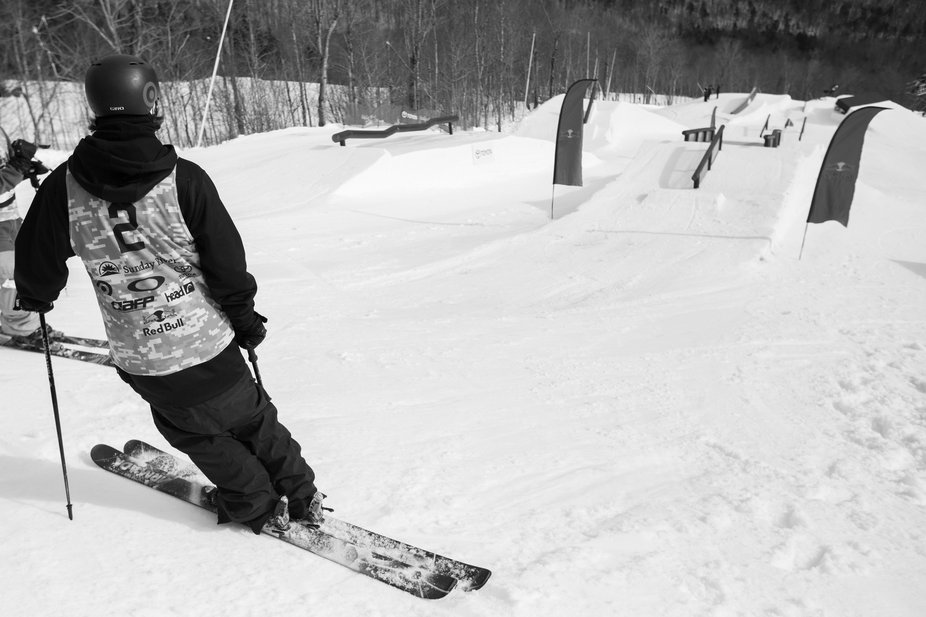 Torin Yater-Wallace checks out some of the rail features before dropping in during practice.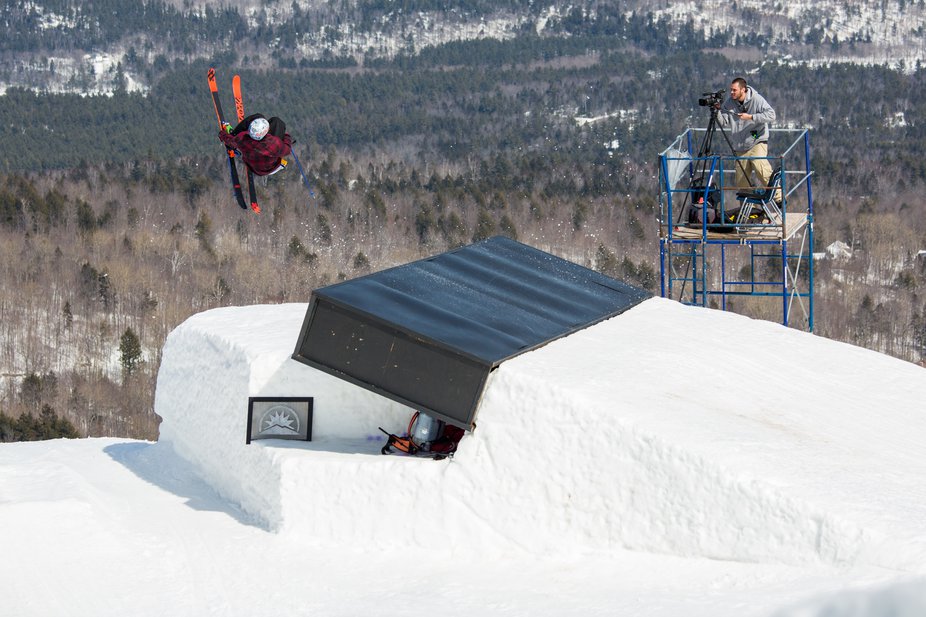 Nick Goepper.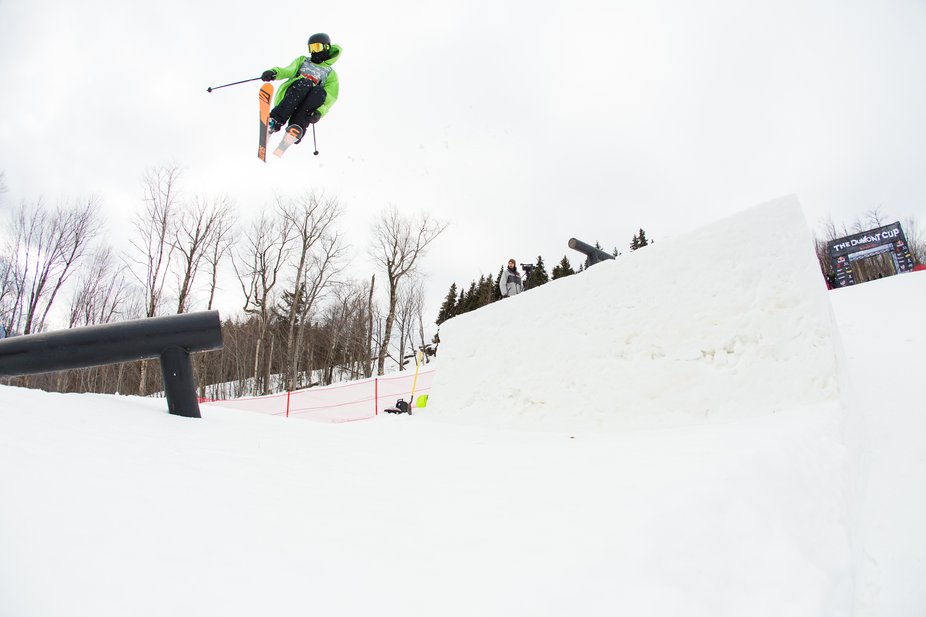 Saturday started out with a few lingering clouds, but it wasn't long before they cleared to allow for plenty of sunshine.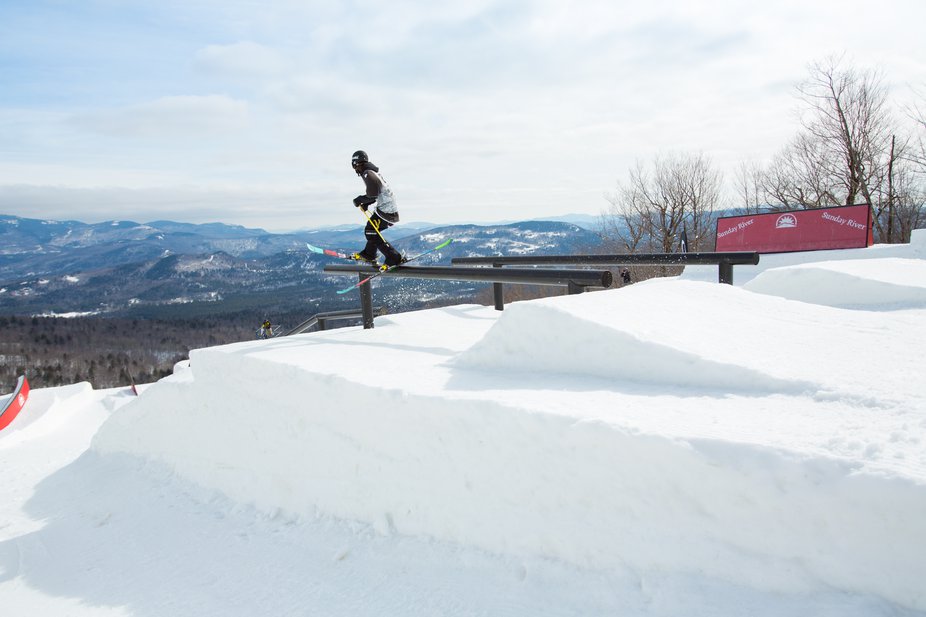 Blue skies begin to emerge as the first competitors of semifinals drop in.
I was a bit unprepared for what I rolled up to at the top of the new T72 terrain park. This year's Dumont Cup layout may have been one of the coolest and most impressive slopestyle courses ever conceived, and certainly the most technical one I've ever witnessed in person. 14 different pieces of metal made up nine different features on the top section, grouped in three lines of three hits each. In the lower section, three jumps extended down the skier's left of Sunday River's signature terrain park, the largest being the 75 footer sitting in the middle of the pack.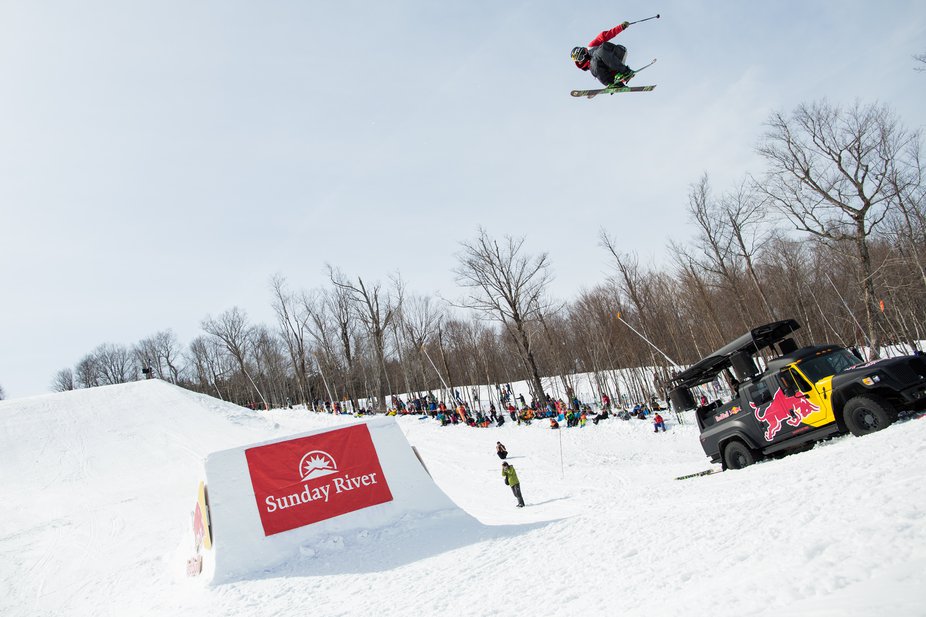 Noah Morrison on the second booter.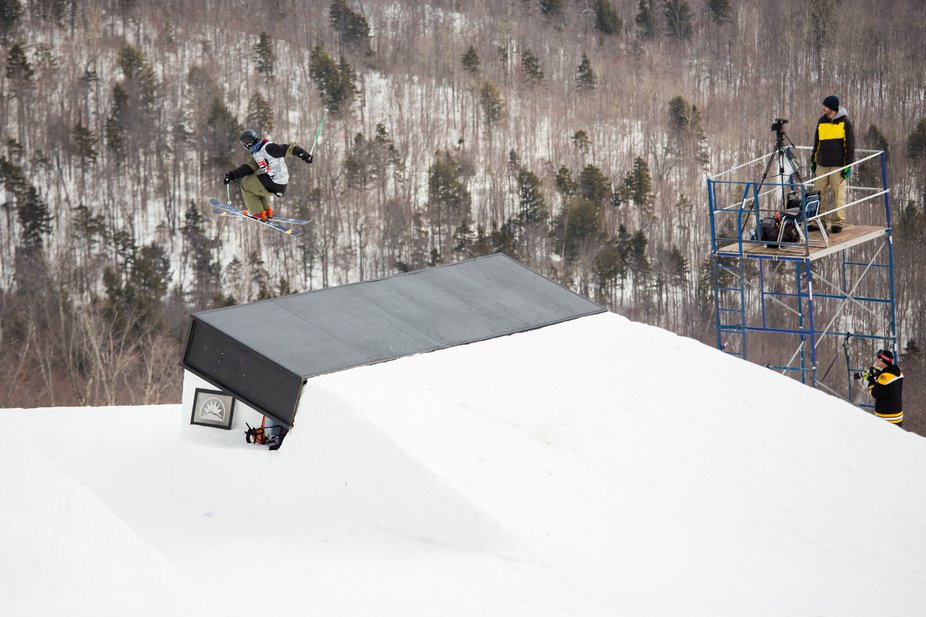 The "launch pad."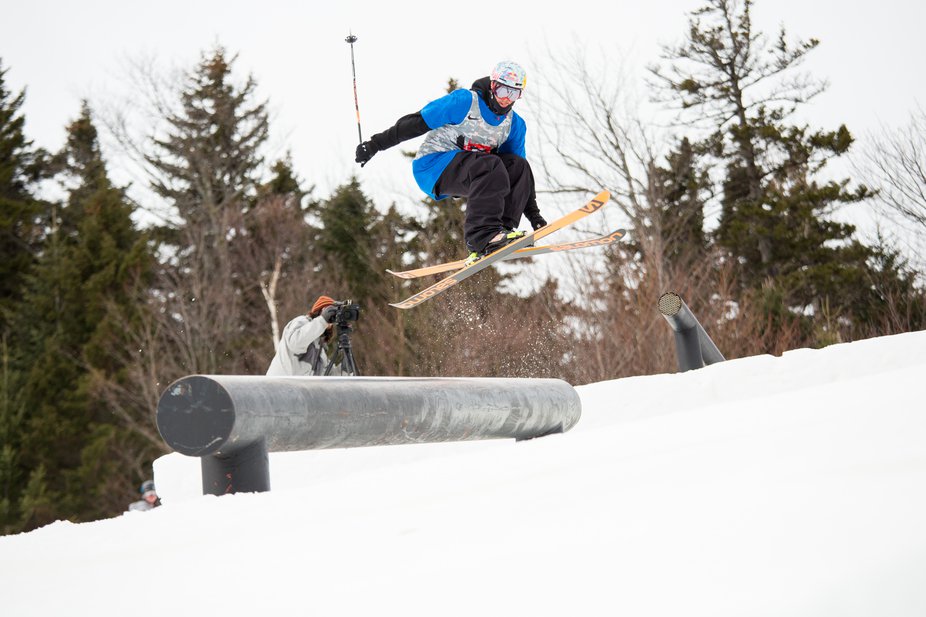 Bobby Brown.
Warm ups were for the most part mellow, as the sun hadn't poked out behind the clouds just yet, leaving a decent amount of firm snow where the groomers were unable to maneuver. As the snow softened up for semi-finals, 450 disasters onto the gap-to-down rail, big spins out of the pole jam, and k-feds on the quad kink became some of the more common tricks. A few athletes, most notably Gus Kenworthy and Joss Christensen, opted for the transfer rails down the middle, a very technical and not guaranteed line to choose. The jumps were dominated with every variation of double flip, not only from the pros, but the amateurs as well.
Every year since the conception of the Dumont Cup, the skill required to make it to finals has exponentially increased due to the rising standards in competitive skiing. Though each time I attend, I'm still blown away by the number of "smaller guys" that manage to hold their own and keep up with some of the best names in the game. Alex Hackel, a good friend of mine who grew up skiing at Sunday River, was no exception. Hackel's run contained a right double 1260 mute, switch double 900 safety, and double cork 720, which wowed both the judges and Simon Dumont himself, who announced "I will remember this kid's name" while on emcee duty. The dub 7 is a trick not commonly thrown by many skiers, and is even more rare to see on a slopestyle course during competition.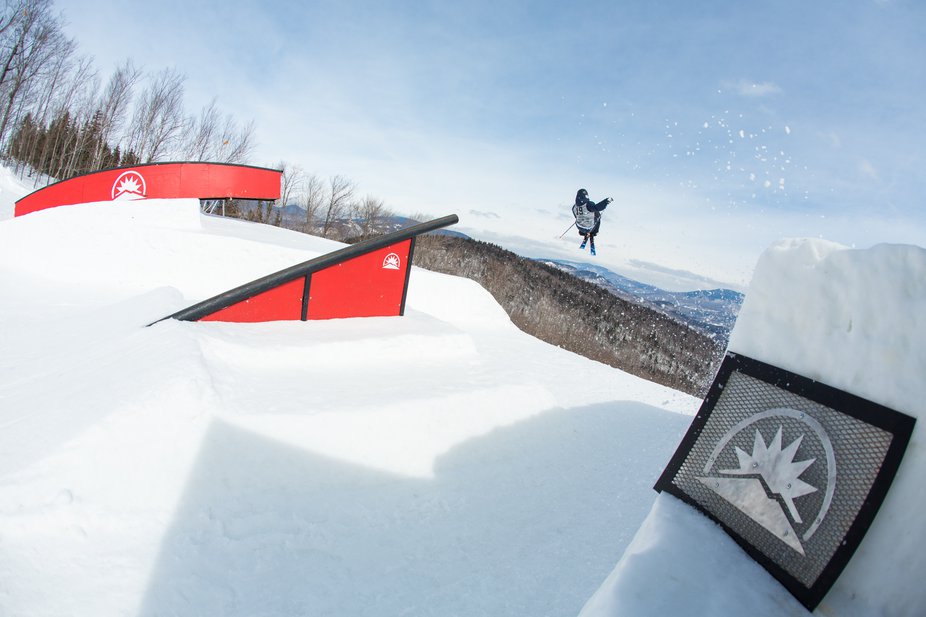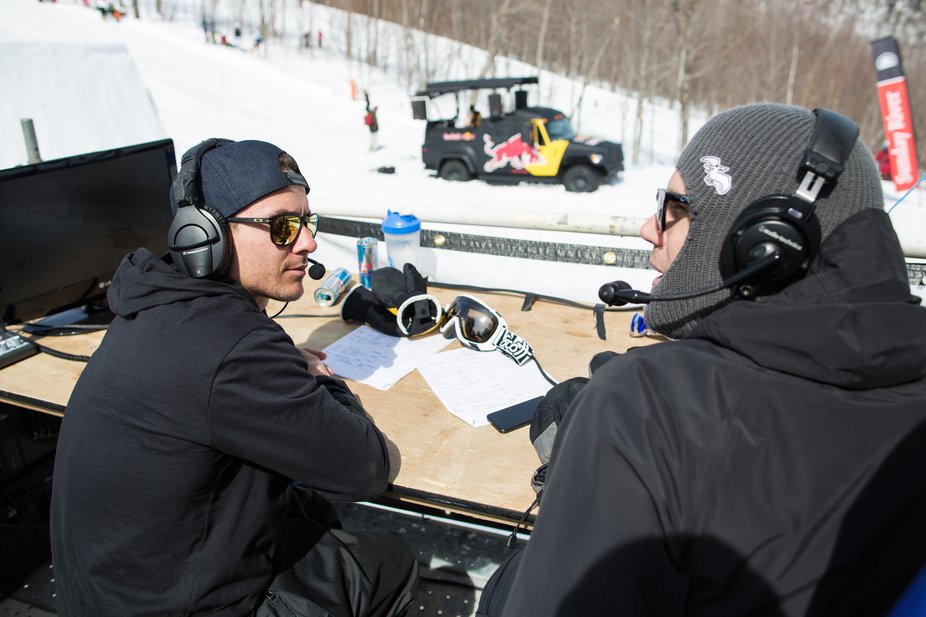 Simon Dumont and John Symms were in the broadcast booth giving the spectators and live stream a play-by-play.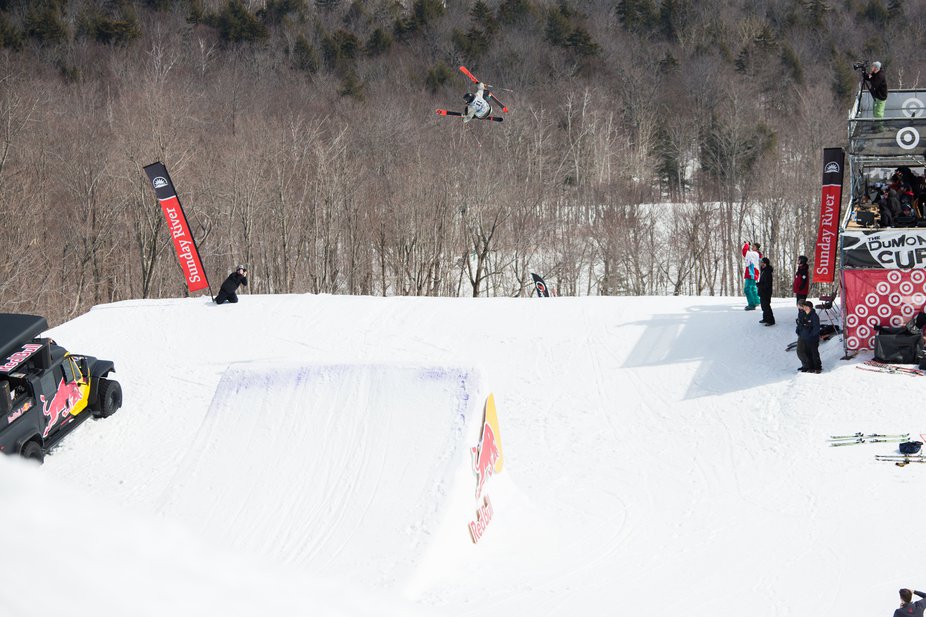 Alex Hackel showing what he has to offer right in front of the judge's tower.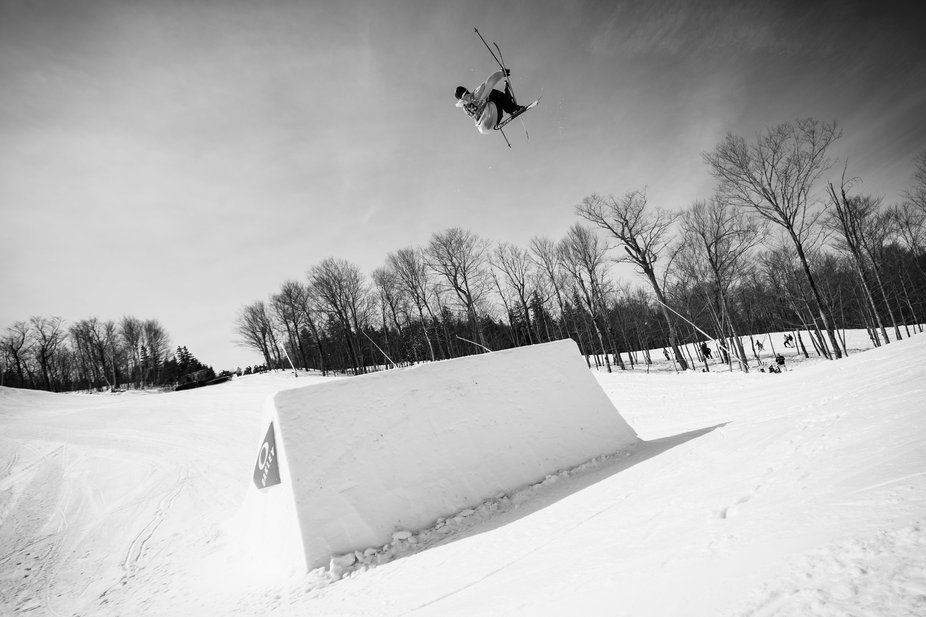 Evan McEachran.
Instead of focusing on every trick, run, and skier I personally thought was noteworthy, I figured I'd ask Tom Wallisch what his thoughts were instead. Due to a recent knee surgery, Wallisch was unable to compete, but he still played a part in judging the event he won back in 2009. To him, the technical tricks being thrown on the jumps were key to scoring big points, and those that took advantage of the more difficult rails did well.
"It was really cool to see (Kenworthy's) use of the rail features, going two different ways on the transfer rails up at the top, which is something I've never really seen on any other course. That was one of the more technical, creative rail lines we've ever seen."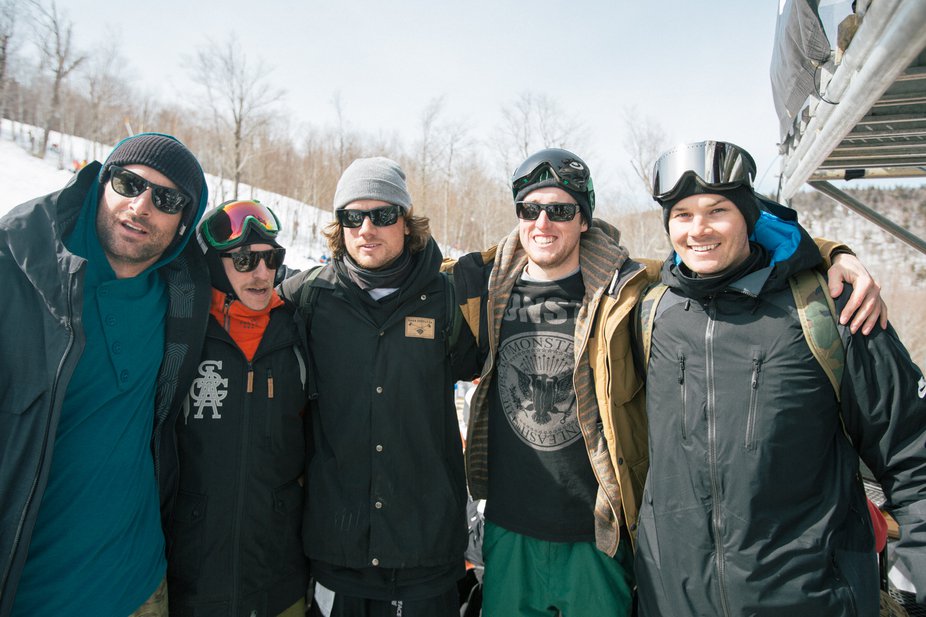 The judges get together for a group photo.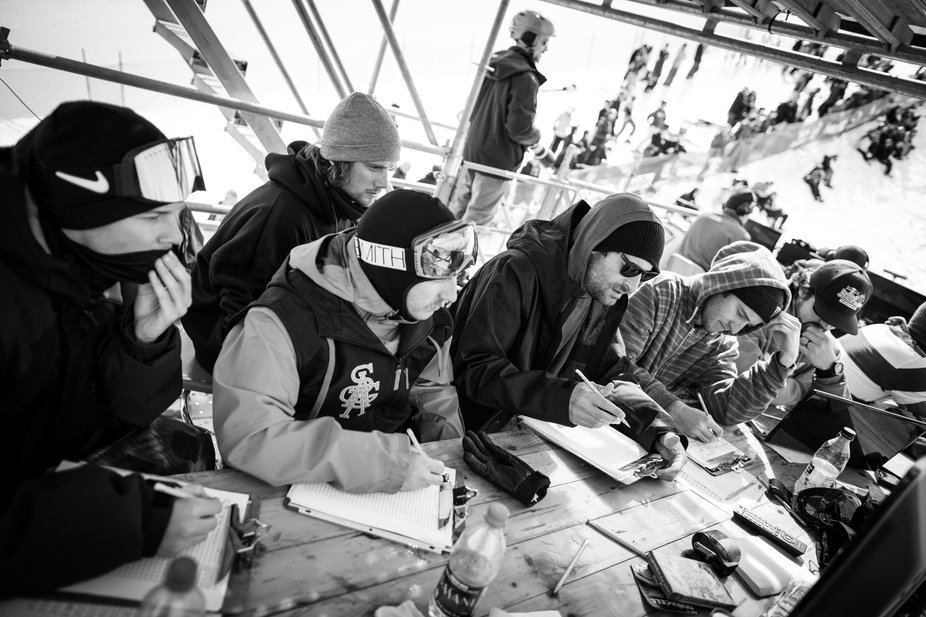 Don't worry, they worked hard too!
I also asked Wallisch how he felt not being able to ski a setup he probably would have excelled on. Despite being bummed he wasn't enjoying the sunny day and fantastic conditions, he was still thankful to be there.
"It's great to be on the other side of it for a change. I'm used to getting scored versus scoring other people, so it's good to see what it feels like from (the judging) side, and how hard it is to be a judge. Now I have a better understanding of competing and will hopefully be able to go out next year and take advantage of it."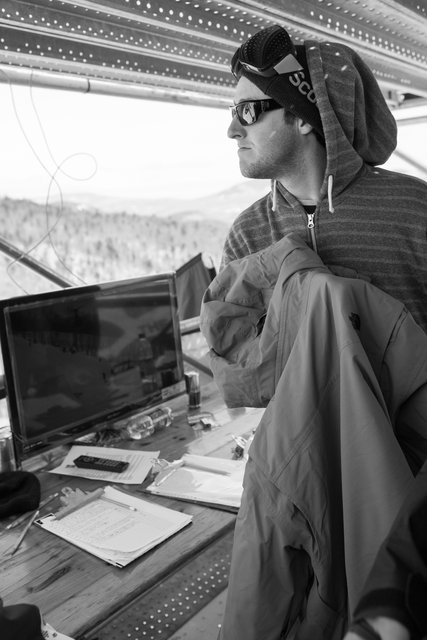 Tom Wallisch.
Eventually making their way into the top three were Bobby Brown (3rd), Nick Goepper (2nd), and Gus Kenworthy (1st). Goepper, who was given the opportunity to drop last after winning the Cup last year, was unable to take down Kenworthy on his final run after a bobble up in the rails. Just off the podium was Evan McEachran (4th) who advanced all the way from the amateur qualifiers and was tossing some of the best looking jump tricks of the day. Torin Yater-Wallace (6th) was hyped up by emcees Simon Dumont and John Simms as "Not just as pipe skier" after holding his own on the slopestyle course. One of the few surprises came from Olympic Gold Medalist Joss Christensen, who was unable to put down a solid run and ended up in 13th place.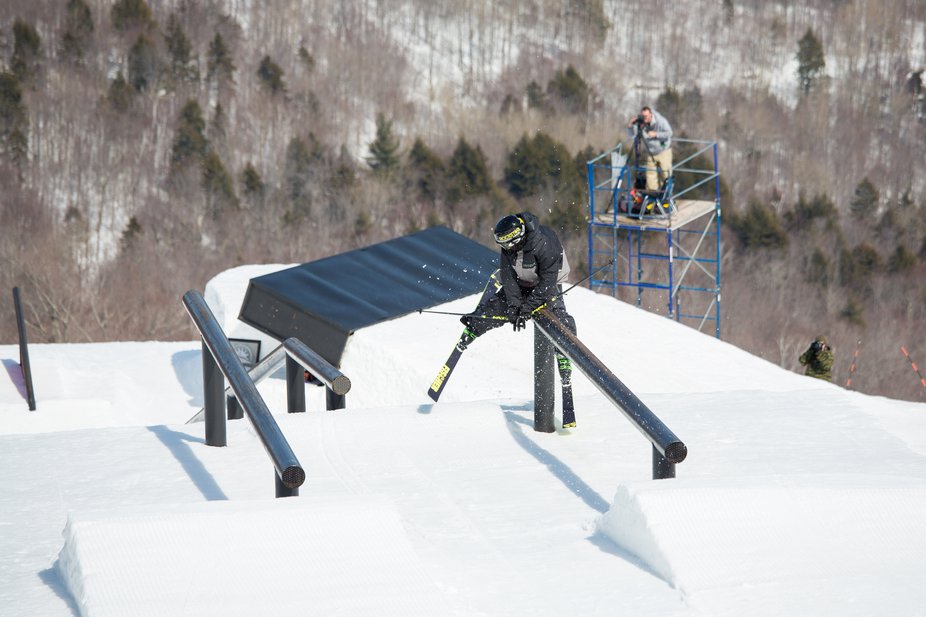 Joss Christensen couldn't seem to put a run together and ended up placing 13th.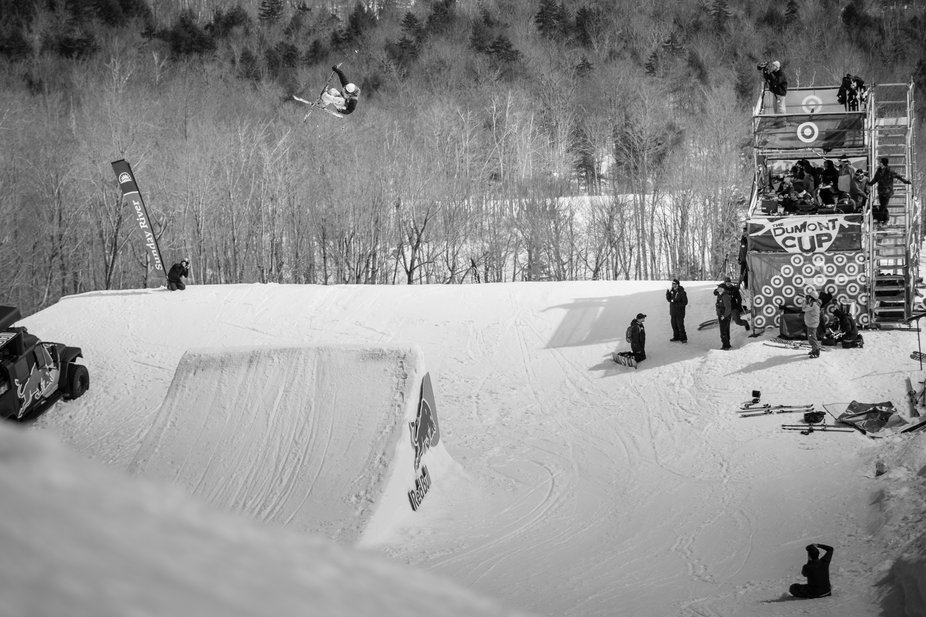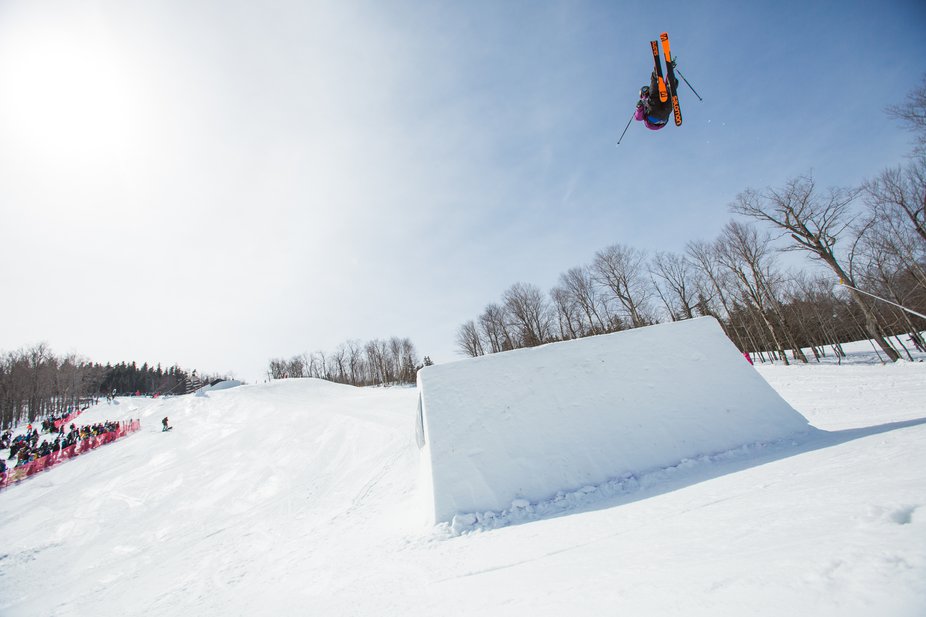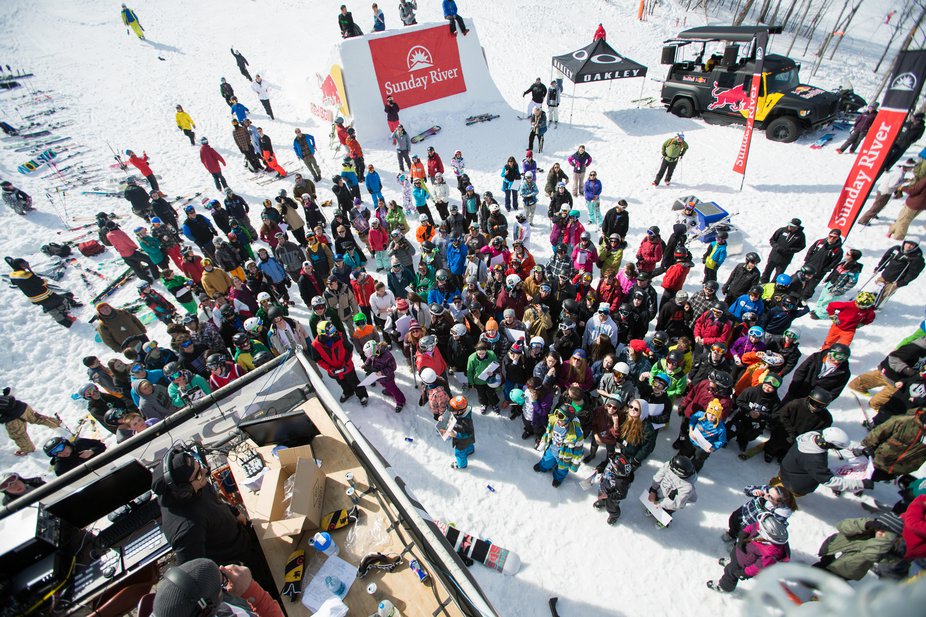 A crowd quickly gathers for a swag toss after finals wrapped up.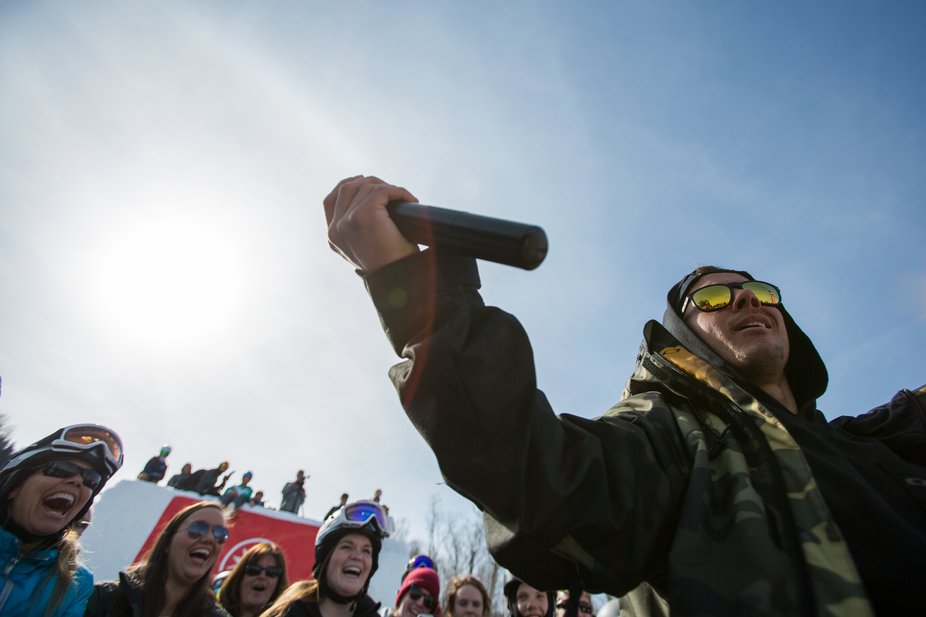 SImon stalled (and pleased) the crowd while waiting for the athletes to show up for awards.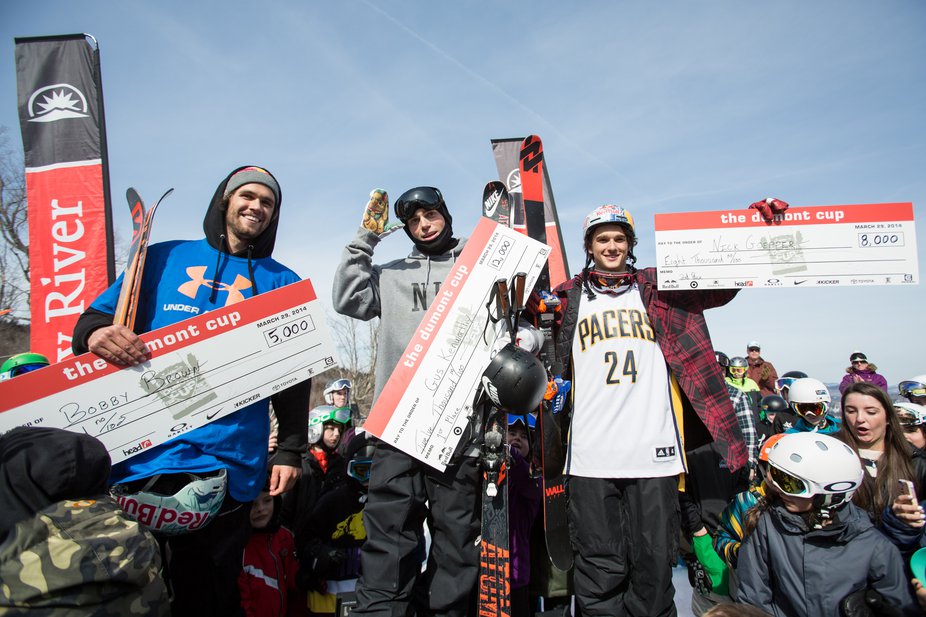 The 2014 Dumont Cup Podium - Bobby Brown (3rd), Gus Kenworthy (1st), and Nick Goepper (2nd).
2014 Dumont Cup Final Results
Gus Kenworthy – 94.7
Nick Goepper – 93.0
Bobby Brown – 92.0
Evan McEachran - 89.0
Alex Bellemare – 88.0
Torin Yater Wallace - 87.0
Robby Franco – 82.3
Oscar Wester – 77.7
Alex Hackel – 75.7
Cody Cirillo – 75.0
Tim Ryan – 69.0
Scott Nelson – 63.3
Joss Christensen - 54.7
Colby Stevenson – 45.0
Noah Morrison – 35.3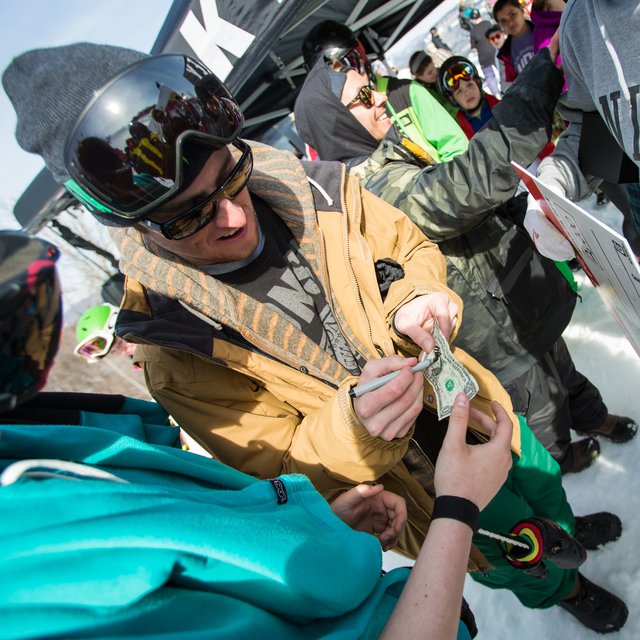 Tom Wallisch was still recognized and asked for an autograph on a $1 bill.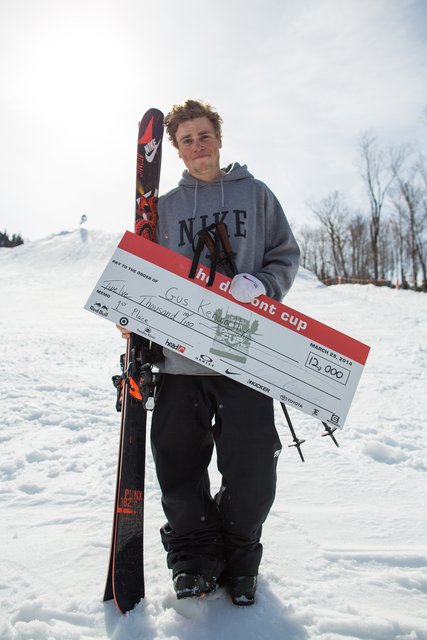 Gus Kenworthy, the 2014 Dumont Cup champion.
Overall, this year's Dumont Cup was one of the most enjoyable to date. The new T72 Terrain Park is the perfect location for an event of this size, and the Sunday River Park Crew showed their commitment to hosting a top notch event by constructing of one of the coolest rail sections I've ever seen in a slopestyle course. The awesome weather, large crowd, and plethora of athletes throwing down created a great vibe that makes the cup one of the best contests on the East Coast. I look forward to seeing what next year brings!
Authors note: I'd like give a huge shout-out to Darcy Morse and the Sunday River event staff, who managed to hook me up with lodging and media credentials despite my incredibly short notice. You guys rock, THANK YOU!