Yo! What's happenin' Newschoolers? I have never done an update before and have been trying to get some legit shots from my season! I spent the last few years out in Whistler shredding with the 604 boys but have re-located to the Gnarly North of Barrie, Ontario, Canada! Although elevation is slim and faceshots are basically never available I spent most of my time in the park.  Everyone hates on Ontario skiing but surprisingly the scene here is filled with lots of high school destroyers, legit parks and quick lap times which is a plus for us park rats.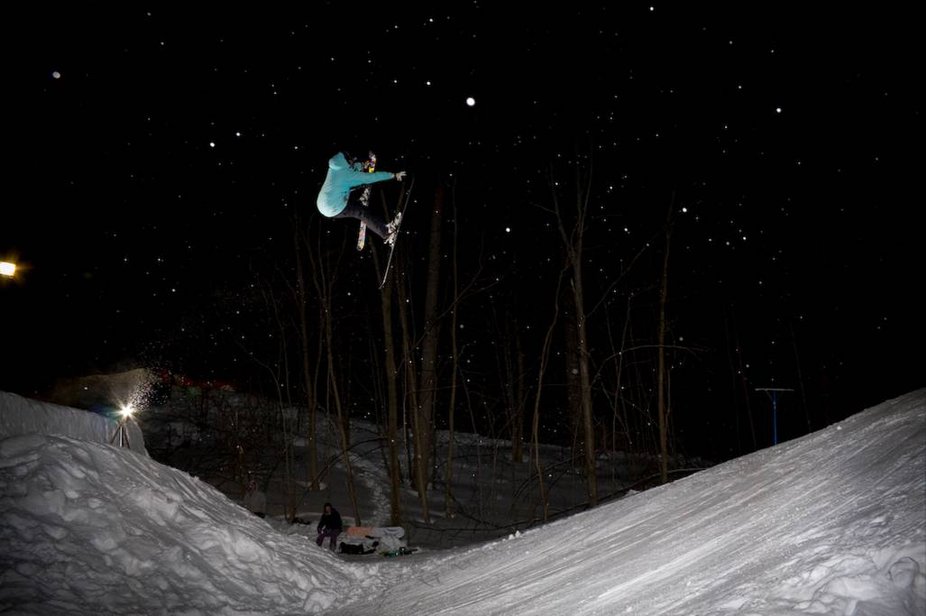 Switch 5 Double Nose – Horseshoe Valley, ON -                    Photo: Jordan Elise
I spent my winter coaching at Beaver Valley (B's up) a Private resort, near Collingwood, Ontario and also tuned ski/boards at a local shop. I took full advantage of Night Skiing at a local resort called Horseshoe Valley, especially this jump they built. I'm not sure if it was always pimp because no one hit it, or if the park staff is just on their game.  Either way, thumbs up!
Not sure why this one got a little distorted - but another Switch 5 Nose Twang with the MagicSticks –   Photo: Jordan Elise
Below is a snap of the judges panel for the Beaver Valley Club Champs – Brenden Buchar, Myself, Ryan Ceasar and Caleb Tha Boss on the Mic. Thanks to SBC Media and the legend, Steve Jarrett we were able to put on an open slopestyle for all the kids at Beaver Valley with more swag then Santa could even carry. We had kids as young as 5 killing it out there, so Sick!
Big Ol Zero shifty/mute at Beaver Valley, Ontario – Photo Pico Adams
Props to Dave Stewart and the Rightous Riderz Rail AKA "tha Jesus"  - MSLM
Take it easy guys and see you at Hood - thanks for checking out the edit. I know it does have a lot of slo-mo but don't hate too hard on it - we were havin fun! 
~M. Dussault
BOONE Crew