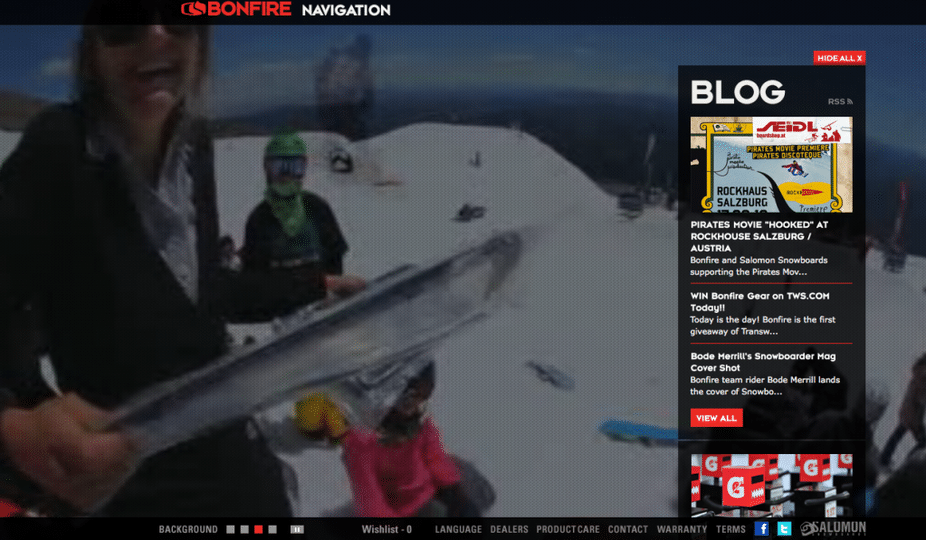 PORTLAND, OR. (Sept. 1, 2010) ? Bonfire Snowboarding launched its new video and photo driven website this morning. Bonfiresnowboarding.com features extensive video, team driven content, a reformatted blog and easy to navigate product photos and information.
The site offers the best product care info in the industry for extending the life of a rider?s outerwear.
Filters make it easy to shop online by color, fit, fabric, price, performance and insulation. Once browsers have narrowed down their search its easy to click and find a dealer.
Watch videos from Bonfire team riders Bode Merrill, Louif Paradis, Desiree Melancon, Takaharu Nakai and David Benedek http://bonfiresnowboarding.com .
Nemo Design in Portland, Oregon executed the design of the site with programming by Instrument, also located in Portland.
About Bonfire Snowboarding: Bonfire Snowboarding began in 1989 with a drawing on a napkin and a desire to be artistic, eclectic and to keep snowboarding unique. Twenty one years later, we?re still drawing on napkins?in RV?s, airports and car rides to bring you an authentic collection of outerwear that will withstand any condition and to keep creating the memories, friendships and travel stories that last a lifetime. http://www.bonfiresnow.com
Related posts:Windells Academy takes a trip to Bonfire Snowboards!
Bonfire P2P
College Session 2010