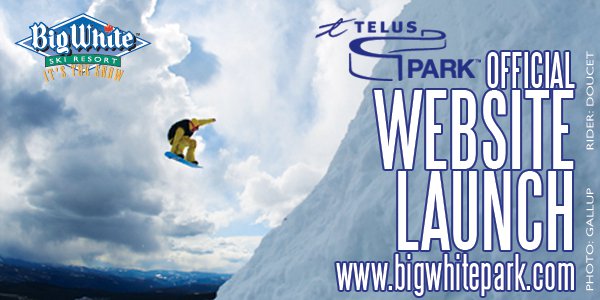 Big White Ski Resort is proud to share with you the launch of its latest terrain park feature: the new TELUS Park website.
Big White's roots in snowboarding go back nearly thirty years with
local pioneer snowboarders hiking the slopes. Since then, Big White has
developed some of the industries top Pros including the founder of
Stepchild Snowboards, Sean Johnson. The Big White terrain park saw its
beginnings in 1988 with a few small features and a hand-shaped half
pipe. In 2000, Big White fully committed to the terrain park program
installing an 1,800-foot long double chair and dirt work structures.
Today, Big White finds itself with a $10,000 investment in rails &
boxes, summer grooming, and dirt work in the terrain park, as well as
host to a pumping local scene passionate about their sport.
With the evolution of the terrain park, Big White wanted to have a
tool that guests, skiers and snowboarders could tune into on a regular
basis. The idea behind the site is to include more than just condition
reports but to take you deep inside the local scene.
The new site will cover in depth information on park builds, staff
bios, local rider profiles, park culture, events and much more. Skiers
and snowboards can drop into the site, take a look around and see what
really happens in TELUS Park and see how it all comes together. From the
rails to the ski cross course, every feature will be displayed, and
you'll be able to watch all the great videos made in TELUS Park.
"Park users can have a communication tool with staff and become
educated on our park philosophy and understand how we operate on a daily
basis," comments Flynn Seddon, Director of Terrain Parks and Events at
Big White Ski Resort.
Big White's new terrain park site will become your go-to forum for all the content a terrain park junkie could hope for. 
Get ready for La Nina, she's on her way with tons of fresh Pow for us this winter!
GO TO http://WWW.BIGWHITEPARK.COM and enter to win this SUPER STOKER PRIZE PACK