https://soundcloud.com/walshyfire/raekwon-x-kabaka-pyramid-be-inspired
We reviewed the full BE Inspired movie yesterday and it's safe to say our minds were blown. The BE Inspired Movie Soundtrack plays a massive role in the whole movie experience, and what an experience it is. Produced specifically to match the film, the blend of hip hop and reggae, fits the skiing perfectly. The film premieres in Quebec tomorrow (10th September, get there if you possibly can and come say hi) but the soundtrack is out now for your aural pleasure. You can listen to the entire thing here, and download from Itunes right now.
More info:
The film is 25 minutes in length with ski action segments that are interpreted through song themes that match Hiphop artists with Reggae artists. Each collaboration on the soundtrack was written specifically for the scene and the matchup of artists was carefully determined to produce the ideal mood and lyrics to reflect the freestyle ski action locales.
Walshy Fire Presents, the label founded by Walshy Fire - DJ, producer and core member with Diplo and Jilionaire of Major Lazer releases the soundtrack which represents the toolset he brings from his involvement with the Black Chiney soundsystem group of producers and DJ's. Black Chiney is a pioneer in the development of "mash ups" that blend hip hop or R&B rhythms with leading reggae artist vocal tracks and releasing them on mix compilations.
Filmmaker director Eric Iberg was the executive producer of the soundtrack for the film, setting the agenda of the film segments based on the personal tastes of the two world class freestyle skiers and stars of the flim, Sweden's Henrik Harlaut whose love for hip hop and Phil Casabon of Quebec, Canada whose love for reggae determined the film's soundtrack concept. The film tour is sponsored by Monster energy drinks and Armada ski equipment. Their freestyle ski viral videos with thousands of plays have established them as a duo on the international ski scene.
Iberg's Inspired Media Concepts has produced freestyle ski films since 1998. He notes that this is "a very special project compared to my other releases. The soundtrack is incomparable to anything that has been created before in ski movie history and to break the album down in the music world, there has only been one album like this before which was the 2003 album DefJamaica. I am beyond proud to have helped bring all these artists together with Walshy Fire and create something truly original."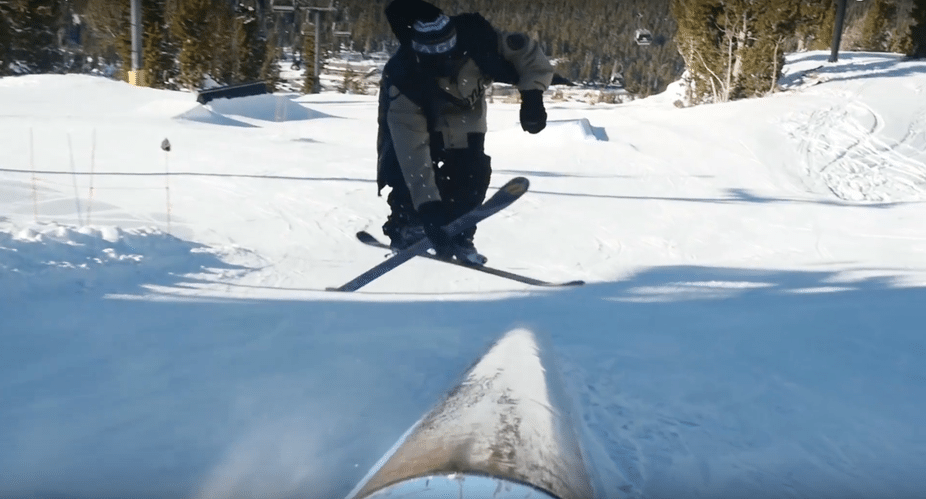 The first single from the soundtrack was first released in January (to coincide with the film's trailer launch), the self-titled "Be Inspired" with Hiphop legend Raekwon of the Wu-Tang Clan and Kabaka Pyramid from Jamaica, for whom the duet was a dream come true as a Jamaican whose creative inspiration is rooted in Hiphop MC stylings. The rhythm was produced by Jamaica's Winta James (Damian Marley, Chronixx, Jesse Royal) and is influenced by old school, East Coast style retro soul vibes.
With 7 songs Be Inspired is a maxi-EP soundtrack full of variety with beats from varied producers from around the globe and combinations with artists in reggae like Agent Sasco who is featured on 2015's biggest album in Hiphop To Pimp A Butterfly from Kendrick Lamar. Sasco is featured on the song "One" with rapper Dillon Cooper.
For "Street Knowledge", rapper Cormega enthusiastically joined forces with Jamaican artist Sizzla whose extensive catalog of powerful singles has had an impact on the streets since the mid-90's. Kardinal Offishall known as Canada's hip hop ambassador is the son of Jamaican parents teams up with next generation Jamaican artist Masicka for "Samurai Showdown".
On "Game Over", Swiss reggae artist Cali P born to parents from Guadeloupe and Switzerland is in combination with Brooklyn's Kirk Knight a rapper and producer who is part of the Pro Era crew led by Joey Bada$$.
Randy Valentine, a Jamaican born British national, holds the melody over downtempo chord changes on "Zion" with rapper CJ Fly also part of Pro Era crew. Randy Valentine is the son of Jamaican and and Bajan (Barbados) parents, he also performs producer duties on the track. As the credits roll, the tune "Mountain Peak" a deep roots reggae and dub track by American artist Machet featuring Addis Pablo on melodica takes the film out.

Be Inspired Movie Soundtrack (OST) Track Listing:
Be Inspired - Raekwon featuring Kabaka Pyramid
One - Dillon Cooper featuring Agent Sasco
Street Knowledge - Sizzla featuring Cormega
Samurai Showdown - Kardinal Offishall featuring Masicka
Game Over - Cali P featuring Kirk Knight
Zion - Randy Valentine featuring CJ Fly
Mountain Peak - Machet featuring Addis Pablo
Total time: 23:06
Throughout the history of Hiphop, there have been collaborations between rap and reggae artists including the Def Jamaica series released by Def Jam in the early 2000's. Blending reggae and original dancehall MC delivery known as "Deejay" style in Jamaican patois has been a constant in Hiphop as was done with rap trio the Fugees who made their mark in music history singing and flowing through Caribbean music filters. Collabs between artists like KRS One and Shabba Ranks set the pace for the trend in today's dancehall or tropical house influenced hits by Drake, Rihanna and more. Now with the release of Be Inspired, current day American and Jamaican style rappers and vocalists provide the soundtrack to a freestyle ski film and extreme sport.