[UPDATE: You can now watch the full movie here on Newschoolers!]
Yesterday I was lucky enough to be sent an exclusive preview version of the BE Inspired movie by Eric Iberg, which, to my knowledge, only 2 other people outside of the editing team have seen. After an initial watch through I called Eric for a chat and he probably gave me some useful info relating to the movie, and in return I definitely jabbered back at him mindlessly and forgot most of what was said, because at this point my brain was a puddle. Put simply, BE Inspired is a triumph.
Once I'd calmed down, Eric did manage to make me retain a couple of useful bits of behind the scenes info. For example, Phil and Henrik edited the whole movie themselves on a stock macbook using just the standard touchpad and a presumably lot of patience. And that's in keeping with possibly the best thing about the movie, which is how relatable it is in all its aspects.
https://www.newschoolers.com/videos/watch/836354/BE-Inspired---Trailer
Trailer... Skiing starts 01.50
It's well shot and there are certainly none of the crazy effects that some people took issue with in Education of style. Yet it's far from clean, it has the feel of a 90s hip hop video but with better cameras (no REDs here though). The beauty is that if you sat on your macbook and took the time, you could come up with something that looked like this. Getting it to sound like this might be a bit more of a challenge, the whole soundtrack is custom produced by Walshy Fire (and available to pre-order in case you were wondering). Listen Here.
Of course, also you'd have to be Phil and Henrik to get the actual shots. Because the skiing in this film is frankly mind melting. No other skiers on the planet could have made this movie. It's split into 5 riding segments named after the tunes they are set to: One, Samurai Showdown, Street Knowledge, Game Over and Zion.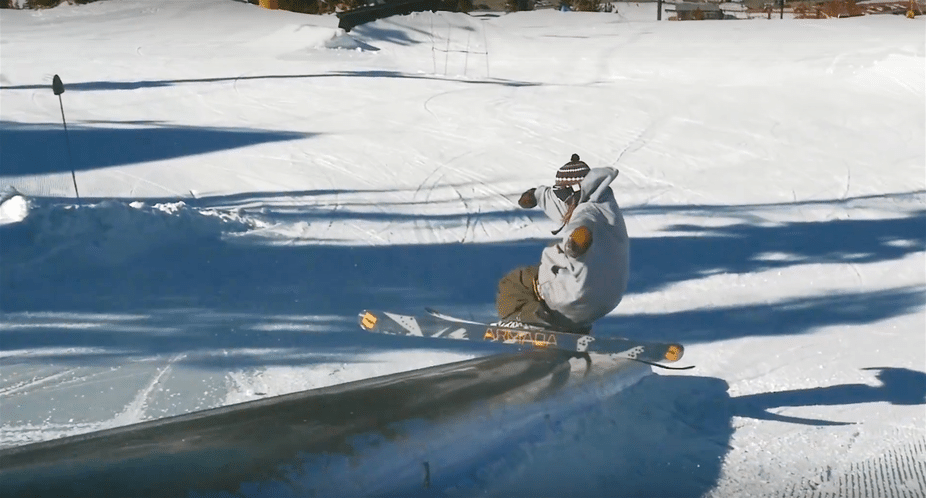 One is the first segment and set in the Mammoth early season park. The set up? A small jump, some regular rails and the highlights of the segment are mostly filmed on that fat down tube, which might be the most slid piece of metal in freeskiing history. Which brings us back to relatability. I could hit and enjoy every feature in this segment but with this limited setup, Phil and Henrik take skiing to a whole other planet. For all my record of complaining about park edits and segments, this might have been my favorite section in the movie.
Samurai Showdown is Phil's urban segment. He has this one to himself and to me, puts to rest any doubts that he is the all around greatest urban skier on the planet. The vast majority of the tricks and lines in here no other skier would even think of let alone have the ability to pull off.
Henrik joins the urban party in Street Knowledge and brings his own flavour to the streets. Here again, many of the spots are accessible in theory to us mortals, but doing what these guys do to them is next level impossible. The red ledges in Quebec make a return, reinforcing some retro vibes but the tricks themselves are anything but.
Game over is Henrik's all backcountry jump segment and he is quickly becoming the owner of the BC jump game. It isn't surprising, few would contest that he has the greatest jump game of any skier out there and he's taking those skills and whole new axes to the backcountry now.
As before, in the second BC segment 'Zion' the other half of B&E joins the show and Phil more than holds his own with some crazy sidecountry flow. It's interesting to see how the two skiers have diverged, with Phil taking the Urban game to whole new heights and Henrik setting a spark under the BC jib game. It's not that both don't have insane skills in both environments but the diverging focus is clear here.
At 25 minutes this isn't a long ski movie, but that's a lot of footage for two skiers to stack even over two seasons, especially given respective injury problems. And trust me, it's more thank long enough to blow your mind. Eric Iberg's influence on the project is clear, it all feels intelligently planned and near flawlessly executed. He described the movie to me as "the most fun I've ever had making a movie" and it shows.

Idea will probably always be my favorite ski movie. I credit it with sparking my addiction to freeskiing and without it, I'd never be in the job I am now. It was years ahead of its time and featured the most groundbreaking skiers of its time, showing what skiing would become. For me, BE Inspired could be the Idea for the next generation. A spark showing what skiing can become.
In the space of a few hours I've watched it 3 times in full, something I don't think I've done with a ski movie more than once or twice before. Every time I watch it, I see something new that makes my jaw drop. It's the best movie I've seen since Idea, and I can't give it higher praise than that. And the two other people who've seen this...
"Mindblowing. Just what skiing needs" - Jason Mousseau, SBC Skier
"This movie is going to be a "moment" in skiing. One of those movies which changes the face of the sport for the next generation and re-sets the tone from where it was. Poorboyz 13 and Idea were two to do this, and BE Inspired is the next. This sets the bar for modern skiing and does it in a way that an entire generation of skiers can follow." - Doug Bishop
_
The premiere is THIS SATURDAY in Quebec City, and the movie will be touring the world over the next month. Mr.Bishop will be at the QC premiere, I'll be in London and the rest of the crew will be at First Chair Festival. Here's the full dates, you want to make it to one of these!
Sep 10 - World Premiere, Quebec
Sep 16 - Stockholm
Sep 17 - Oslo
Sep 17 - First Chair Festival, SLC
Sep 21 - University Of Maine
Sep 22 - Prague
Sep 22 - Burlington, VT (East coast movie tour)
Sep 23 - Munich
Sep 23 - Portsmouth, NHS
Sep 24 - Innsbruck
Sep 26 - Milan
Sep 28 - London
Oct 1 - High Fives Festival, Annecy
Oct 1 - Ski Sundown, CT
Oct 6 - Barcelona
Oct 7 - Andorra
Oct 7 - IF3 Amsterdam
Oct 16 - Tahoe, CA
Oct 21 - Ogden, UT
Nov 1 - Free Online Release