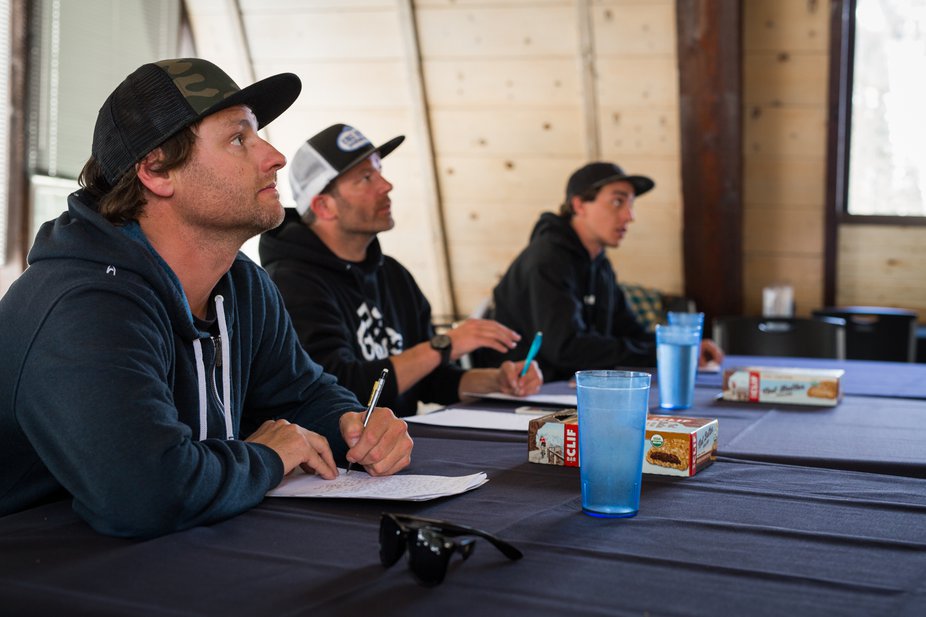 On Monday, a panel of freeski judges and industry professionals met at Brighton Resort to judge the 2017 Park and Pipe Open Series, Big Air and Halfpipe video submissions. Monday marked the first of three rounds of judging to take place as part of The North Face Peak2Park Virtual Competition. The panel was lead by PPOS Head Judge Steele Spence, who holds FIS A Level and AFP Platinum Level licenses and has been selected as the U.S. Halfpipe and Slopestyle judge for the 2018 Winter Olympics. Accompanying Spence was Ian Meader, former freeskiing professional and judge; Dan Allen, longtime AFP Gold level judge and ski photographer based in CO; and Khai Krepela 2017 X-Games Real Ski contestant and Brighton athlete.
2017 PPOS Big Air Open
Veteran PPOS competitor and 2016 slopestyle winner, Darian Stevens (Park City, UT) paired a technical grab and switch 900 that was fluid from start to finish, earning first place for the 2017 PPOS Women's Big Air Open. "Stevens' switch 9 was the best and cleanest trick," said Meader. Marin Hamill (Park City, UT) finished in second for her clean right 720. Caroline Claire (Mt. Snow) finished in third. Claire and Hamill have both had successful seasons with numerous podium finishes at FIS events.
http://www.newschoolers.com/videos/watch/862392/Brendan-MacKay---2017-PPOS-Halfpipe-Winner
Judges nominated Sophia Schwartz's (Steamboat, CO) left rodeo 720 for the PPOS "Best Trick" award. "Shoutout to Schwartz for her rodeo seven off that crazy jump. It was the highest air in the competition," said Krepela. At the conclusion of the 2017 PPOS season, one trick/competitor will be chosen to receive the Best Trick award, worth $1,000 USD.
Mac Forehand (Winhall, VT) executed a "best in the business" right triple 1440, earning him first place for the Men's Big Air Open. Forehand has had quite the season, placing first at both the Aspen Open and the 2017 Revolution Tour at Waterville Valley. His X-Games level performance blew the judges away.
"Forehand's left dub 16 is a very uncommon trick. We see dub 12 all day long, but it's rare to see a dub 14 or 16. The tail grab makes it even more difficult and unique," said Spence.
"His triple 14 was amazing! It's just remarkable to see a 15-year-old casually stomp a triple like that!"
http://www.newschoolers.com/videos/watch/862390/Mac-Forehand---2017-PPOS-Big-Air-Winner
Dean Bercovitch's (Whistler, BC) left double 540 also earned a PPOS Best Trick nomination. "Bercovitch was spinning towards a 7 and reverted back to a 5 in mid air. It's an incredibly creative and extremely difficult trick," said Allen. Bercovitch finished in second, followed by Cal Carson (Highland Ranch, CO) who placed third. "Carson's double 10 blunt demonstrated the best style out of all the tricks we saw," said Krepela.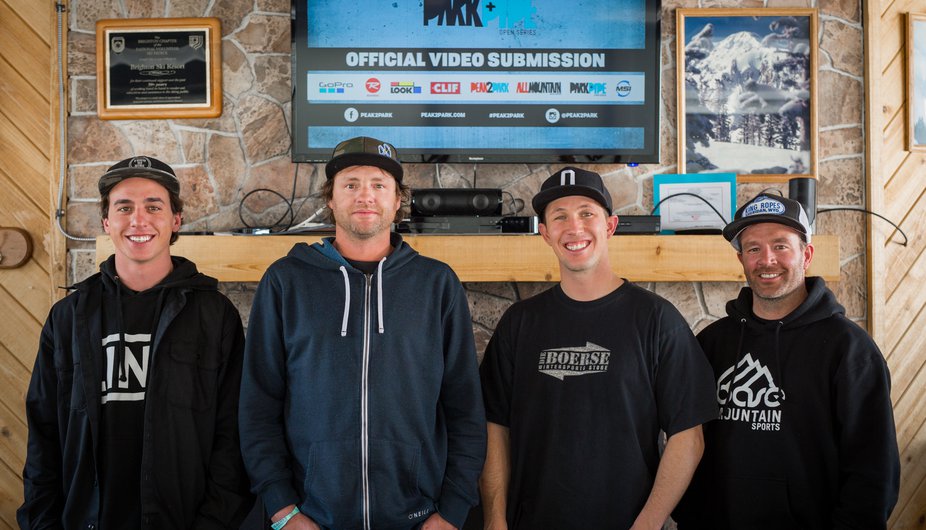 2017 PPOS Halfpipe Open
Abigale Hansen (Mammoth Lakes, CA) had a standout performance in Women's Halfpipe Open, demonstrating solid switch combinations and the ability to spin all four ways. But it was Sabrina Cakmakli (Garmisch, Germany) who took first in women's pipe. "
"Out of the gate, Sabrina threw a big switch air safety (poptart) to forward with good amplitude. She had a variety of grabs which definitely stood out. Sabrina completed her run the cleanest and biggest," said Spence.
http://www.newschoolers.com/videos/watch/862391/Sabrina-Cakmakli---2017-PPOS-Halfpipe-Winner
Hansen finished in second, followed by Isabelle Hanssen (Nijmegen, Netherlands) who finished in third.
A huge variety of grabs and super technical tricks, including a left double 1080 safety, earned Brendan MacKay (Calgary, AB) the first place spot for Men's Halfpipe Open. In 2016, MacKay finished in second place, just two points behind the 2016 Halfpipe Champion Broby Leeds. This year, Mackay was followed closely by 18-year-old Hunter Hess (Bend, OR) who stomped a next to perfect, left double 10 safety, which was one of three doubles in a row. Sammy Schuiling (Steamboat Springs, CO) finished in third. "That's a great run. Sammy's left double 12 mute and then right into a switch nine, that's huge. He nailed all the grabs and had a massive switch combo," said Meader.
http://www.newschoolers.com/videos/watch/862392/Brendan-MacKay---2017-PPOS-Halfpipe-Winner
Judges were impressed by the overall performance amongst junior competitors. "The junior category has so much new talent and has gotten so much more technical. Especially in Big Air," said Spence.
"They really came out swinging," agreed Krepela
"Left and right dubs and triples. It was really fun to see. And from the level of last year where 540's and 7's were prevalent—to this year where casual triples are going down—its really exciting to see this whole new pool of talent," said Allen.
Read the full story and check out results/video submissions HERE.
Peak2Park is putting up more than $65,000 in prizing; including cash, Rossignol skis and snowboards, LOOK bindings, GoPro cameras and gear by The North Face. Category winners will be announced at the conclusion of each judging round. Upon the completion of the competition season, one PPOS Grand Prize Winner will be selected by Tom Wallisch to film with the Good Company crew. Winners of the AMOS Snowboard and AMOS Ski Grand Prize will be sent on all-expense paid trips to the backcountry to ride and film with The North Face athletes. The Grand Prize includes travel, ground transportation, lift tickets and lodging. Thanks to partner, CLIF Bar for sponsoring the newest prizing additions including the King and Queen of the Mountain award, given to the man and woman with the best performance in both PPOS and AMOS. CLIF Bar also developed the Mountain Maven award which will be given to the top female athlete across the entire Peak2Park competition. PPOS and AMOS will have additional specialty awards, including Best Trick, Best 100% GoPro Edit and Viewer's Choice for the video that receives the most public votes. Learn more about prizing HERE.
Public viewing and voting for slopestyle video submissions runs through Mar. 19, 2017. On Mar. 20, Steele Spence and the slopestyle judging panel will reconvene at Brighton Resort to select the slopestyle and PPOS specialty prize winners. All Mountain Open Series, snowboard and skiing video submissions are due this Thursday, Mar. 16.