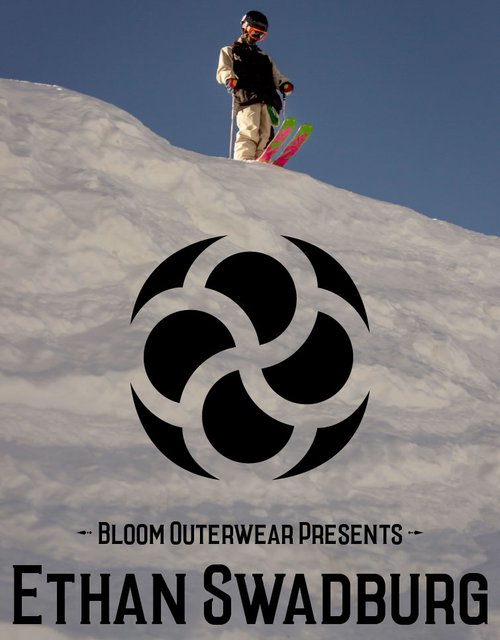 Interview by Jim Borchardt
Whats up Ethan! Tell me a little about your background, your home mountain, and the beginnings of your ski career.
What's up?! I've been skiing since I was 3 years old and Breckenridge has always been my home mountain. I grew up in Colorado Springs, and drove up every weekend to come ski Breck until I was about 15, then my family finally made the move up to Summit county. I joined Hawks Freeride team at Breck when I was 13, and I began seriously competing the same year.
I can tell by how talented you are that the move up to Breck has really helped out with your skiing. I have always joked with my friends that I would be super pro if I had only grown up at Breck.
Living near the ski areas helps so much! I progressed twice as much in the first year that I lived near Breck then in the first 3 years I ever skied park!
I think location is definitely a huge factor. If you get to ski Breck say 4 or 5 days a week, you are only going to speed up the rate of your own progression. The more time you invest into a venture, the more and more of an expert you become on that topic. Ever heard of the 10,000 hour rule? It basically states that if you invest 10,000 hours of your time into an area of interest, you will be a professional/expert in that field.
I heard you placed 5th at the Aspen Open this past year. What was that experience like?
Getting fifth at Aspen Open was absolutely crazy! It was my first open competition that I had ever entered and I went into it with no expectations of even making it past the first round of qualifiers. I qualified 3rd in my heat of qualifiers, then qualified 4th in the semi-finals, and then ended up in 5th in the finals! I was honestly in shock the entire time of the competition. I still find it hard to believe how well I did haha
Quite the feat for a 16 year old I'd say in a field stacked with older and very talented riders. How did you end up choosing your run for the course? Did other competitors influence you to ski differently than you normally do?
I had trouble with speed on both of our practice days, so it took me awhile to figure out how to clear the jumps and do a run that I was satisfied with. I always try to spin as many different ways in my run. I spin switch unnatural better then I can switch natural, so that helps a lot. When I do my comp runs, I only do tricks that I know I have on lock. There's no point in getting ready for a comp, and then showing up and trying a trick you don't usually do, you know?
I was talking to a friend the other day who competes a lot. He was telling me that he will watch other competitors slope style runs and he will change his run to better match up with fellow competitors. I guess you could say his run isn't finalized until the last second.
What I have found interesting over the recent past is the format of judging at contests. It seems that whoever can huck their meat the most places on the podium. Judging seems to really discourage creativity and style, while cookie cutter runs with doubles galore are highly rewarded. I was curious what your thoughts were on this? Are you going to be trying doubles next year?
Well judges are really looking for technical tricks with good grabs. Doubles are obviously more technical then single flips so they're going to beat them most of the time. But at the same time, doing a switch ten both ways with solid grabs will do better then two doubles with weak grabs. It's just the way it is I guess. I definitely plan on doing doubles next year.
I can tell your a competitor. You think like a judge. I wasn't trying to downplay the skill and talent it takes to throw dubs. I just think competition skiing doesn't really cater to creativity, but then again its not supposed to anyways.
My coaches are judges for dew tour, xgames, etc. I was basically taught to be a comp skier haha.
I know that you are also busy with school at Summit HS. Walk me through a typical week. Do you get out of school early? Does the school cater to your competition schedule?
I go to Summit High School. I take 6 classes a semester, so the way my schedule works out is that I get out of school at 12:10 to go ski on Monday, Tuesday, and Friday. On Wednesday and Thursday I usually go to Woodward or go night skiing at keystone. I ski a lot haha. The school is pretty understanding with missing large chunks of school, so that's pretty cool. Next year I'll be missing a lot of school for traveling now that I can afford to travel beyond comps in Colorado. My parents aren't too excited about it haha
Well it sounds like the school really caters to a ski intensive winter. I think it would be silly not to provide such opportunities for students though considering how close you are to world class ski resorts and terrain parks.
Have you begun to make plans for after you graduate high school?
I haven't really made any plans yet. Depending on how well competitions go for me next year, I might take a year off before college to just ski all winter. But I definitely plan on going to college.
I would definitely recommend taking a year off after high school. I took a year off and it was one of the best years of my life so far.
What are you going to be doing this summer? Any plans to ski?
Ill mostly just be hanging around and working. I don't have any plans to go to any camps, but hopefully I'll make my way over to the Steamboat water ramps often this summer
Water ramps are so helpful for getting new tricks down. Hopefully Steamboat helps out with those doubles we were talking about earlier.
Its been nice catching up with you. Anything else you would like to say?
Big thanks to my coaches at Hawks Freeride, Phunkshun Wear, Mountain Wave, Pups Glide Shop, my parents, and BLOOM OUTERWEAR!
https://www.newschoolers.com/watch/633835.0/Get-to-know-Ethan-Swadburg?c=11&o=3&t=6