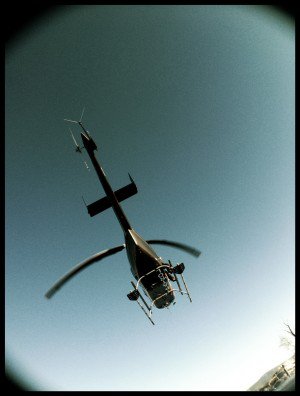 Heli overhead - shot w iphone (that's why the blades are bent)Whew! Days 5 & 6 of our shoot for Aspen are in the can and we've celebrated a massive success. The weather drama we were expecting passed us by, unaffected, and we kept the sun in the sky the entirely of the two days.
Click through the tabs above to check a bunch more behind-the-scenes images shot mostly by the crew and cast…daily details below for your reading pleasure (and don't miss the ApresBike!
Thursday we had the good privilege of shooting lifestyle images on the mountain for two separate shots, one in the morning and one in the afternoon…both during the "magic hours" of first and last light. First shot included another pre 5am call time and a snowcat ride of the mountain pre-dawn to get into position. The second shot had us travel over to Snowmass and onto a freshly groomed slope – a treat at 3pm. Overall big love for making authentically driven/motivated lifestyle shots with brands the get it…and the lifestyle twist is always a treat (and a physical break) to change it up amidst several days of action photography.
Friday morning was another early call – 5am again. Another pre-dawn snowcat ride to the biggest hit in the terrain park with some world-class Aspen local ahtletes. Oh ya…and then this neat-o helicopter whisked me into the air. More shin-cam footage will be coming at ya, along with some really unique still and motion shots. Weather again = perfect, and thanks to a kickass crew and talent, we were wrapped by 1030 am, just as the sun started getting high in the sky.
BOOYaH! And you might be wondering about the bike reference in the title of this post? Our producers were cool enough to get the whole crew – 14 of us in total on the Aspen ApresBike – a 14 seater bike/rolling bar complete with dance tunes, food and beverage to roll around the town and hit all the happy hours to celebrate our great campaign week. Few photos in the tabs above.
Hope you enjoyed following along with us. Big shoutout to Aspen/Snowmass for letting us share the adventure. Let us know what you loved, what you missed, if anything. And, as always, stay tuned for more.