Words & photos: Rocky Maloney
Video: Kevin Schwerin
Day two of action at the Aspen/Snowmass Open just wrapped up here in beautiful Aspen, Colorado, and although the weather wasn't as nice as it ended up being yesterday, none of today's exceptional competitors held back.
Women's Semi-Finals Start List
1) Miyuki Hatanaka
2) Elli Measom
3) Simone Augspurger
4) Amy Sheehan
5) Chole Lee-DNS
6) Ali Agee
7) Megan Gunning
8) Brita Sigourney
9) Katrien Aerts
10) Hannah Doan
11) Keltie Hansen
12) Devin Logan
13) Shuri Terada
14) Annalise Manley
15) Anais Caradeux
The ladies were up first, and came out firing on all cylinders with newcomer Megan Gunning stomping some super stylish 9 tails and cork 7's. Unfortunately Gunning fell on both runs though and didn't make it into the final round. Her partner in crime Keltie Hansen also had a solid showing with some nice cork 5's and a cork 7, although she too couldn't hold it together to make finals.
Megan Gunning
After some spirited battling, the 20 female skiers were quickly knocked down to the top five competitors set to compete in finals...
Anais Caradeux
Miyuki Hatanaka
Devin Logan
Rebecca Hammond
Ali Agee
Miyuki Hatanaka made the long journey all the way from Japan to compete in Aspen and she definitely made the trip worth it. She let the rest of the field know early that she was out for first; throwing some large airs on her first few hits followed by some linked 5's and a couple of alley-oop airs. Being a former Olympian Miyuki knows what it takes to get onto the podium, and she did just that today by finishing in 2nd place with a score of 81.33. A solid showing for the 34-year-old from the Land of the Rising Sun.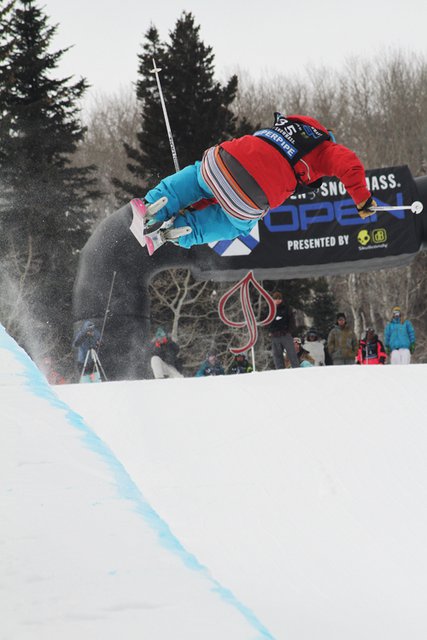 Miyuki Hantanaka
Rebecca Hammond also showed everyone she's got the right stuff with a beautiful display that included a couple of 5's with solid grabs, which landed her a spot in the finals and an eventual 4th place.
Rebecca Hammond
Devin Logan also had a very nice showing, putting together a strong run that included two 5's and a stylish 3 at the bottom that helped land her on the podium in 3rd place with a score of 78.50.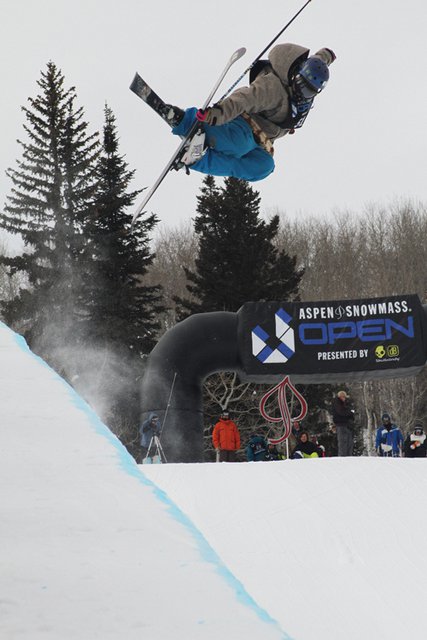 Devin Logan
Anais Caradeux put on a clinic in the semis taking the top spot and continued that trend during finals. Nothing was going to stop the young lady from France be it snow or rain, as she was out for first, and claimed it. Starting off her run with a large left 5, she continued into her second hit with a right 5, followed by a series of large airs down the pipe and capped off her run with a stomped 7.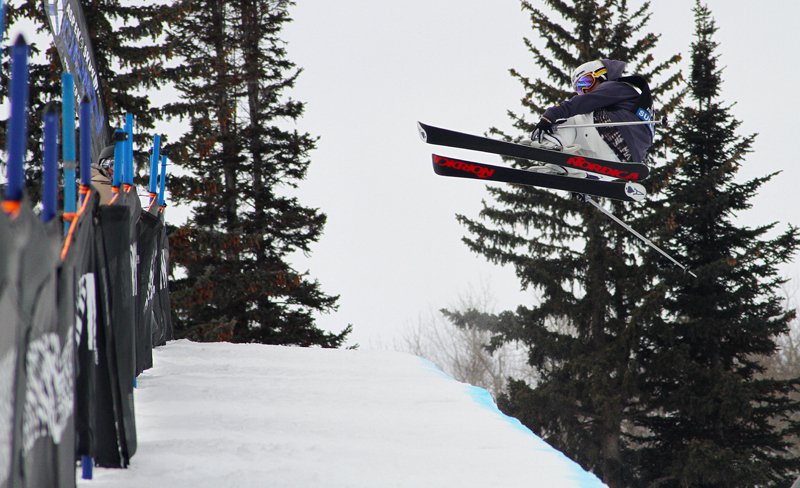 Anais Caradeux Claiming her top spot.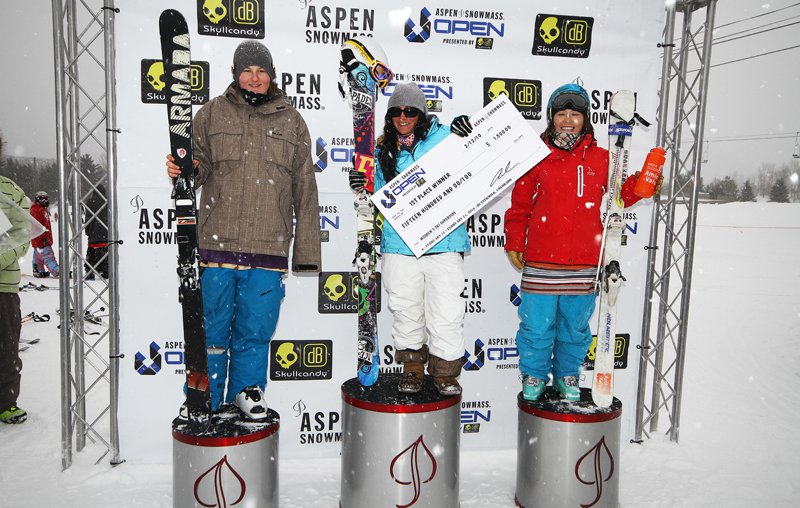 Results
1) Anais Caradeux - 85.33
2) Miyuki Hatanaka - 81.33
3) Devin Logan 78.50
4) Rebecca Hammond - 65.33
5) Ali Agee - 56.17
The men were a bit luckier than the ladies as a little bit of sunshine poked through the murk during their semi-final round. The pipe was a little more solid today which meant everyone had plenty of speed to go big. The tiny Kiwi Beau Wells started off the day with a bang, boosting this 22-foot pipe as big as his under five foot frame would take him. He started things off with a first hit 9 and carried his little body the rest of the way down the pipe with a stylish alley-oop 5. He couldn't sneak his way into finals, but had a solid showing that was certainly a sign of things to come from the young Wells.
Geoff Straight also helped fired up the proceedings with left 9 to right 9, but couldn't hold it together on his alley-oop 9 further down and unfortunately didn't make it to finals.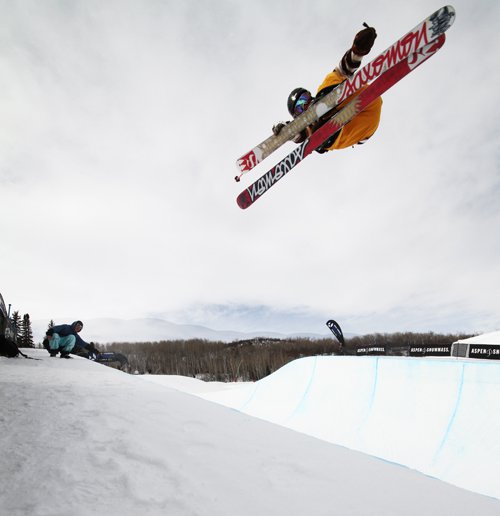 Geoff Straight
Park City local Joss Christensen definitely knows how to ride a superpipe, and proved just that to the judges with his first hit steezy alley-oop flat 3 complemented by gigantic airs down the entire pipe, taking the bubble spot in his heat to make finals. Tyler Peterson, another Utah native, also threw down two solid runs with back to back 9's and a large 10 to finish off his runs, but couldn't edge his way into the big show.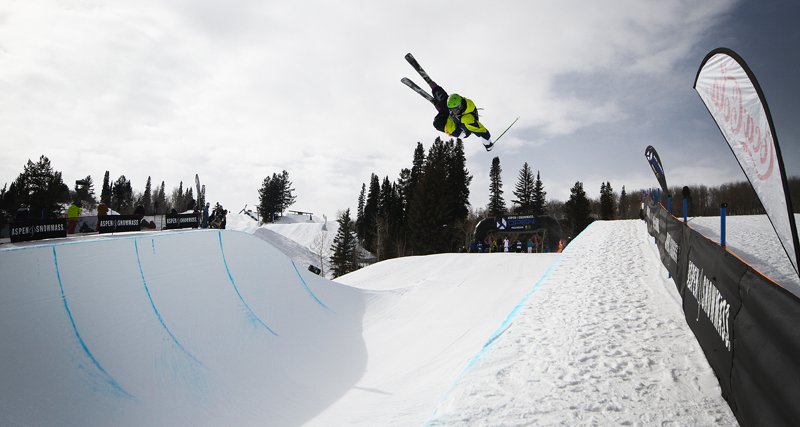 Joss Christensen
Torin Yater-Wallice, fresh off his victory at the Gatorade Free Flow finals, came into Aspen with heaps of confidence. Watch out for this halfpipe destroying young gun, who was deservingly award a spot in the finals and did not disappoint.
Semi-Final Results
Heat 1
1) Brain Kish - 85.50
2) Gus Kenworthy - 82.50
3) Walter Wood - 80.33
4) Torin Yater-Wallice - 77.67
5) Joss Christensen - 77.00
cut-off
6) Tyler Peterson - 74.67
7) Noah Bowman - 73.83
8) Jon Anders Lindstad - 73.67
9) James Machon - 70.33
10) Kyle Smaine - 64.67
11) Beau Wells - 63.17
12) Ryan Howsley - 56.33
13) Colin Vaykovich - 55.00
14) Scott Nelson - 53.83
15) Geoff Straight - 32.33
16) Mitch Gilman - 27.00
 
Heat 2
1) Byron Wells - 88.00
2) Pat Baskins - 84.83
3) Marshall Lacroix - 74.50
4) Andy Partridge - 71.33
5) Evan Schwartz - 68.00
cut-off
6) Tai Barrymore - 67.50
7)  Sandy Boville - 65.00
8) Karl Fostvedt - 64.17
9) Brett Weiss - 62.00
10) Billy Mann - 56.50
11) Matthew Mailoux - 49.00
12) Justin Mayers - 30.50
13) Kristopher Atkinson - 25.17
14) Andre Simonpietri - 23.67
15) Mike Mertion - 23.17
16) Colin Campbell - 20.00
The stage was set, the competitors were ready and Mother Nature held up as finals began, and the stacked field of skiers were primed and ready for a fierce battle for the top spot.
Evan Schwartz had a very nice showing in finals with a switch cork 5 into back-to-back flairs, and then showed off his spinning skills with a huge right 9 tail to left 9 tail and closed out his run off with an alley-oop 5. Evan finished off the day in a solid 6th place position.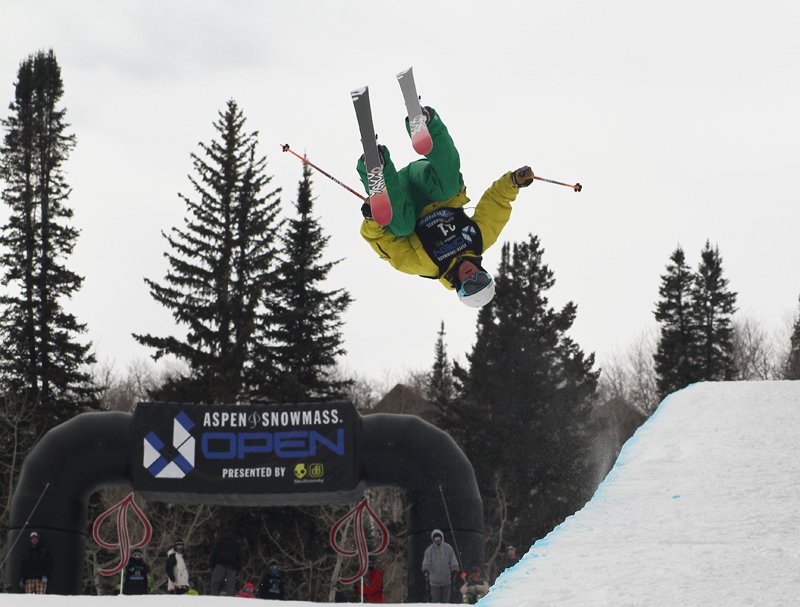 Evan Schwartz
Pat Baskin was a force to be reckoned after qualifying 2nd in his heat. Consistency is the name of the game and Pat has it, which he proved during his run that boasted a large switch left 7 on his first hit into an alley-oop flat 540, followed by a left 9, to right 9, to left 7 mute, switch right 7 safety into a left 10 to finish his run. He finished the day off in 5th place.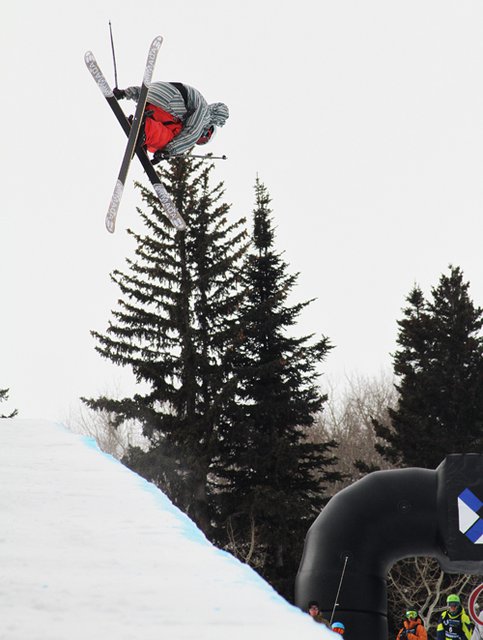 Pat Baskins
Brain Kish also had a solid run in finals complemented by some massive airs during his right 9 tail, into left 9 tail, into back-to-back 5's, and then launched an alley-oop 9 into the stratosphere and finished his run with a left 10, claiming the 4th place spot.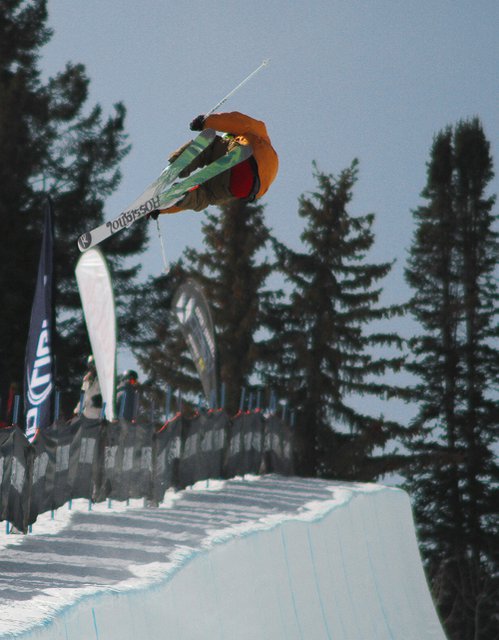 Brain Kish
The top three finishers absolutely destroyed the pipe today. Walter Wood, Gus Kenworthy and Byron Wells were all gunning for the top spot, and the pressure was on for Byron as he took a spill on his first of two runs. That doesn't stop Lobster Face though, as he came out on his last run holding nothing back. Dropping in switch he took his first hit about 10-15 feet out doing a stylish 7 mute into an alley-oop flat 5 japan. Taking every hit as big as he could he finished his run off with back-to-back 9's and a huge left 5 with his trademark tip grab. Unfortunately for the Kiwi it wasn't enough to slide him into that top position, taking the 3rd place spot.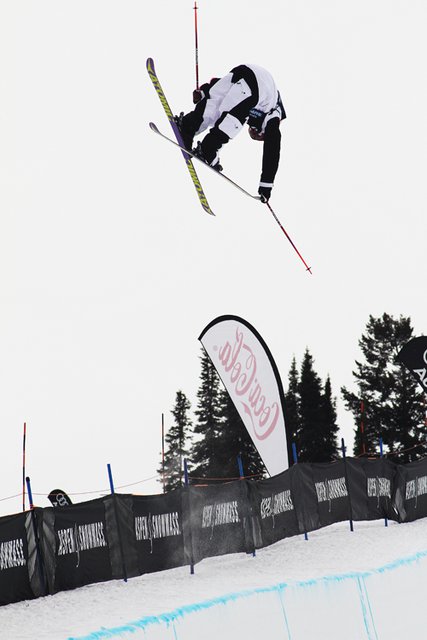 Byron Wells
Walter Wood was slaying the pipe like never before and wasn't letting anyone get in his way. He run was as follows: right 9 tail, left 9 tail, right 12, alley-oop 5, right 10, switch right 7 safety, and finished it off with a switch right 5. Basically, Walter murdered the pipe in every way possible.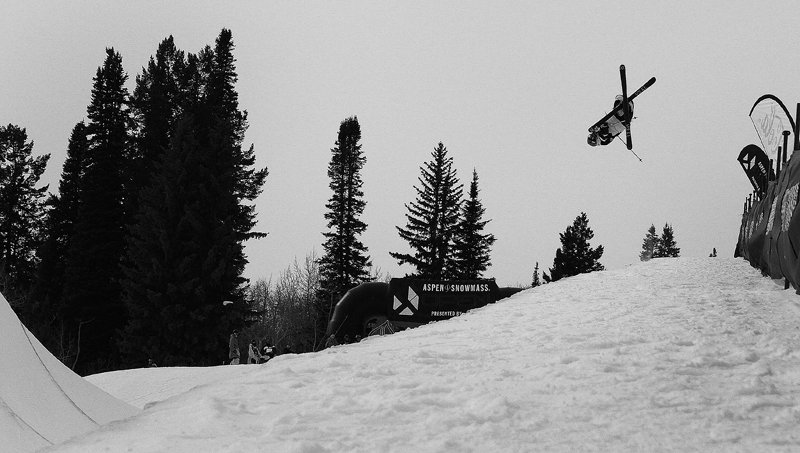 Walter Wood
But Gus Kenworthy wasn't going out without a fight. He run consisted of a left 9 tail, alley-oop 5 japan, left 12, right 7 mute, switch left 7, right 9, and capped it off with a left 10. I would hate to have been a judge today because both of the last two runs were nothing short of stunning. Eventually the judges agreed that Gus put it down better and awarded him the top prize of the day.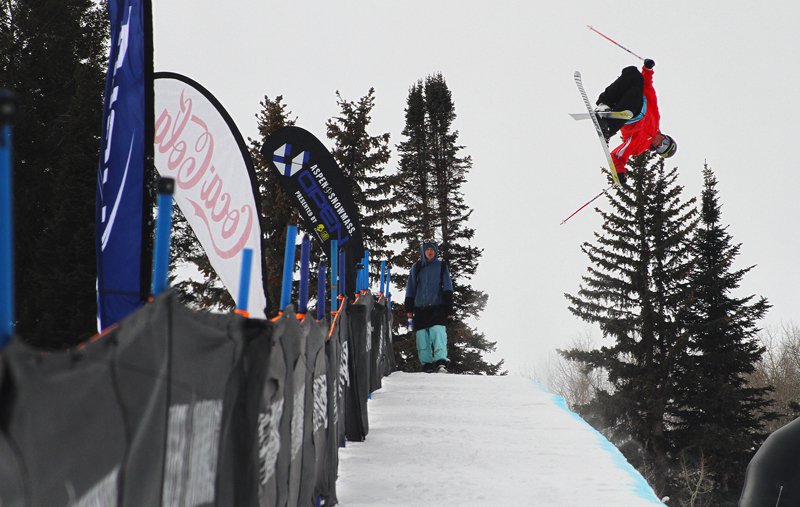 Gus Kenworthy taking the 1st place spot.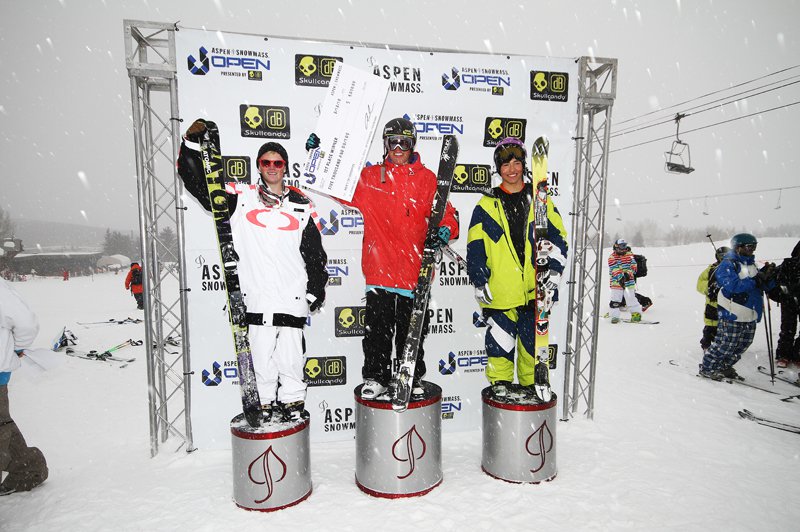 Results
1) Gus Kenworthy - 88.5
2) Walter Wood - 86.17
3) Byron Wells - 85.17
4) Brian Kish - 84
5) Patrick Baskins - 83.33
6) Evan Schwartz - 79
7) Marshall Lacroix - 77.5
8) Joss Christensen - 75.83
9) Torin Yater-Wallace - 75.67
10) Andy Partridge - 70
Big ups to all of the competitors that came out today, and stay tuned to NS for more from the Aspen Open, as the slopestyle side of things begins tomorrow with men's qualifiers.