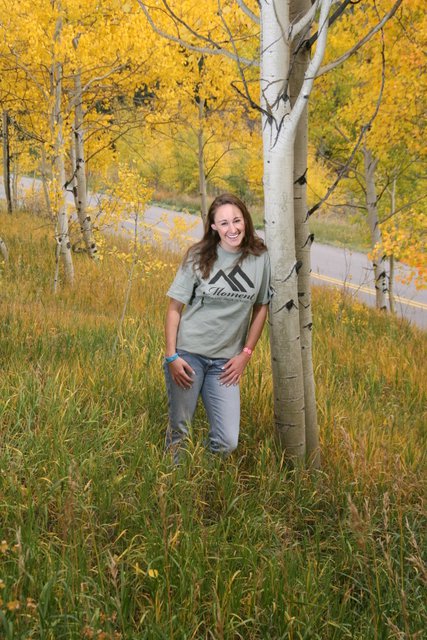 The event on Thursday, October 2 began with the NEPSA awards. The movies centralized around the theme of skiing & riding focusing this year on the specific theme, Entourage. Chris Davenport, Travis MacLean, and Pat Sewall opened the night with a fun little skit poking fun at pro-hoes.
All of these films fell in step except Kiffor Berg's video featuring pretty much everything and anything in a sumo fat suit. After the film, Kiffor and his partner in sumo crime came out on stage ready to battle!
Mike Cuseo in his 80's outfit who just received his NEPSA award for his film. Cuseo put together a great video in memory of John Nicoletta who died last April at Alyeska big mountain competition.
I cruised on over to BellyUp where I checked out some of the new winter fashions from D&E Ski and Snowboard shop. As you can see, this male model knew exactly how to look like a tool in this sweet hoodie.
I don't think I would be wearing many of the outerwear combos that the models threw together…they seem a little chilly for the wintertime…
Following the strip show, Tech9ine came on stage to perform for all the white kids of Aspen
…the drunken white kids enjoying the hip hop
Julie Weinberger, Tom Wallisch, AJ, Jen Allen
Friday the event moved away from the amateur cinematographers and featured some more professional films. Beginning at 5pm and throughout the rest of night I viewed Nimbus's Hunting Yeti, Poor Boyz Productions Reasons, Oakley & 1242 Productions Uniquely, Brain Farm Productions That's It, That's All, Level 1 Turbo and Rage Films Such As Life.
Mark Abma and Pep Fujas signing posters before Hunting Yeti
Once again I cruised on over to BellyUp to enjoy some spirits and music. Thanks to the Meeting's sponsors, Red Bull and Snow Queen vodka, I was all able to enjoy these two beverages together…every single night…unlimited. As you can see, Tom Wallisch is joining me in enjoying this particular beverage to the fullest
Friday night's musical performance was Glitch Mob. They had a pretty intense setup of lap tops and sound boards for the five members of the group to use for the show.
After Saturday night's fulfilling dinner at Takah Sushi of Aspen, I headed over to the Wheeler Opera house to catch Tanner Hall's The Massive and MSP's Claim.
For the last time of the weekend, I followed the herd over to BellyUp for some more films, music, and drinks. Bluebird Films The Bluebird Movie and Rome SDS & Kids on Shred Productions No Correct Way were displayed before DJ Mel took over the stage.
DJ Mel and good times on the dance floor at BellyUp
In lieu of the politics we are surrounded by (as well as showing my support for Slightly Stoopid), check out what I found on a wall at BellyUp!
After a good ol' long weekend of drinking, cheers to you! Remember to stay hydrated kids.
Don't forget, as New York Pizza of Aspen always says, "Keep those tips up!"