Ashley Battersby is a skier and the owner of her self- run clothing company, A-Bomb Apparel. I caught up with her to talk about life, her company, and the state of women's skiing in an industry primarily dominated by men.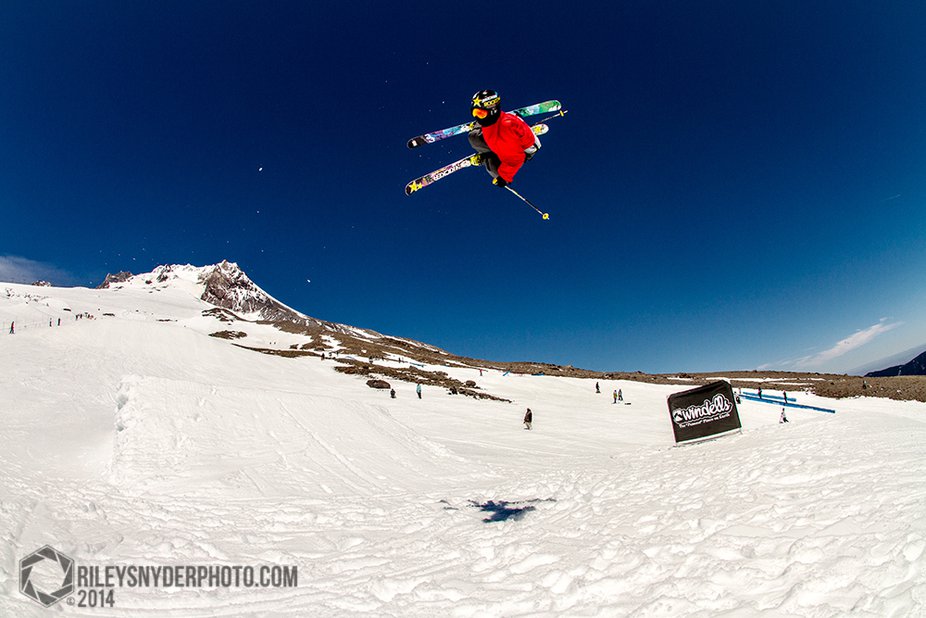 Photo: Riley Snyder
Tell us a little about yourself outside of skiing.
Well I am 26 years young, I bought my first house last April and I'm recently a proud Aunt to my new and first nephew Zion! I have been home bound since December unfortunately. I had torn my left ACL at X Games in Jan 2012 and tore my right one in December 2010 at our first olympics qualifier. I was pretty heartbroken to have had two major knee injuries in less than a year specially with the olympics right around the corner. I have been in the slopestyle game for almost 11 years and for me I still have so much unfinished business. I have so much I want to accomplish and with the experience under my belt Im feeling so stoked to go into next season ready to shred hard!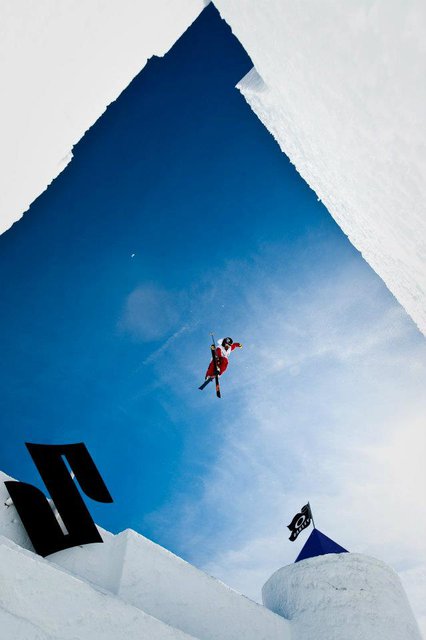 Photo: Klaus Polzer
What was it like being from Chicago, and growing up skiing in the Midwest?
I know how to ski Ice thats for sure. I grew up skiing on a 200' vertical mountain called Grand Geneva (the old playboy club in WI). Both my parents were ski/snowboard instructors and me and my brothers skied every weekend and tuesday from 9-9. My parents had such a love for the snow. My dad just told me a few months ago that when we first started walking as babies , he immediately put us in ski boots to learn to walk in them! My parents used to call the lifties to kick us off the hill because they were ready to go home and we didn't wanna leave! I went back last year for a visit, and its amazing that we learned on such a small hill. We used to build our own "kickers" (no bigger than 4 feet) and ski patrol would knock em' down. We build our own rails out of PVC pipe and weld our own rails. Best part about it is my parents were totally for it.
When did you make the decision to pursue skiing as a career?
It was always my first love. There's that saying that goes something like, 'what you do doesn't make up who you are. ' I dont believe that. Skiing was in my family, in my genes, in my blood. It was what we did and what my family was all about. That is why I live in Utah. My parents knew that they wanted us to persue skiing (if we really did love it, which we all did!) so they moved us out to utah in 2002 (the olympics year in UT) and we never moved back. We all loved it so much and didn't want to be anywhere other than the mountains. From then I started competing and got my first sponsor at my first big air contest. Obviously going from the midwest hitting a 5 ' jump to a 50' jump was a different change, but if you're not falling you're not learning. When I was a little girl and they asked us in class to draw what we wanted to be when we grew up, all the other kids would draw mommies, firemen, doctors and nurses, and mine was always a "skier" doing a spread eagle off a little kicker, haha.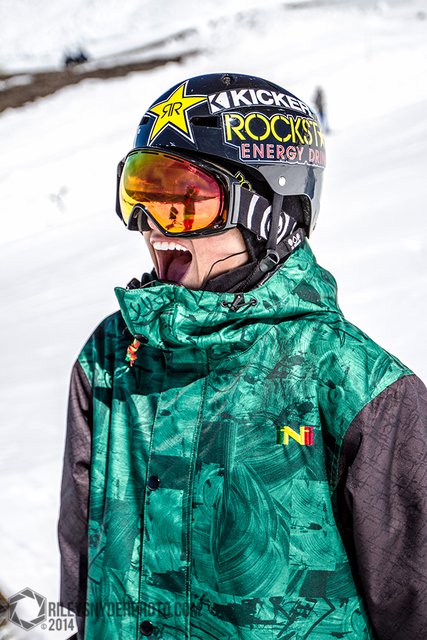 Photo: Riley Snyder
Who was your biggest female inspiration growing up?
Sarah Burke. I wanted to ski just like her. I used to watch her section, Marie Martinod and Kristi Leskinen in salad days over and over and over. All those girls were the OG ladies and they all have inspired me so much to do what I'm doing. Sarah used to compete with the guys, and if weren't for her push and her fight for women's freeskiing, none of us girls would be here doing what were doing.
Do you think the gap between men's & women's skiing will begin to close over the course of the upcoming years?
I really think for how many women there used to be, if one girl got hurt there'd be only a handful left to progress the sport, so the progression was a bit slower than mens where there were a ton of great guy skiers and so if one got hurt the progression kept progressing and didn't stop. With women there were only a few girls so if one (or two) that was half the sport out so there wasn't as much competition so there wasn't as much quick push. I think there are so many badass women in our sport, and its beginning to grow that the progression will pick up.
I just hope with men and women, its at a healthy pace and the skiers put their lives first. Slopestyle/Halfpipe is being pushed so fast, we risk our lives out there every single day. Its a huge risk. Our sport with triples being almost standard in competitions now is getting a bit scary, I just hope everyone remembers why this sport was started. ON STYLE not on chucking flips/spins. thats why its called slopeSTYLE. Lets keep the style in the sport.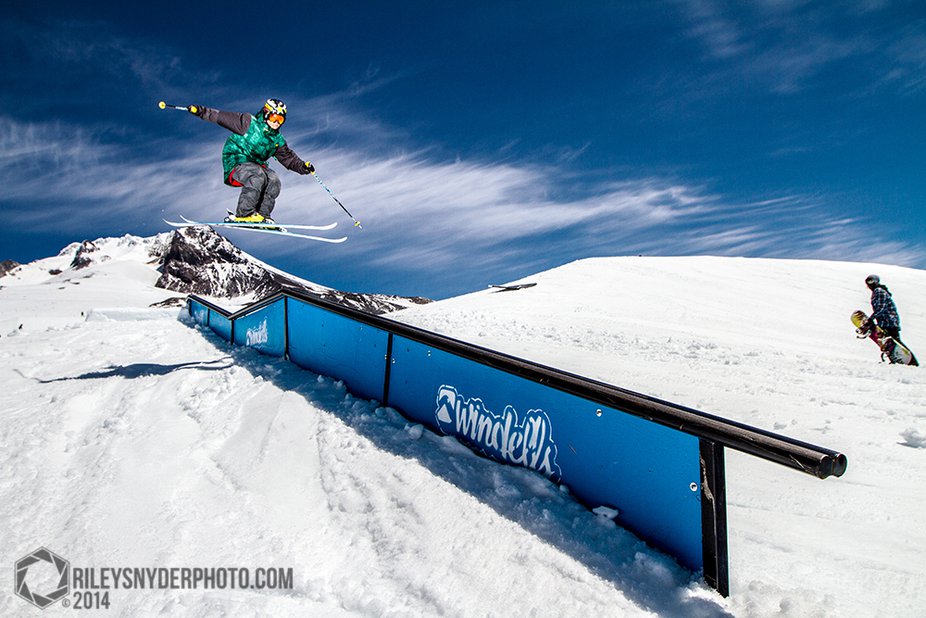 Photo: Riley Snyder
What (if anything) do you think needs to be done about gender specific competition courses?
Oh man, this has been the question for the past few years. I never liked the "womens tee" jump, or the whole controversy about that. My whole thing was its not the size of the jump, its how its built. If its a 70' jump it could be built so smooth and feel like a 50'. I think that since the progression level is getting so high, the courses are changing to bigger rails, bigger jumps and more just for media/the audience to get a better show. If the courses could be more simple (instead of trying to get so darn creative with weird bonks and gnarly rails) that men and women could show their best skills/tricks on each feature. Although, slopestyle is of one a few sports where you show up to a competition, have NO clue what the course is going to look like/ski like and whoever can put their best tricks on the gnarliest course, thats the guy/girl standing. Its anyones game. Slopestyle is one sport you'll never really be ready for.. no course is ever the same and you'll never know what features it consists of.
Many argue its the way our "hips and bodies" are built, I don't have much of an opinion on that because as long as I've been doing this, I've always hit the same course as my brothers and the guys I skied with. There wasn't an option for a women's course or womens tee, there was only one course. Thats what Sarah skied on too, the same course as men. If we tried to fight for our own course then its not equality and then what was Sarah pushing for, we'd be going back on what she/we were fighting for for years!
Nine Queens just went down the other week, why do you think so many girls are able to excel at this event?
Nico Zacek has put his whole heart and love into nine queens and nine knights. Nico and his huge amazing crew that put this event on always builds the most perfect jumps and features and always gets rider feedback to create a smooth event. Since so much time/science is put into this event the jumps are built so well (like i said their big but built so nicely so they don't feel too huge) and so the women can progress quickly. Also its just such a great event because you're with your best friends shredding pressure free. This is where i've learned my biggest tricks (my first switch 9 in 2010 and switch 1080 in 2011) because it was just such a comfortable environment and felt so conformable on the jump they build. So thankful for this event!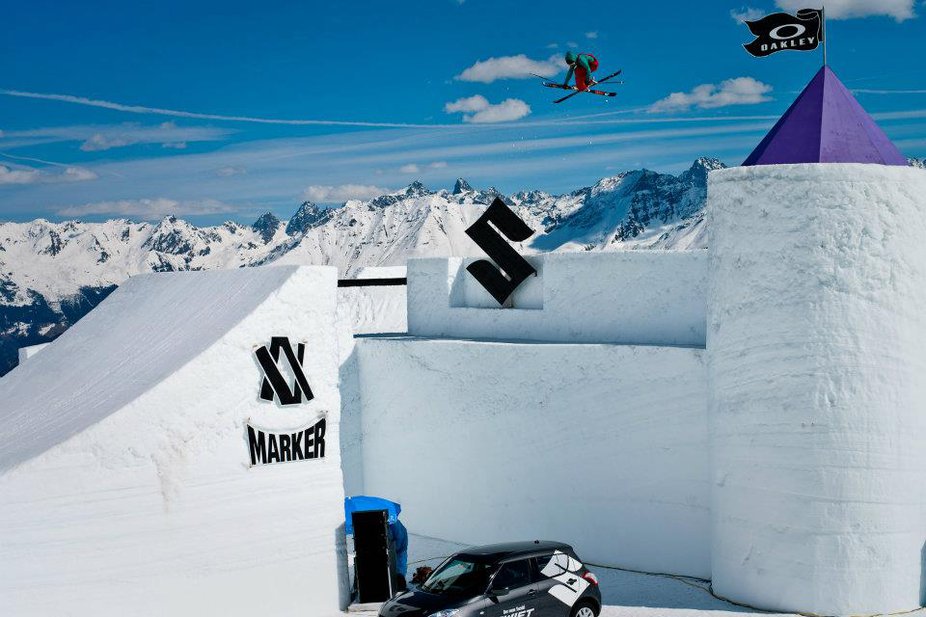 Photo: Klaus Polzer
As women's skiing continues to grow, what would you like to see out of girls in the future?
I hope to see the young girls stay humble and stay away from being super competitive but just helping other women to push our sports limit. I have coached many girls and some even making it super big for themselves. Its amazing to see girls try their first 360 and a few years later now competing in x-games/olympics. Its hard when you get sponsors and start getting paid, everyone forgets why they started and get so caught up in the "famous professional athlete " life. I started competing when there were only 3 girls in a big air competition and sometimes I was the only girl, and so i've seen it grow quite a bit. With the olympics here its been great exposure for our sport, but it has changed it a lot as well. I fear that we will be competing against countries now, whereas when I started I used to travel/live/ski (and still do) with girls from France, Australia, and Canada. Now, each country will be traveling with its own countries and competing against other countries. I just hope for young girls/men , that you remember our sport is about freedom and style. Not skiing just to compete in the Olympics or just because theres a camera on you. To ski because you love it and because it makes your soul a happier being. I hope that women push other women rather than always competing against each other. Push each other. Keep your head high- but not too high.. like my mom always told me "there's always going to be someone better than you".. so give it all you got but don't let it get to your head. Im so grateful for being able to meet the women I have, they have not only been girls I ski with, but have all become my best friends.
If you were to make an all women's park segment, where would you film and who would you film with?
All the film companies out there are doing such great things, I would be honored to shoot another segment. Thats the one thing I really miss is shooting a segment and was one of my dreams to have a full 3-4 min segment in a video. In my past I've gotten to shoot my first segment with Off Trail productions in "First light" and ski a few solid seasons with Rage films in "Enjoy", and "Such is life". I would like to shoot mostly urban though. That was my niche for sure :).
What's your favorite type of feature to hit?
I think my favorite type of rail is a flat down, so many options and things you can do on it! But I don't know I'm in slopestyle, I love all rails and jumps as long as they slide smooth and ride smooth!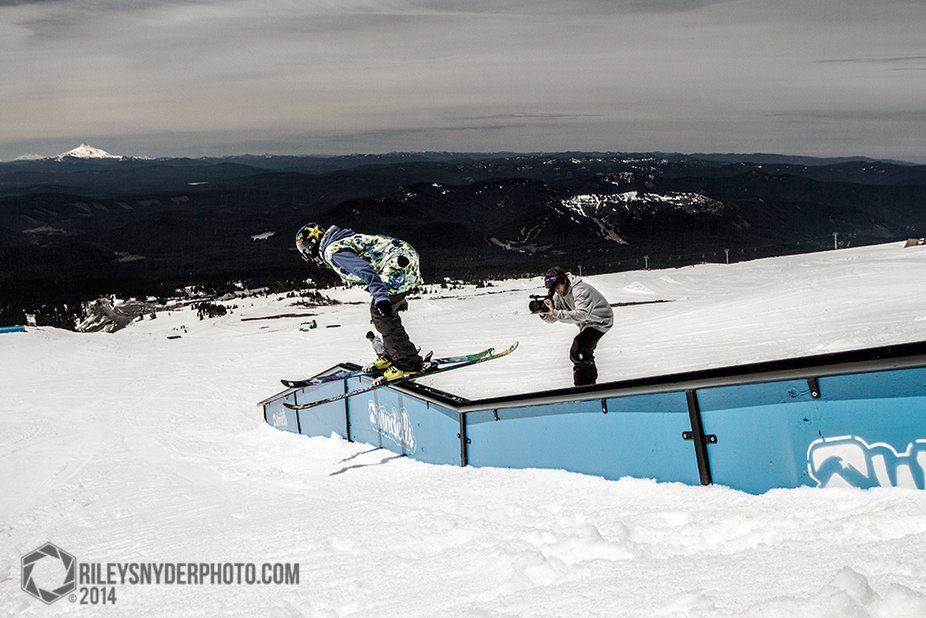 Photo: Riley Snyder
Tell us a little bit about your company, A-Bomb apparel. What inspired you to start a clothing company?
Well I started it in 2008. I was riding for Helly Hansen and they dropped all their competition and park riders so i was left with no outerwear sponsor. I wasnt going to ride anyones gear for free so I taught myself to sew and I started making hoodies. Tall hoodies down to your knees and hoodies you couldn't find in stores. I started wearing them in my edits/competitions and kids would ask me, "hey what company is that?" "where'd you get that hoodie?!" so i started my own. Its all handmade by me in my Sewing studio at home. I make custom everything- hoodies, ski jackets, sweatpants, leggings, yoga pants, bathing suits, harem pants, mens bball shorts, and basically whatever you can think of. I just got an order for 8 bur-pee clothes for my new nephew;) and even halloween costumes! I just love to sew, and never wanna buy any clothes again since I can make my own!
Where do you want to be with A-Bomb five years from now?
I'd like it to get in factories making the more popular items, Its a one-woman-operation and its getting a lot for me to keep up with my skiing, my own life and sew custom hoodies all the time. So I'd like to get it big for sure!
Any last words, advice, or shout outs?
I wanna thank all my sponsors - Rockstar, Park City Mountain Resort, Bolle, Fischer, Kicker, US Freeskiing, my parents, God, my supportive boyfriend Joe, and of course A-bomb Apparel!
Ashley's Website // Check out her custom A-Bomb Apparel threads!
--EA