Ashee on his way to the top of the podium …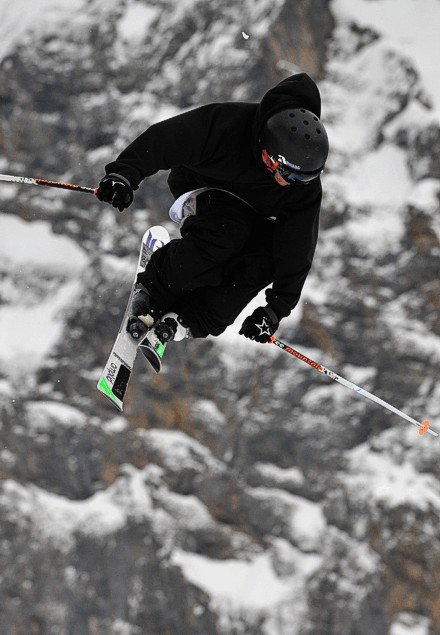 Wir rätseln noch immer über den Namen des Events: Whitestyle.
"Weiss" ist eine schöne Farbe. Schnee ist weiss, Zucker ist weiss, Shaun White ist weiss(/rot) und die Concorde war auch weiss.
Angesichts dieser Tatsachen finden wir dass der Name ganz gut gewählt wurde. Die Organisatoren haben in diesem Jahr einen massiven Kicker mit viel Schnee hingestellt. Die Action, welche die Fahrer boten, erinnerte an die Flüge der Concorde und das Niveau war fast auf einem Shaun White-mässigen Level. An der Afterparty gab es zuckersüsse Drinks und Hüftschwung-Einlagen. Also der Name passt.
Aber jetzt mal von vorne.
Nach dem etwas rumpligen Debüt im letzten Jahr, hatten die Organisatoren einen grossen Schritt gemacht und in diesem Jahr einige Neuerungen durchgeführt. Für den Kicker wurde eigens Simu Abt "eingeflogen", der aus dem grossen Haufen Schnee (der jedoch auch in Mürren nicht mehr überflüssig herumliegt) einen echt tollen Sprung shapete. Die Anfahrtsgeschwindigkeit musste etwas länger getestet werden als sonst, da die Landung vielleicht etwas kurz war, aber nach einigen Anläufen (und Stürzen) hatten die meisten das Tempo ganz gut im Griff… MORE AT RAIDERS.ch