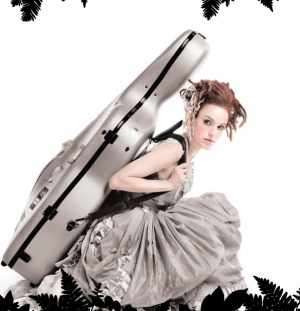 Now more than ever before, we artists are entrepreneurs. Born from opportunity or necessity or both, we have become the CEO?s of ourselves. We create our art and our brand, and then–regardless of whether we?re commercial- or fine-artists, or both–we share, market, strategize, license, sell, distribute, invest, manage, and collect on that art ourselves.
For those that have cracked this nut – good for you. For the rest of artists–which is a disproportionally huge chunk–who are struggling to make the art, the future, the business happen, please allow me introduce you to Zoe Keating. Take my word for it…few–if any–creatives in the world run their own career better than Zoe. As a classically trained musician turned avant-garde cellist–or ?avant cellist? as she calls herself–she has mastered the balancing act between art & commerce, between artist & fan. And that?s why she?ll be my next guest on chasejarvisLIVE this Wednesday, May 2nd. Prepare to learn the secret sauce for ?Artist as Entrepreneur?, how she created a fanbase of millions and don't miss her LIVE PERFORMANCE where she'll blow you away with her cello like you've never seen one played before. #Respect. Follow me @chasejarvis on twitter to get updates now until the show and beyond, and…
THE DETAILS YOU NEED TO KNOW…
Who: You, Me, ZOE KEATING and a worldwide gathering of creative people
What: Q&A with the inspirational ZOE KEATING
When: this Wednesday, May 2nd, 11:00am Seattle time (2 pm NYC time or 19:00 London)
Where: tune in to http://www.chasejarvis.com/live. It?s free – anyone can watch.
This episode of chasejarvis LIVE might just be the one that sets your ideas in motion and sets you on your path. If all goes well, I'll photograph Zoe LIVE too…
***And Last but not least… 2 things very important…:
1. Score. In order to pimp this show and help bring together another gi-normous worldwide online audience, Zoe will be giving away 2 signed CD's and perhaps some merchandise if we can round it up. To score one of these collector items, send out a creative and interesting tweet that contains the URL (or short url) to THIS post AND hashtag #cjLIVE starting NOW and ending at the beginning of the show on Wednesday. Enter as many times (tweets) as you want – tweet and retweet – we'll be watching out for your shoutouts.
2. Print it. If you want to score a one-of-a kind signed photo that I shoot of Zoe during the show, tune in during the show – I'll tell you how. D