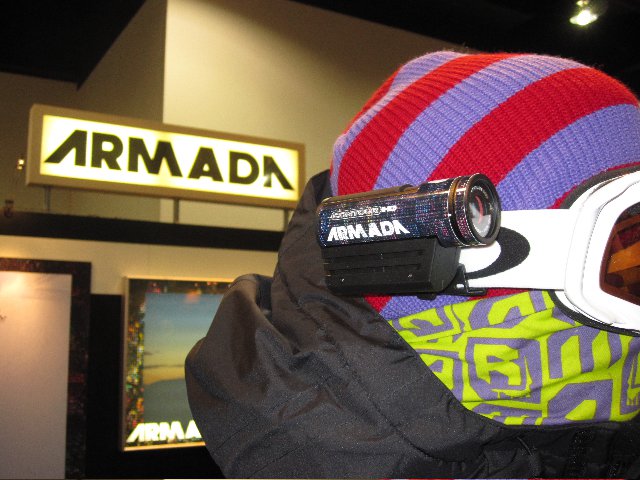 Armada Skis and VholdR Announce Partnership with Armada Skis Skinned ContourHD Camera
Visit the Armada booth to WIN the first Armada branded ContourHD Helmet Cam
DENVER, CO – January 28, 2010 – Armada Skis is partnering with VholdR, the market leader for HD Wearable Cams, for the 2010 season to bring you insane POV video from their global team of athletes. To commemorate their new partnership, Armada Skis is giving away an exclusive Armada skinned ContourHD camera to one lucky retailer at the SIA show.
"Giving our athletes HD cams allows them to capture moments that otherwise would have gone undocumented. It means there doesn't always have to be a traditional video camera in place to capture lines and we can accrue content on days when there isn't a filmer around." says Chris O'Connell, Global Brand Director at Armada. "It's high quality, the athletes are stoked on the ease of operation and we are stoked on the results."
ContourHD is a shoot and share HD wearable camcorder that captures video in five resolutions (up to 1080p), two frame rates (30fps and 60fps), has configurable settings (video, audio, lighting), and includes software to publish video online. Armada Skis has already begun using the ContourHD cams at the Dew Tour. Team members using the cameras include Jacob Wester, Mike Hornbeck, Phil Casabon, and Riley Leboe. Visit Armadaskis.com over the coming months to watch the season unfold. To win the Armada Skis designed ContourHD camera, visit the Armada Skis booth (#4329) and place an order at the show to be entered into the drawing. One lucky winner will receive the ContourHD camera plus a box load of accessories.
About Armada
An idea hatched over a few beers between the world's greatest skiers, Armada is no longer a suggestion of what a ski company should be. Today, Armada is distributed globally in 40 nations and embodies the cutting edge of the sport: athlete driven, design obsessed, and technologically superior. Our independence allows for a single-minded focus on the product, assuring that the skis and apparel always meet the needs of an elite team of riders who know what works. Skiers the world over who demand the best demand Armada. Armada is a family of athletes, artists, designers, and engineers that didn't just push the envelope—we blew it wide open. And the industry is scrambling to catch up.
About VholdR
VholdR is the market leader in HD Wearable Camcorders, enabling modern day explorers to tell their stories of action, adventure, and travel through video. Leading the way in making action video easy to shoot and share, VholdR is dedicated to creating simple tools that enable hands-free capture and effortless sharing of video online with the world. For more information about VholdR please visit http://www.vholdr.com.