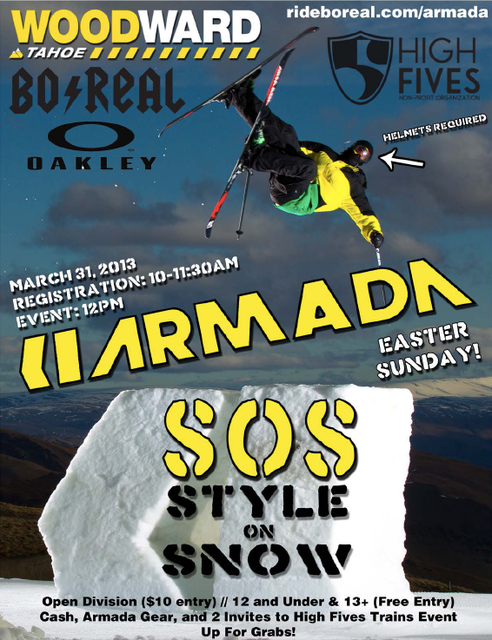 Might as well cross March 31st (yes, Easter Sunday) off your calendar because you will want to be at Boreal for the first ever Armada SOS. Join the crew from Boreal and Woodward Tahoe as they welcome ARMADA to the family and celebrate the newest sponsor of the Woodward Tahoe freeski summer camp!
The event will be a mini slopestyle comp showcasing two not-so-mini jumps and several jibs, as well as a never before seen Armada feature! If you've ever been to Boreal, you know the setup will be awesome!
The Armada SOS might not be the first dedicated ski event to go down at Boreal, but it is definitely the first in a long time. Tell your friends, tell your family, tell your dog - whatever you've gotta do. Let's make this event GO OFF and ensure we have more dedicated ski events at Boreal and Woodward Tahoe in the future!
--> OPEN DIVISION: $10 Entry Fee - Winner takes home entire cash purse (plus an additional $100). Top two finishers also automatically qualify for the High Fives Trains event at Alpine Meadows in April.
--> AMATEUR DIVISIONS: FREE ENTRY & finalists take home some awesome Armada gear!
- 13 & OVER
- 12 & UNDER
HELMETS REQUIRED! See YOU there!