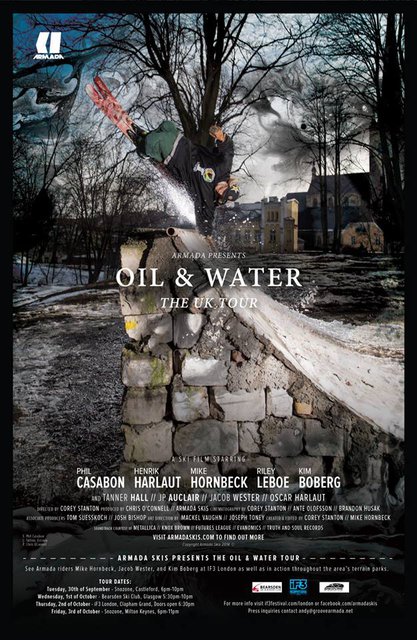 October 2014 will see the release of Armada's latest project "Oil & Water", premiering at the UK's first-ever iF3 International Freeski Film Festival on Thursday 2nd October in London. In the run-up to the big screen, three of Armada's most influential and progressive skiers will be touring the country's finest snowsports facilities.
"Oil & Water" journeys into the lives of Armada's unconventional of skiers including Mike Hornbeck, Phil Casabon, Henrik Harlaut, Riley Leboe, Kim Boberg and Jacob Wester over the course of the 2014 winter season. It will feature as part of iF3's showcase of professional and independent ski films from across the world, followed by a chance to party with the athletes après-style.
But the riders won't only be featuring on the big screen; from Tuesday 30th September to Friday 3rd October, the Oil & Water Tour will bring Hornbeck, Boberg and Wester to Snozone Castleford, Bearsden Ski Club and Snozone Milton Keynes so fans can witness the Armada emulsion first-hand.
Armada Oil & Water Tour Dates
Tuesday 30th September – Snozone, Castleford, 6pm – 10pm
Wednesday 1st October – Bearsden Ski Club, Glasgow, 5.30pm – 10pm
Thursday 2nd October – iF3 London, Clapham Grand, Doors open 6.30pm
Friday 3rd October – Snozone, Milton Keynes, 6pm – 11pm
Link
Facebook: https://www.facebook.com/events/620712978061437
iF3 Links

Website: http://if3festival.com/LONDON/
Trailer: http://vimeo.com/104561634
Facebook: https://www.facebook.com/events/349876051835689/
For more information contact Andy Collin: andy@groovearmada.net