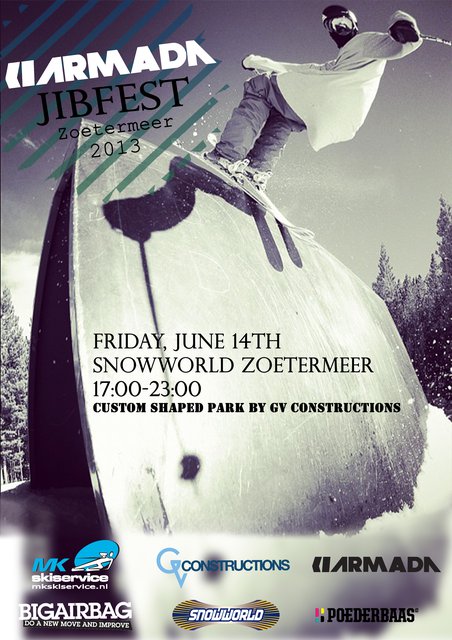 The first ever Jibfest for the skiërs!
On friday the 14th of june 2013 the Jibfest will take place at Snowworld Zoetermeer in the Netherlands. A new funpark is made and every gets a chance to play. With obstacles like an elbow dubbel kink, Up gap down rail and a lot more.
Together with Armada, Snowworld, Mk Skiservice, BigAirBag, GV-Constructions and Poederbaas the event will take place.
New Funpark will be built together with GV-Constructions and make it possible that the skiers can do a lot of creative riding but also stom the hard tricks!
Date: friday 14 june 2013
From: 17:00 till: 23:00
Where: Snowworld Zoetermeer, Netherlands (http://www.snowworld.com)
Entrance:
€10,- for seasonpass holders incl. Dinner
€17,50 for non-seasonpass holders incl. Dinner
Invite your friends and come down to the fridge!
Event page:
https://www.facebook.com/events/553166398067268/?fref=ts
Funpark page:
https://www.facebook.com/pages/Funpark-Snowworld-Zoetermeer/140760025961409?fref=ts