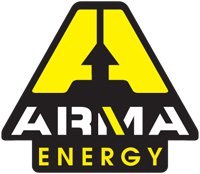 ARMA ENERGY LOOKING FOR A STRONG DEW TOUR FINISH IN UTAH
Carlsbad, CA – The ARMA Energy team looks to make some noise in the overall Dew Cup rankings at the final stop of the Winter Dew Tour at Snowbasin Ski Resort in Ogden, UT from February 10th to 13th. The ARMA athletes competing for the Dew Cup includes snowboarder Matt Ladley and skiers Alexis Godbout, Matt Margetts and David Wise.
At the final stop, ARMA riders are looking to gain valuable points and finish strong in the overall Dew Cup rankings. Matt Ladley is currently 3rd in Snowboard Superpipe, and is looking to keep his dominant riding at the highest caliber. Matt Margetts 8th and David Wise 10th are both coming into the Freeski Superpipe looking to up their rankings and earn a spot on the podium. Alexis Godbout is ranked 3rd in Freeski Slopestyle, and despite winning the first event of the season, will not be competing due to a hurt knee he suffered at the Killington event.
"The ARMA team has been on fire at Dew Tour and Winter X and we look forward to continuing that success here. Look for them to really turn it on at Snowbasin", said ARMA spokesman Scott "Hollywood" Sepkovic.
ARMA will be attending the event in force and introducing the Energy SNX to the eager Utah fans. If you live in the area, be on the lookout for the ARMA vehicles in your town. ARMA Energy SNX can be found on Facebook, Twitter and at http://www.armaenergysnx.com.
ARMA
ARMA Energy SNX are revolutionary new energy snacks that deliver the same amount of energy as a premium energy drink. Our great tasting line of snacks includes trail mixes, fruit and nut blends, candy mixes and the first ever morning energy mix consisting of granola and chocolate –all intended to replace similar everyday snacks. ARMA Energy SNX are full of protein, nutrients, and energy-infused with caffeine, taurine and B-vitamins. ARMA is the coolest way to get energy – to "EAT YOUR ENERGY".
ARMA Energy SNX supplies your body with ammunition to fight the battle of fatigue. From motocross tracks and skateparks to school, work, sporting events and nightlife, an ARMA Energy SNX is ideal for your daily routine and fuels your active lifestyle. You can find ARMA at your local convenience store.