By Lane Thomasson
The East Coast is notorious for sub-par skiing conditions, but nowhere in the brochures did it say that Mother Nature would be providing the wet t-shirt contest last weekend. The Anti-Gravity Grail kicked off at Mount Snow, Vermont last Saturday with a slosh.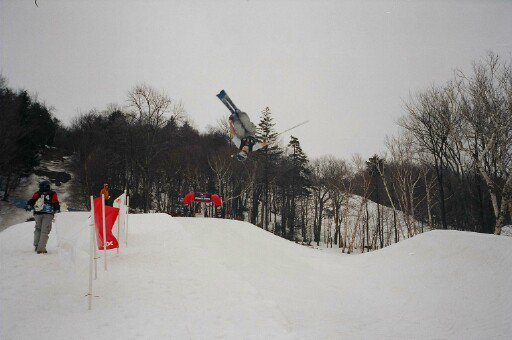 As the Freeskier Jibfest halfpipe competition began at 10:00am, so did the rain, providing skiers and riders with what looked like a slip-and-slide instead of a halfpipe. Despite the wet conditions, there was a turn out of fifty competitors, with 18 skiers in what was formally a skier-only event. Among the skiers were JP Solberg, who was consistently throwing fatty alley-oop flatspins, Simon Lavigne, who could be seen hucking flairs like Candide, and Liam Downey, just being the badass that he is. Jeff Winterton showed up with the Freeskier Magazine crew, giving all the young guns a run for their money as well. Max Kuszaj and Scott Hibbert graced the event with their presence in order to judge which guy or girl had the most steezy break dance moves in the pipe. They alluded to the fact that this was going to be a tough event to judge, due to the fact that the western wall of the pipe was causing everyone to lose tremendous speed. Only the first couple of hits were prime spots for hucking some meat. After hours of painful, mind-numbing decisions, the results came to fruition. In the men's division, Solberg took first, with Lavigne close behind and Downey rounding out the top three. Richie Paradise and Dan Kiesel tied for fourth place. In the women's division, Olivia Agusti grabbed first and Stephanie Seavy second.
The competition moved from the Carinthia slopes on over to the bottom of the main mountain, where the big air began at 5:00pm, with 35 skiers combating for a large chunk of the $10,000 cash purse. The competition site started with a smooth 30-ft flat rail at the top, then on to a huge table with a landing that went on for a couple hundred feet. Before the finals began, there was a bit of a break to bring in a hot tub that was placed on the transition of the table to provide male entertainment and the most exciting event of the evening. Three juggies … I mean, women in barely-there bikinis relaxed in the hot tub, distracting judges and skiers alike from the task at hand. Skiers threw such tricks as massive flatspin 900s, unnatural bio 900s and rodeo 7s. In the end, Colby West's switch misty 900 mute earned him the Grail.
Thanks to Freeskier Magazine's founder and senior account manager, there was a ridiculous party held after the event at the Snow Barn, with many a frothy beverage to go around.
WATCH THE VIDEO
Final Results
Anti-Gravity Grail Big Air
1. Colby West
2. Richie Paradise
3. Liam Downey
Freeskier Jibfest Halfpipe- Men
1. JP Solberg
2. Simon Lavigne
3. Liam Downey
Freeskier Jibfest Halfpipe- Women
1. Olivia Agusti
2. Stephanie Seavy