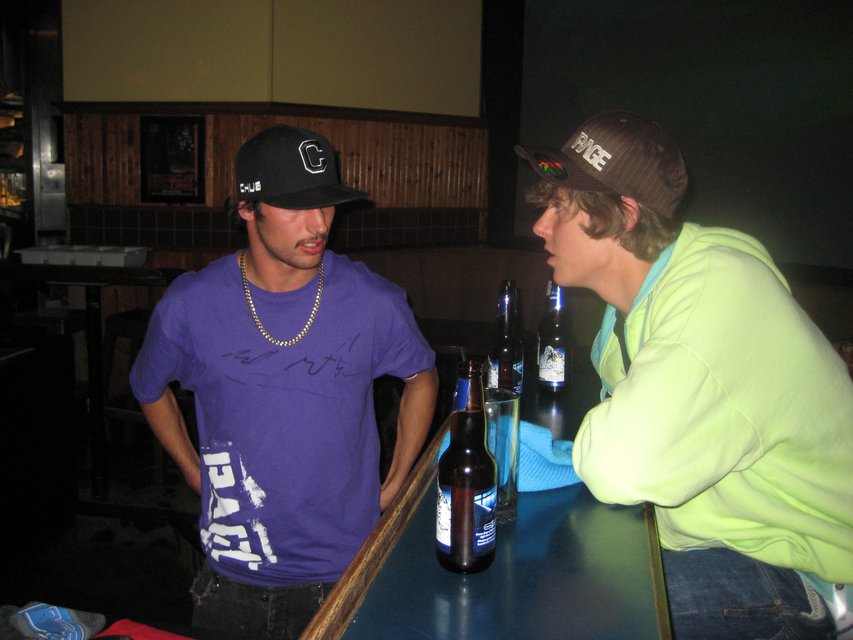 Our Pacific Northwest tour departed Bend on a cold Thursday night.  We ventured over Hood in a flurry of snow that was actually sticking to the ground!!!  With all this excitement in the air, this was destined to be an exciting adventure, and no doubt, that's exactly what it was.  Friday, we had a lot of time to kill before we met up with Husky Winter Sports at the University of Washington for our Seattle show.  Therefore, in true Rage family style, we set out to fulfill Mark Devorak's "wolf shirt" wishes.  We struck gold at the Seattle Shirt Co and had a custom shirt made which Mark has now add to his fine collection of furry faced duds.  With the event at capacity and a ton of swag, it was movie time.  Everyone who came out left w/ something thanks to Steven's Pass and their free lift tickets .  We celebrated in true Husky fashion in the U District which kicked off four glorious days of "blackout" for some, while others bowed down to the porcelain god...all night long....
Saturday, we picked up Holly Nichols from Husky Winter Sports and headed to BC  w/ a quick stop in Vancouver for a small screening before decending upon Whistler for Turkey Days. We found Mike Mertion and Ian Cosco wandering the UBC campus in search of food and GPS'd our way to the Pita Pit.  A terrifying caravan of Rage trucks and vans entered Whistler later that evening where the party continued throughout the evening.  Now, I'm not sure what it is w/ Mertion and the "no pants, no shirts" parties, but when the girls and I got back to the condo, all the boys were once again, sitting around in their tighty whities. Let me point out, that there were no girls in this room....hmmm. 
Sunday morning Cosco gathered up the posse and brought them to the Wildwood where he quickly consumed 5 double Ceasars in the span of about an our, while filmer AJ DSP kept up with his Mimosas.  This couldn't  lead to any good when it's only 11am and their still drunk from the night before..right?  Right.   We walked to the village while Cosco's mom's Lexus was being driven by a random gal up the street we were walking on...so, Mike Mertion, AJ, and Mike Merrick all jumped on the side of the car hanging from the roof rack screaming, "Such is Life" tonight!!!!   The roof rack snapped off and flung AJ to the road where he belly flopped, smacked his head, and passed out.  W/ the cops, paramedics, and fire trucks arriving to a closed down street with a passed out dude, Mertion, never forgetting his purpose for being in Whistler, asked the paramedics to pose w/ posters and proceeded to photo document the event.  The paramedics, released AJ under the stipulation that "if he acts any more retarded than he already is, call us"....unfortunately, this killed AJ's party plans for the rest of the weekend with a concussion.  He was sentenced back to his porcelain god and slept the remainder of the tour.  AJ is going to live and is all better...he'll be back for more movie making magic in no time.
Whistler was awesome and Jordan Clarke, our buddy who helped us facilitate, nearly won the dance off for a pair of Faction Skis with his Patrick Swayze attempts at throwing Holly across the dance floor.  He was squashed by a token break dancer who lit up the dance floor.  The DJ pumped the music throughout the night while the Longhorn played a series of Rage movies on their 25+ plasma TV's. 
Thanks to everyone who came out and helped us facilitate this tour.  
We are continuing on to Montana this week.  The schedule is as follows...and it's quickly becoming your last chance to come party w/ the Rage crew this season!  
10-20-08 - Bozeman - Emerson Theater - 8pm
10-22-08 - Missoula University - Center Theater - 7:30pm
10-23-08 - Cal-Poly Pomona, CA - Bronco Student Center - 7pm - $5
10-24-08 - Ellensburg, WA - River Theater - 6pm - $8
10-25-08 - Gonzaga - Wolff Auditorium - 7pm