Early in the week dPS head quarters was a flurry of activity as we launched a brand new sister site for dPS – SnapnDeals.
In the lead up to Christmas 2010 and 2011 dPS has run '12 days of Christmas' promotions where we negotiated 12 great deals of photographic products for our readers (including some special bundles of our own eBooks).
The response last year was particularly positive from many of our readers who picked up some great bargains on photographic training products, post production software and gear.
Readers wanted more deals – but we were also aware that we didn't want dPS to become a site where every second post was another promotional offer. While many did – not everyone wants the deals.
As a result we began to plan for a site that was all about deals for those who wanted more of them – SnapnDeals was born.
The idea of the site is simple. Every couple of weeks we'll be releasing a new deal. Most of them will be deals on products from other brands – training material, post production software, actual photography gear and more. We will also from time to time throw in a dPS deal.
These deals will be great discounts but will all be for a limited time.
To get notified of the deals you'll need to sign up to the SnapnDeals newsletter – scroll to the bottom of the front page and you'll see where to do it. Every time we release a deal (every couple of weeks) we'll shoot you a short email telling you what it is. We'll also release the deals to the SnapnDeals Twitter and Facebook accounts.
Deal #1: 48% off 3 Best Selling eBooks from the dPS Library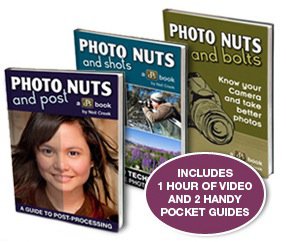 We launched the site two days ago with a dPS flavoured deal – a bundle of 3 of our best selling Photo Nuts eBooks at 48% off the normal price.
You'll get:
Photo Nuts and Bolts – which is all about understanding your camera so you can take better shots
Photo Nuts and Shots – tools and techniques for Creative Photography
Photo Nuts and Post – a guide to post processing your images
These eBooks all build upon one another and make a great collection to help you gain control over your camera, use it creatively and take the images you take with those skills and show them to their potential.
With this bundle you also get 1 hour of video tutorials and two bonus pocket guides.
This is the first time we've bundled these 3 eBooks and the deal is for a limited time – just 19 more days as this post goes out.
Take advantage of this special deal here today.
If this deal isn't for you – don't worry, we're already lining up a series of great deals from other brands on photography training, software, gear and other photographic products.
So subscribe to SnapnDeals today and we'll let you know when those deals are released.
Post originally from: Digital Photography Tips.
Check out our more Photography Tips at Photography Tips for Beginners, Portrait Photography Tips and Wedding Photography Tips.
Announing SnapnDeals: Great Deals on Photography Products