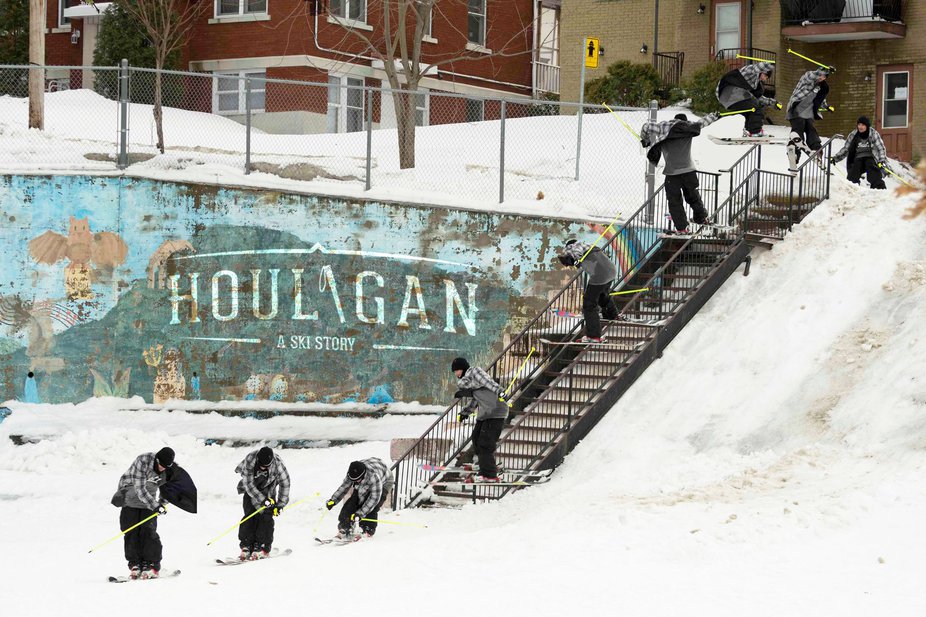 JF started skiing with his brother in Quebec at a young age. He was noticed early on as a result of his urban segment with Plehouse and his perseverance. His charisma and fearless attitude helped him create a name for himself in the world of freestyle skiing. He quickly climbed to the top of the freestyle scene by winning major international competitions such as Dew Tour, US Open, X Games, etc. But soon after, JF injured his shoulder skiing, and things started to slow down. It was a year prior to the first Olympic Canadian Freestyle Team being revealed. JF was at a point in his life where he was trying to please sponsors and fans. So he decided to put aside surgery in order to try to make the team. The competition was tough and it became a mental battle more than anything else. JF pushed his limits beyond what was reasonable and now agrees that what was meant to happen did.
But he started doubting himself, and lost faith in his abilities to push the sport via competitions. It was the beginning of a downfall. Sponsors started dropping him, he questioned his love of skiing. At that time, JF realized it was time to get away as he raised a lot of questions. He went back to skiing for himself, far from the federations, media and pressure. He also went back to his place of birth and was able to clear his mind. When in Quebec, he decided to go back to where it all started : urban skiing. And that's when the Houligan project was born. JF wanted to show the world the ups and downs of an athlete's life. Here's the trailer and a few questions we asked him about the project!
https://www.newschoolers.com/videos/watch/780610/HOULIGAN--quot-A-Ski-Story-quot--Official-trailer
What is the basic story of the project?
Houligan showcases the "portrait" and the on going story of my evolution in the ski world. I went back to the roots in the suburbs of quebec city where everything started for me. In a way it always been a dream for me to make something like this happen. Houligan features some urban skiing shot in the most creative way and there is also my own story that is going to lead to a sick urban segment. I want people to see my influence, whats inspired me true my career so far. I really wanted to make something different, the kind of of movie you only have one chance to make. I want to show that skiing is far from being over for me but its only a new chapters that begins.
How long have you been filming and where is the film shot?
2 season so 2 years of pure dedication pretty much, this movie is basically entirely film in the province of Quebec.
What were the best/worst moments of filming the movie?
Lots of intense moments but I will say the worst night was when we did a huge wall ride late at night in a parking lot of quebec city, it was -45 or something and I couldn't believe I was skiing this late when it was this cold but its the only night we had left with Felix. No crazy injury but a lot of scary moments as you can see in the trailer. I thought I was going to hurt my self pretty hard on that parking lot bail.
Shoutouts?
Big shoutout to Paul Bergeron that basically did everything and every aspect of this project with me. He was my filmer last season, he also has a few shoot in the movie, he's editing the movie… The list goes on. Aissam Dabbaoui who's been in on this from day one and all the homies that help make this project and sponsors who believed in this with me.