Below are excerpts from conversations with Surface Team Member, Andrew Holson, aka Dr. Hurricane. Aka, Hurricane Holson PhD, MD. At the age of 17, the talented and ultra stylish high school senior is making waves in 4bi9 movies, New Intel edits, and his very own videoblog: Hurricane Season. Make sure to check Holson in 4bi9's "SoFar So Hood."
My name is Andrew Holson, I'm 17 years old, and ski for Surface, 4bi9 Media, Spy Optics,Causwell, and Okemo Mountain
I am from Woodstock, Vermont. Learned how to ski at Suicide Six.
I would rather Listen to Shania Twain for one month straight than wear skinny jeans, you couldn't catch me blind in skinny jeans for even a week.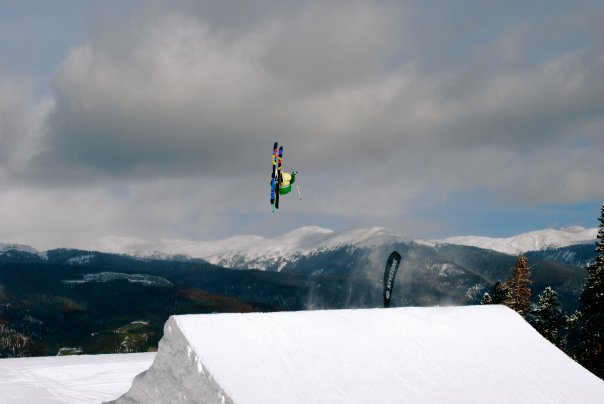 Oh boy if I had to spend $5,000 in three days or less, I would send it somewhere exotic that I've never been, real foreign. Use my PhD to navigate there and ski at some mountain that is so weird it doesn't even seem like skiing… then buy as much Jiberish threads as possible, but that's it - the rest to travel costs
If I had to play that "Marry/Sex/Kill" game with Rosie O'Donnell, Oprah, and Barbra Walters I would……Marry Oprah? Sex Oprah? I don't really want to kill any of them, but maybe Barbara Walters if I knew who she was… I googled her, if anything I'd kill her
I have never seen a Quentin Tarantino movie
Smallville is a TV show about superman's child hood. Clark Kent (superman) pwns meteor rock infected Smallville inhabitants, and like solves major issues
I definitely do not consider myself a superhero
Would you consider the New Intel Blades Okemo edit the defining moment in your snowblade career, and is are the rumors true regarding "Read, Strap, Blade?"
The defining moment of my snow blade career was the "New Intel Blades Okemo" edit. I do not wish to comment on any rumors surrounding "Ready, Strap, BLADE"
The lawsuit between Level 1 Productions and WME (Warren Miller Entertainment) is complete bullshit. But I wouldn't be surprised if they associated snowblading and gaper activities as belonging solely to their crappy films. It is sickening to see such a massive company pick on a small company like Level 1 that in my opinion is the most relevant thing in skiing last year.
If I had to write a one page essay defining happiness, Emma Watson would not be a topic. I pretty much don't like the idea of Emma Watson herself.However I love the character Hermione. The idea of Emma Watson as Hermione is great to me, but eh, Emma Watson herself is not that great
Oh my, I took the SAT's Nov. 7th and thought the chemical symbol for water wasH20. Sorry, I''m just kidding.
The most frustrating aspect of skiing for me is competitions. I hate them because I can never have my way. I like to be really picky, about stuff that I do on skis and the tricks and shots that I count. In competitions I can't be picky, and every single trick counts, and for me I'm just trying to get my run down is hard enough. I loose the fun in skiing that I love because I can no longer be picky and do me, I just feel like a horrible skier doing sketchy tricks.
The most rewarding thing in skiing, is definitely getting recognition for the stuff you did once they see your shit in edits, and new movies. I love the feeling of looking back on my season and picking out things that I'm proud of, and stoked that I made happen.
I was generally stoked on all the shit that I learned in the park for my Superunknown Edit. I learned more this past winter then I ever have before, even with a late season injured knee, and the absence of skiing in February due to Mono.
My greatest accomplishment right now, is basically just having 2 parts in the 4bi9 flicks,and being with them. I'm so amped to be a part of something that as it grows, I grow along with it. My greatest accomplishment really is just living the dream that I've always had. I'm skiing with athletes that I've looked up to since I was 8 years old, and not only am I skiing with them, but they also give me some props from time to time.like a part in the last few 4bi9 movies i mean
In the past,Liam Downey was the biggest influence on my skiing & style.
I watched him year after year, and his style just keeps getting better and better. Clarke also influenced me hugely, and right now Hornbeck pretty much blows my mind.
I couldn't believe ripping with Liam this past pre-season in Keystone. Absolutely blew my mind to get to ride with someone like him, went to sleep content night after night.
As far as Okemo Mountain School (OMS) goes, I'm on a solo mission. I love the support that they give me. My coach Chris Marks supports me in everyday life, not just skiing. He helps plan out my winter and make important decisions. He basically makes my winter happen and ensures the school that I'll always get all my work done,even when I'm gone for months at a time.
OMS is perfect for me, because I just go off and do my own thing and they trust me. I'm not forced to compete or do any USSA / USASA bullshit that's required at most ski academies.
I just have this abstract idea of skiing just relating so much with music, it kind of sounds crazy. I just like to ski sometimes, like the way that some rappers rap. For example, the end of this year, I feel like I emulated The Game. I'm psyched to see what happens when I can get on snow again soon, after just obsessing over his music all summer
I was at Mt.Snow Open and I was probably on my second run in the qualifiers. I had only hit the last jump switch, and I started to change my run up a bit. I just went to do a rodeo 5 on the jump but somewhere I lost all my speed and kinda just cased somewhere in between rodeo 5, and 7. Didn't even fall just kinda tweaked my knee and rode away. Turns out I tore a bunch of cartilage, and severely scuffed and inflamed cartilage under my knee cap. 2 months of being told it would heal,finally got an MRI and chose to do surgery. Basically ruined my summer.
Coming back from my injury involved doing a bunch of biking, and I got right down on that. Three weeks after surgery I biked 60 miles in Cape Cod (its so flat there) and continued biking throughout most of the summer. I played soccer throughout the fall, and for the most part I think it definitely made my knee stronger.