Words & video by John Spelman
Photos by Sverre Hjornevik
After capping off the rail jam session at Andreas Håtveit's backyard comp the assembled riders got down to flexing their tricks on Andreas's 16-meter jump on Wednesday night in a qualifier that determined which eight of the 12 riders would move onto the final event of the week, big air finals.
As the skiers walked the mere five meters from their accommodation to Håtveit's backyard park, the skies opened and rain unfortunately began to fall, however there was no damp spirit among the international contigent of riders who delivered an impressive evening of freeskiing at its best.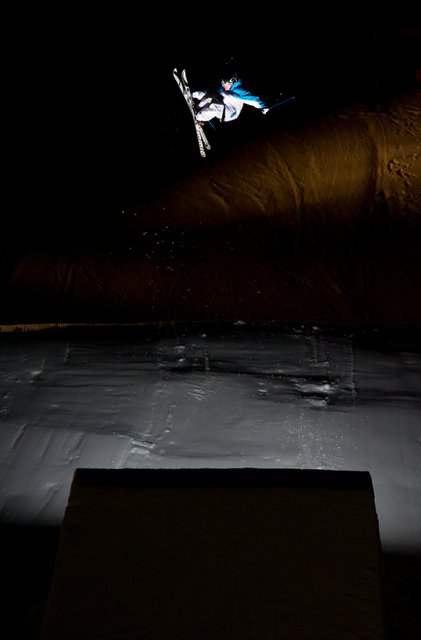 Sigbjorn Tveit
Highlights from the qualifiers included PC Fosse throwing a beautiful and picture perfect kangaroo flip 1080 while fellow Norwegian Thomas Dølplads mixed things up with solid dub 10s and 12s throughout the evening. But despite impressive performances from all of the riders, in the end the top spot went to last year's Backyard Battle Big Air winner Klaus Finne, who laid down a succession of perfect dub 12s and 10s along with a particularly sweet switch dub 10 which secured his placement at the top of the qualification list.
Qualifier Results
1) Klaus Finne
2) Thomas Dølplads
3) PC Fosse
4) Ole Mustad
5) Elvis Harsheim
6) James Woods
7) Halvard Thon
8) Sigbjorn Tveit
2011 Backyard Battle Day 4 06.04.11 from Skifilm on Vimeo.
The night after qualifiers, fast laps on snowmobiles at Andreas' homemade park were a plenty as the eight aforementioned qualifiers squared off against each other in a thrilling knockout contest.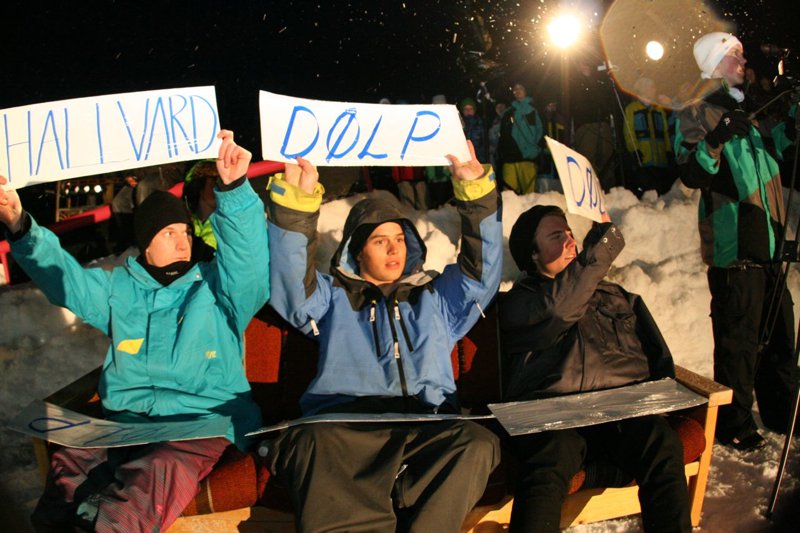 The Judges: Oskari Raitanen, Gaute Silseth and Jossi Wells
Norway's Halvard Thon, the late entry who replaced an injured Jossi Wells wowed the crowd with some amazingly stylish and big switch 10s and rodeo 9s while fellow Norwegian Thomas Dølplads continued to send it by stomping some magnificent dub 1260s. The speed of the action gave the audience a thrilling show as the fast lapping left no minute to spare with even the side slippers dropping in between knockout rounds to throw cool 7s and 10s.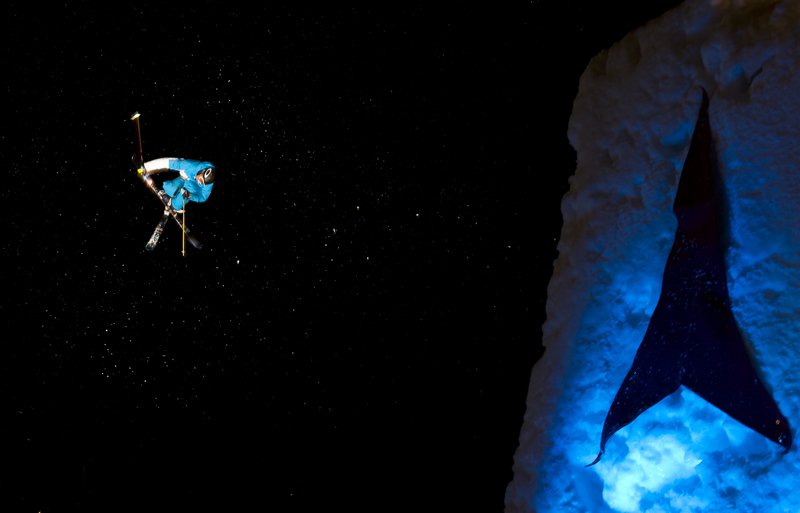 Ole Mustad
When it came time for the finals, last year's big air winner Klaus Finne battled it out with the new whiz kid on the scene James Woods, fresh off his European X Games podium finish. Finne threw down fantastic dub 10s and 12s but too often missed his landings, leaving James Woods with an opportunity to pick up his second win of the week with ease thanks to his picture perfect and cleanly landed dub 12s.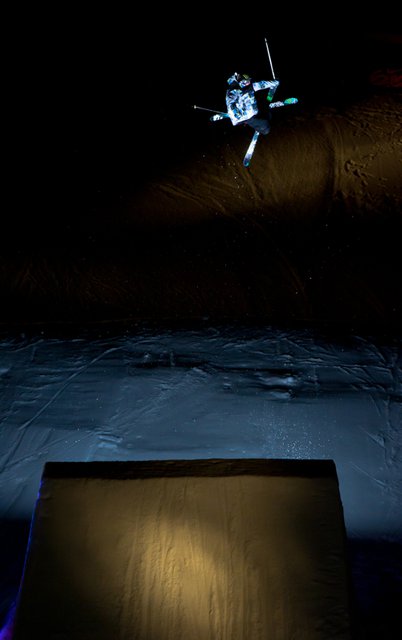 James Woods
"I am stoked, it feels so great, just brilliant," said Woods. "I came here with no expectations at all, I was just stoked to be invited so to win both the big air and the rail jam…I just cannot say enough about how stoked I am! This whole week has been amazing. I have never seen a set up like this before, as this is one of the best parks around for sure, and when you hear it called a backyard park you think it means a bunch of little jibs but this is a really serious set up with snow cats, lights, snow cannons, massive features, a shaping crew and everything. It is such an excellent and well-shaped park and it's amazing to see and ride."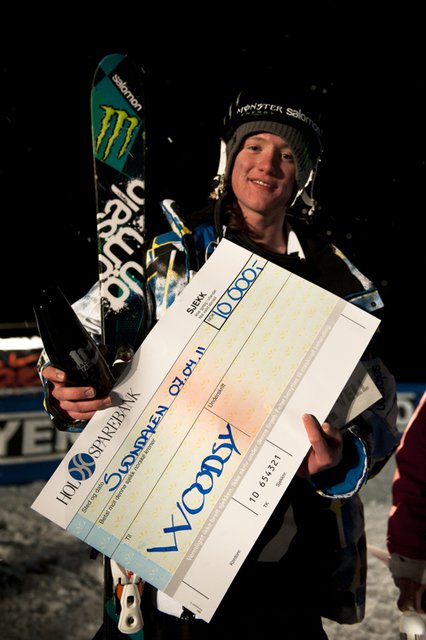 James Woods
"It was a super sick night for sure," said Andreas Håtveit. "Thomas Dølplads, Klaus Finne and Woodsy all had the tricks to take it all the way. Klaus had bad luck on his landings all night but Woodsy laid down clean 12s every time and deservingly won the title. So overall it was a great night and a super end to the event."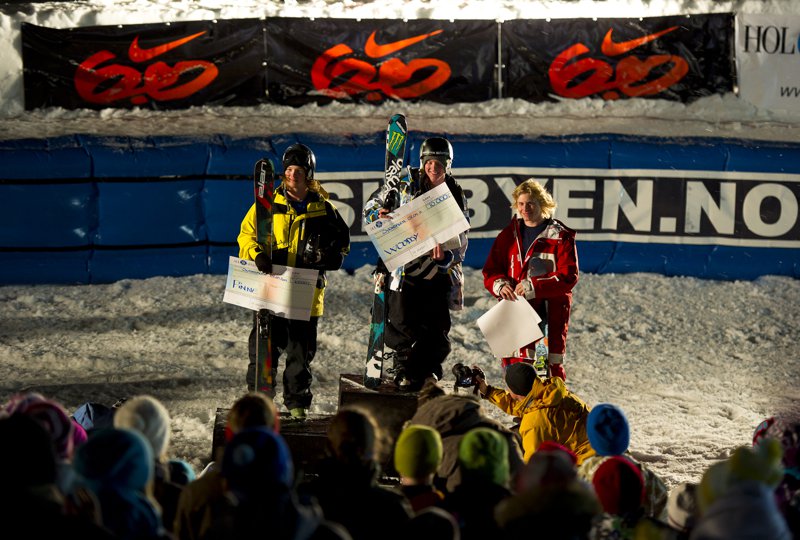 Klaus Finne (2nd), James Woods (1st), Thomas Dølplads (3rd)
Knock Out Results
(name in bold indicates winner)
Quarter Finals
Klaus Finne vs Sigbjørn Tviet
Thomas Dølplads vs Halvard Thon
James Woods vs PC Fosse
Ole Mustad vs Elvis Harshiem
Semi-Finals
Klaus Finne vs Ole Mustad
James Woods vs Thomas Dølplads
Third Place Battle
Thomas Dølplads vs Ole Mustad
Finals
James Woods vs Klaus Finne
2011 Backyard Battle Day 5 07.04.11 from Skifilm on Vimeo.