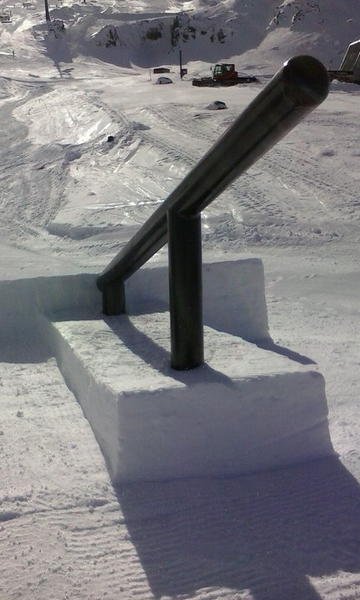 An Inside Look is a series profiling different careers within the snow sports industry. With firsthand knowledge each edition will feature a different job that Newschoolers members have held in order to make a living. From ski patrolling to ski building, many different aspects of the industry will be covered. This series is designed to provide a behind the scenes look at some of the more coveted positions within the industry.
Many of us have dreamed of working within the ski industry but only a handful of us muster up the courage to take the leap. Those who have attempted to work their way through the snow sports universe understand that the struggle is real and while every day presents itself with new challenges opportunities are abundant. The first edition of this series will focus on the world of a terrain park employee. I recently had the pleasure of interviewing long time member Jonathan Rustin aka theabortionator, a crowd favorite here at Newschoolers. In his 12 year career Rusty has worked at five different ski resorts scattered across the United States as well as spending a winter in New Zealand. From building rails in the shop to raking and maintaining features on the hill Borty is a seasoned terrain park employee. Having held almost every position on a terrain park staff from entry level all the way up to management Jonathan played a pivotal role in the park transformation at little Oak Mountain in upstate New York.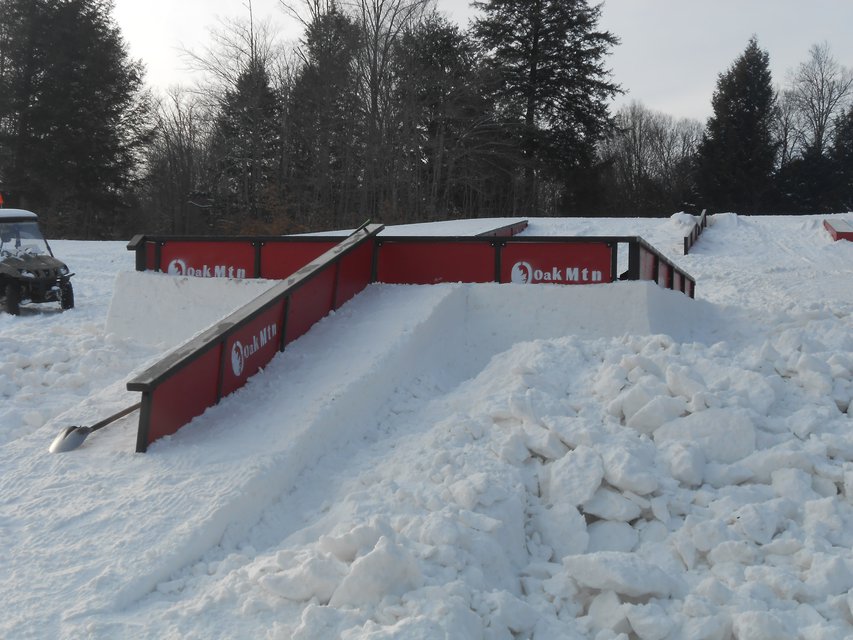 A very time consuming build at Oak Mountain, NY
Name and NS member name?
A: Jonathan Rustin (AKA: Rusty) NS: theabortionator
Where have you worked?
A: Oak Mountain, NY - West Mountain, NY - Gore Mountain, NY - Cranmore, NH - Mount Ruapehu, NZ - Beaver Creek, CO
What were/are your jobs?
A: A few years teaching lessons starting when I was 14. I was a ticket checker for a month or so after I broke my collar bone. Other than that mostly living in the park aside from helping out some other departments short term. Shifting more into grooming this next season.
What jobs have you held within the terrain park and at which resorts?
A:Gore - Terrain Park Crew, second year Supervisor (2 seasons)
West - Terrain Park Lead (3 seasons)
Cranmore - Terrain Park Crew (1 season)
Oak - Terrain Park Manager (2 seasons)
Mt Ruapehu - Terrain Park Crew (1 season)
Beaver Creek - Terrain Park Crew (1 season)
Why did you choose your career over an average cubicle desk job?
A: I honestly kind of got thrown into it. I got in trouble for building a jump at gore and after yelling at me they mentioned that there was an opening on the park crew. As far as sticking with it, there's just a freedom that I wouldn't get sitting behind a desk that no amount of money could really make up for. The fact that it's seasonal work really makes it easy to move around and keep things fresh as well.
Sitting in a busted lifeguard chair with a sombrero watching people shred the park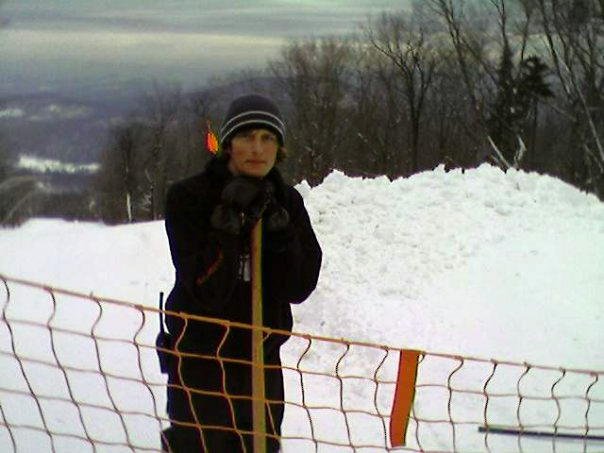 Shoveling for a booter build at Gore circa 2007
What steps did you take to get to where you are today?
A: A few years in I realized it was something I wanted to do forever, and that it might actually be possible to do so. I got a lot more proactive about looking into jobs, setting goals, and doing anything to keep the dream alive.
What are some of the rewards of your job?
A: Sneaking away for some early morning pow laps, sometimes before the lifts are open to the public never hurts. One of the more obvious ones is the ability to take some ideas from my head, and make them a reality. I would have to say that the biggest reward for me personally is just hanging out in the park and watching kids have fun on the things that I built. A few smiles goes along way and makes all the work that went into it 100% worth it.
What are the biggest challenges that you face while working?
A: It really depends on the place and the people you're working with. The most universal challenge would be lazy people. Sometimes it's all hard working people, sometimes not so much. When it's cold, and you're tired and working late, it's tough to keep motivated when there's a lazy person or buzz kill working with you.
What's the best day you've had on the job and why?
A: There have been some great days but one that sticks out was this last summer at Mt. Ruapehu. We had just gotten some snow, parks were pretty dialed, and we took some pow laps hitting some natural features the mountain had to offer. When we finished up in the park, we rode down as the sun set. It was one of those days that really sums up the reason you work in the mountains in a way that words really can't. One of those days where you have that big grin and think "WOW!" but also a deep feeling of reverence toward the mountains.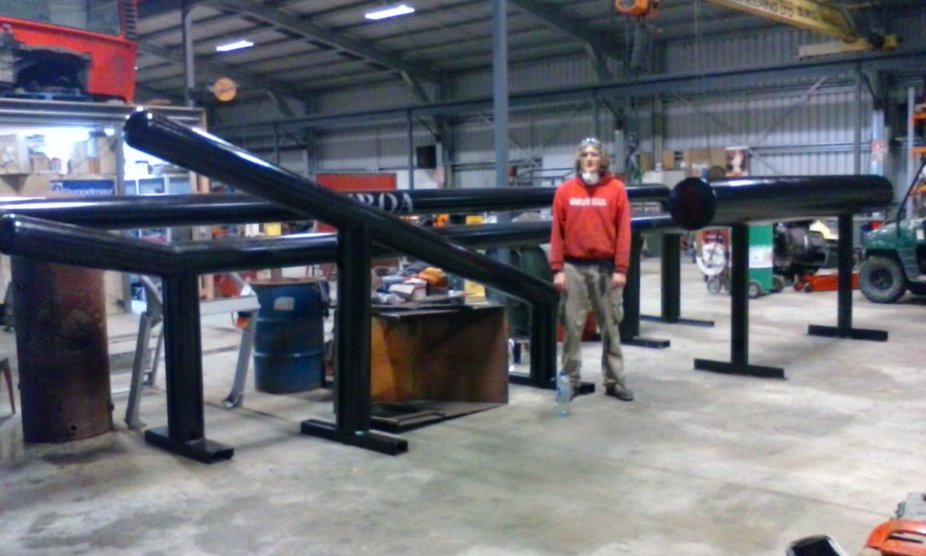 Posing with some freshly assembled jibs in New Zealand
How has your work in terrain parks and more specifically working within the ski industry changed your life?
A: I don't know if it changed my life as much as it allowed me to really live my life. It's pretty crazy to think about honestly. For nearly half of my life now I've been working in the ski industry. This past winter was my 13th season. I guess it kind of feels like an obsession that I never grew out of. At some point you're pushed to surrender your silly childish dreams and get serious. I guess I just never really did things the proper way. For me, working in the mountains is something that always made sense to me. It's been the glue that's held everything else together. I really can't see myself doing another job ever again. If I could continue to travel, build parks, meet amazing people, and shred pow for the rest of my life, I don't care how poor I'll be, that's the life I want.
Where do you see yourself in 5 years?
A: I consulted the magic 8 ball and it said "maybe". I'm not really sure what that means but I'm going to assume it means great things. I'm just hoping to go to some cool places, meet good people, and stay hopelessly obsessed with terrain parks.
What advice would you give to someone that is hoping to follow a career path similar to yours?
A: Go for it now. Even if it's just for one season, living in the mountains is an awesome experience. Make the best of your time and try not to let the bad days ruin it for you. Always be on the prowl for new opportunities whether it's a better job or just a change of scenery. Have fun and enjoy yourself. If you're not having fun what's the point?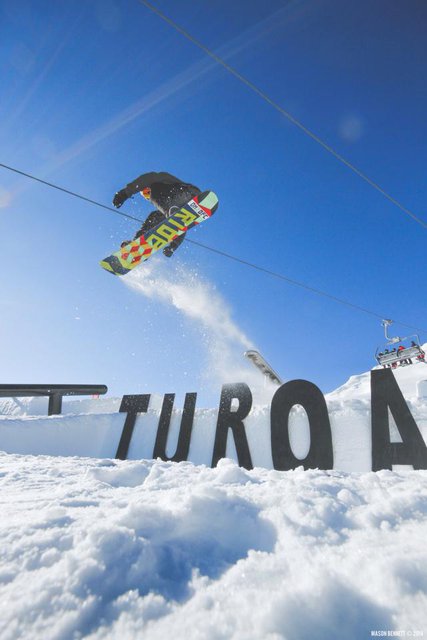 Quality control on a build in New Zealand
Managing the park at Oak Mountain left him with invaluable experience leading his own crew and designing builds. The industry has provided Rusty with numerous skills and he has had the opportunity to partake in certain events that are off limits to the average Joe, "One of the coolest things was going to cutters camp a couple years ago. Seeing some of the guys from all these mountains I follow, and the fact that everyone was so damn humble and really open to learn new things ... Really cool that some of those guys were building some of the best parks out there but nobody was a douche".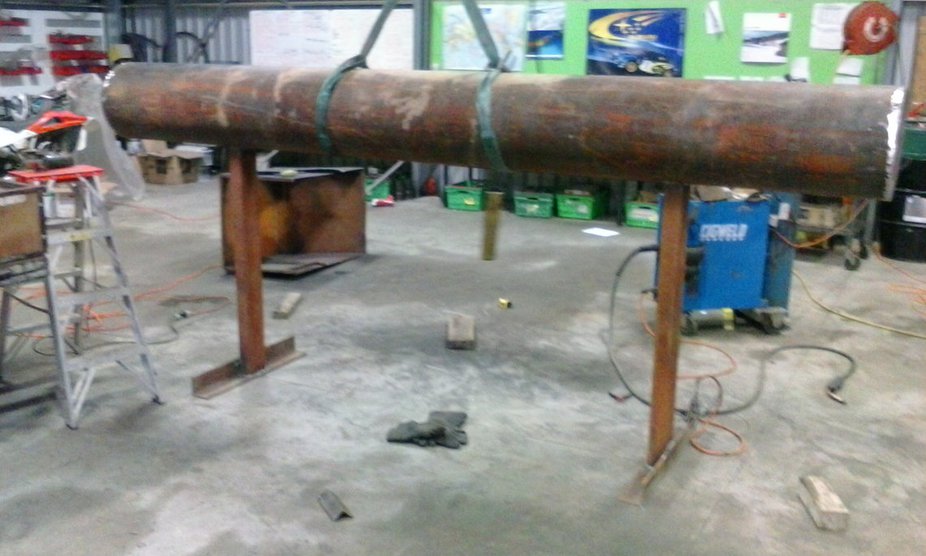 Before
His time in the industry hasn't always been painless, dealing with upper management at smaller resorts can be a hassle and losing a job due to a bankrupt resort is never easy. Often times it is difficult to build and maintain a park, you need to be able to adjust on the fly in order to meet public demand and with limited resources rebuilding your park is not always that simple. There is always work that needs to be done, posting signs, raking features and collecting feedback from the public are all key tasks that a park employee can expect to perform on the daily. Some times you will struggle with a lazy coworker or an under-qualified boss but the occasional "quality control" lap and countless smiling faces make it all worthwhile in the end.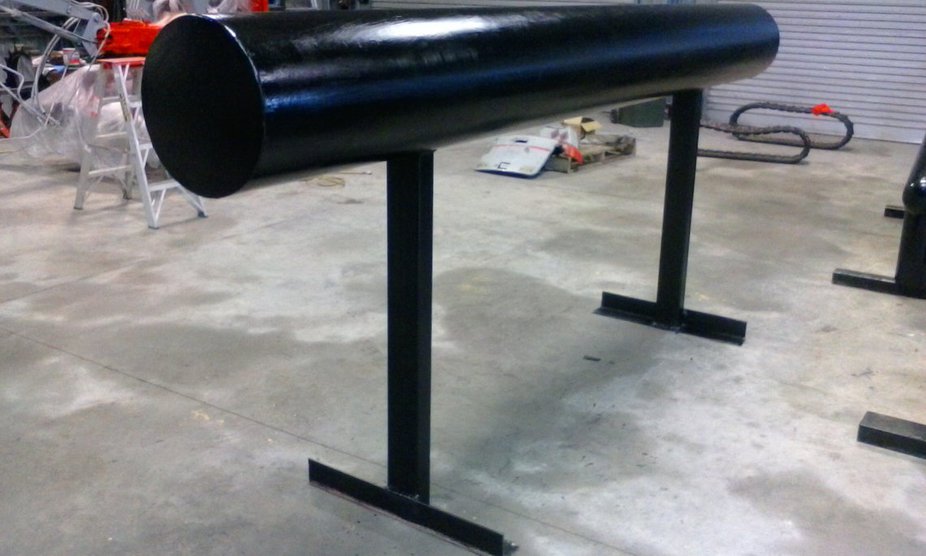 After
Getting your foot in the door is never easy regardless of what industry you're trying to break into. Keeping your foot lodged in that door year after year is becoming increasingly difficult in an industry that does not provide spectacular wages or a glamorous lifestyle but Rusty has managed to bring himself back season after season. There is no end in sight for Jonathan, with his strong work ethic and lengthy resume he has the aspirations of someday building features for non profit and free ski areas. The gears continue to turn and next season he will be offered a grooming position at Vail, "I've come a long way since I was building jumps with my avy shovels and getting bitched at by patrol on the daily, but there is so much stuff out there on a whole different level. The goal is to get there someday, and it's definitely possible, but right now I'm kind of just a guy chillin in the park.".