An Inside Look is a series profiling different careers within the snow sports industry. With firsthand knowledge each edition will feature a different job that Newschoolers members have held in order to make a living. From ski patrolling to ski building, many different aspects of the industry will be covered. This series is designed to provide a behind the scenes look at some of the more coveted positions within the industry.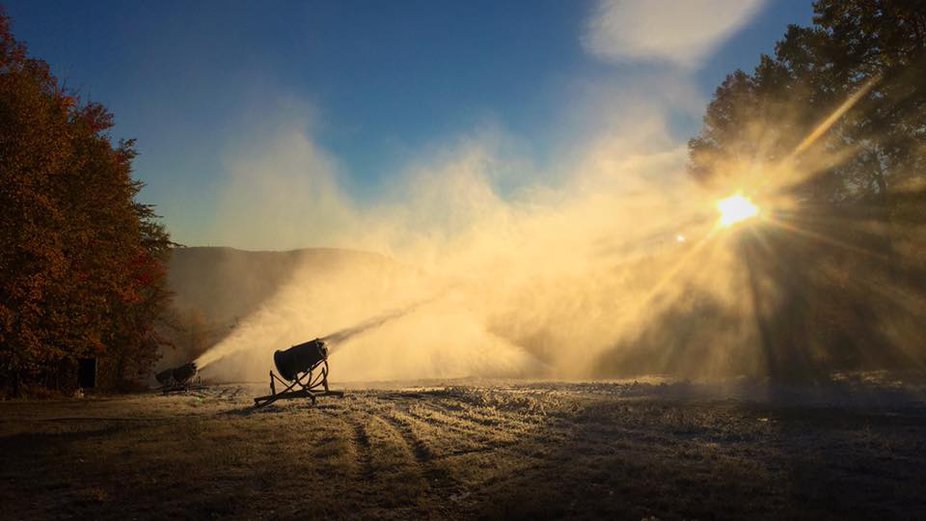 On a chilly fall morning in the middle of October while most of the country is still asleep Ian McCluskey watches the sun rise over Newry, Maine. It's been a long and tedious night at work but the 20 year old snow maker couldn't be happier, he just helped lay down a fresh carpet of snow for opening day and now he gets to go ski on it. Originally from Hopkinton, NH, Ian is entering his third season as a snow maker for Sunday River, the second largest ski resort in Maine. Starting his career back in 2013 as an entry level snow maker Ian has since worked his way up to a supervisor role at the resort. "Once I was out of high school my snow making career took off. I started my first season as a snow maker, came back my second season as the third shift foreman, and this year I'll be the second shift supervisor. Around this time marks my first full year working continuously at the mountain. I can now say snow making is my life!"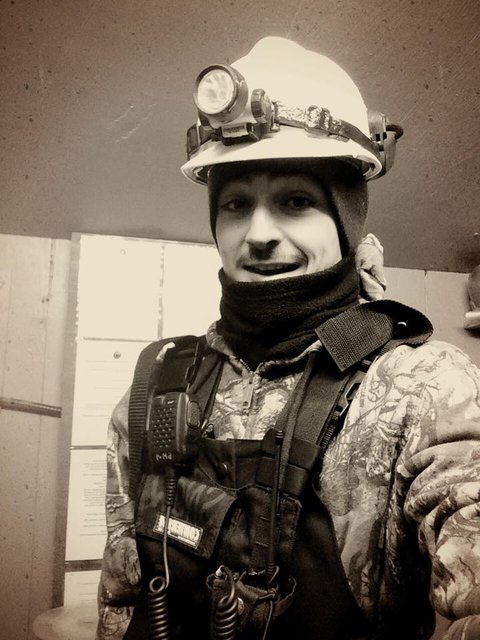 Ian has had a passion for skiing since he was a child and even as a youngster he was curious about the snow that he skied on. "Growing up skiing at little old Pat's Peak in Henniker, NH I always wondered what it took to make snow. How can a ski resort that used to be run 100% by natural snow supplement that with this new fake stuff that comes out of loud guns? I always thought it was cool and had an interest in learning about it."
Down the road, after passing up on the chance to go to college Ian found himself questioning what path he wanted to follow his life. College is the new social norm but it isn't for everyone, some people are meant to follow a different course than the rest of society. The average desk job doesn't appeal to some, especially to those who come from an outdoors background and having worked on a farm before his time at Sunday River Ian is a prime example of this. "From the start, I knew I didn't want to work a cubicle job. I wanted to have fun and take pride in the work I did. So I applied to snow making at Sunday River as a dream job after my last farm season ended. Skiing under wet snow guns as a kid made me really want to learn how to make snow, I figured I could do a better job if I just knew how it worked."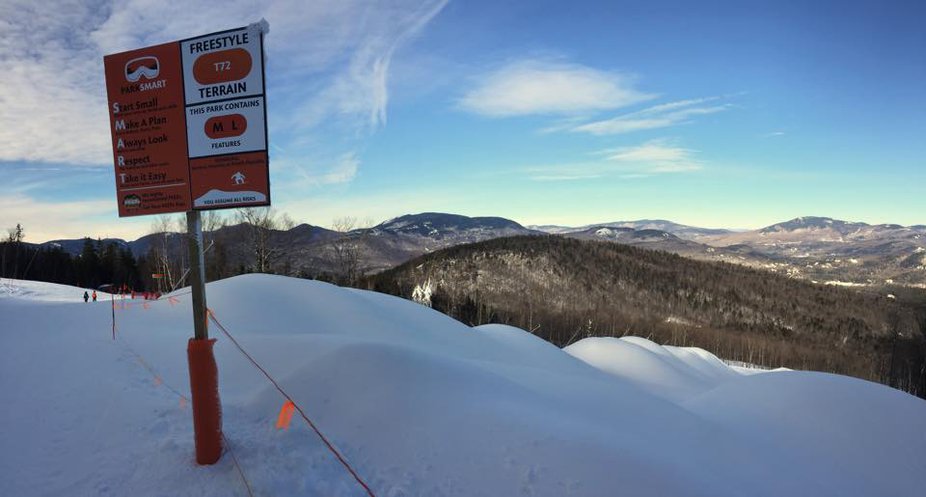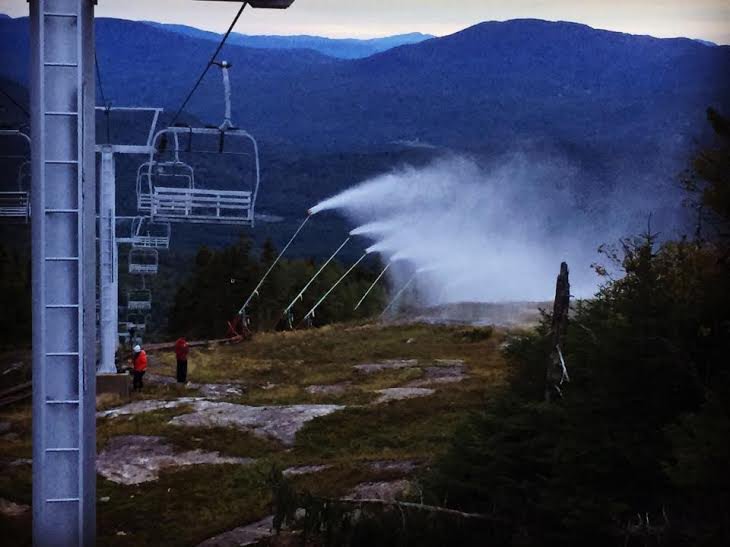 The first few seasons Ian spent at Sunday River weren't easy, snow making is not a job for everyone. More often than not you are working long hours lugging heavy, bulky equipment all over the mountain. One thing that all snow making crews must deal with is the constant cold. In order to make snow the crews prefer temperatures of 28 degrees fahrenheit or lower which means snow makers are almost always working in freezing temperatures. Luckily for Ian he is a hard worker and his persistence has paid off. "What got me where I am today is a lot of hard fricken work and dedication. In order to step up in the ranks I just kept working as hard as I could. If a gun got buried and no one was stepping up to go dig it out, you'd see me out there in the next couple minutes going crazy shoveling out the snow."
"Every night our crews are working to keep the guns producing optimal snow while the temperatures are constantly changing. When it gets cold our pipes freeze, guns freeze, and hoses can freeze. Since we're always dealing with high pressure air and water we are constantly dealing with hoses that blow up and have to be replaced as soon as possible." The job is a constant struggle but in the end the rewards outweigh the challenges. There are not many people in the world that have had the privilege of setting up a snow gun and watch it blow the snow they will ski on the next morning. "There's nothing like riding on snow that you just busted ass to produce. And it makes it even more fun when you make good snow!"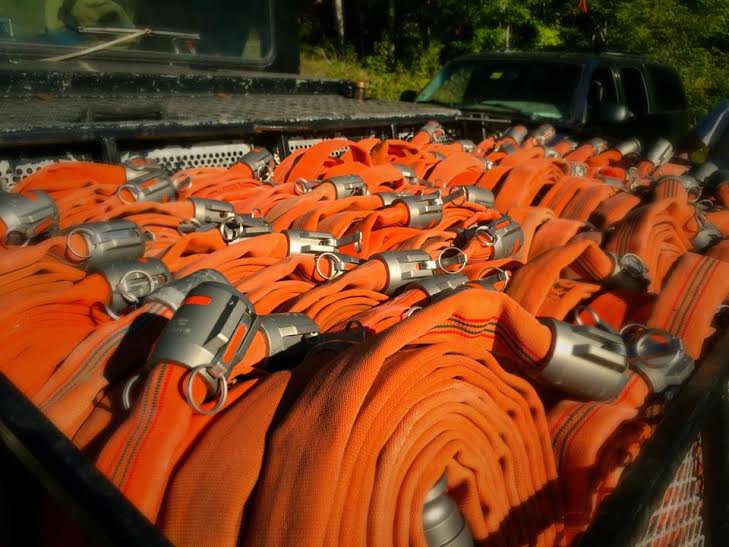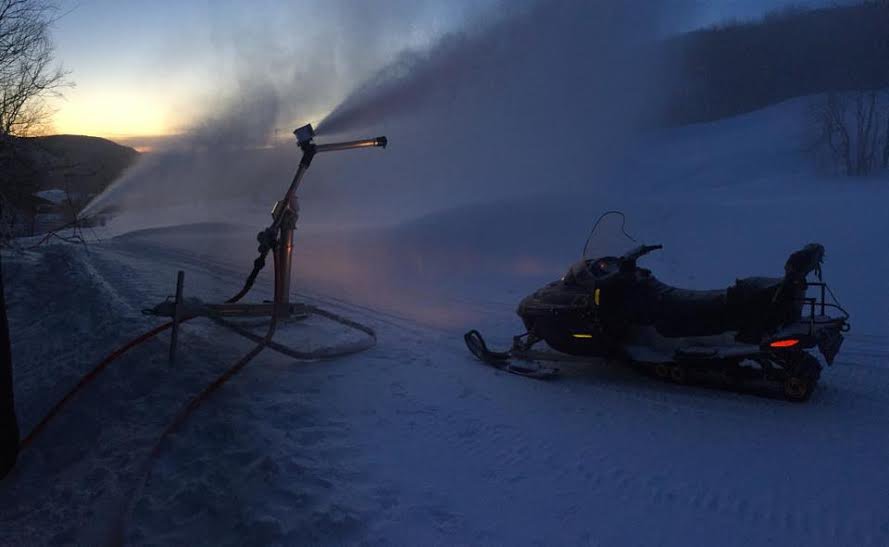 "If someone wants to follow this career path they need to be dedicated. It's not an easy job and it takes a lot physically and mentally. They need to make connections with managers at whatever resort they are working at. They need to show their boss that they can work hard and are motivated to keep progressing with what they are doing. Working in snow making and within the ski industry gives me an even bigger appreciation for what it takes to run a ski resort. It bridges the gap between skier and local. Yes I have always grown up skiing at Sunday River, but now I can ski and give back to the place that gave me so many good memories."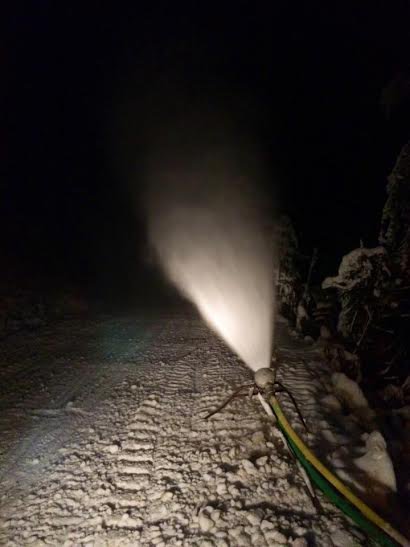 Over the course of our lives many of us will struggle for years trying to figure out where we belong in the world. We'll move from job to job until we finally find that one position that feels just right. Even still after years of searching some of us will never find that one job that really makes us happy. But then there are people like Ian who find their niche at a very young age. "I've only worked at Sunday River and I plan on staying there for a while to come. It's where I grew up skiing with my family and it feels good to be able to give back in a way by making snow." After two winters as a snow maker with a third season in progress Ian has a good idea at where he wants his life to go. "I'm hoping to still be making snow and running a crew. Every season our team works to keep improving what we're doing. Once my body gets too tired to make snow anymore I want to keep working at a ski mountain. I am hoping that won't be for some time though. I don't think you'll ever find me in a cubicle job for one reason: it just ain't fun. Outdoors people need to be outdoors."