An Inside Look is a series profiling different careers within the snow sports industry. With firsthand knowledge each edition will feature a different job that Newschoolers members have held in order to make a living. From ski patrolling to ski building, many different aspects of the industry will be covered. This series is designed to provide a behind the scenes look at some of the more coveted positions within the industry.
This edition of "An Inside Look" will focus on the world of Ski Patrollers. Born in Port Credit, Ontario, Alex Merryweather is a 21 year old Newschooler who now resides in Nelson, British Columbia. He has held two ski patrol positions and has attended many avalanche safety certification classes. Although he is young, Alex has done a great job of setting himself up for success in a difficult industry. Alex recently took the time to share his thoughts and provide valuable insight for those wishing to make a career out of patrolling.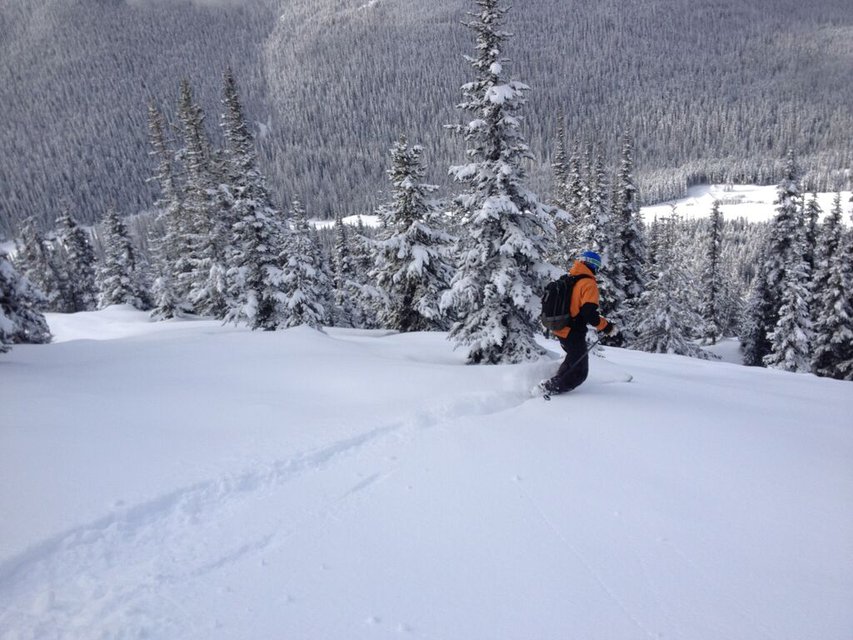 Apple Bowl laps with the Manning Park Patrol Director
Name and NS member name?
A: Alex Merryweather - NS: Schism
Where have you worked?
A: Skiis and Biikes - Ski Sales (4 years part time in high school)
Mount Washington Alpine Resort - Ski Patrol (1 season)
Manning Park Resort - Ski Patrol (1 season)
Niseko Adventure Center - Tail Guide (1 season)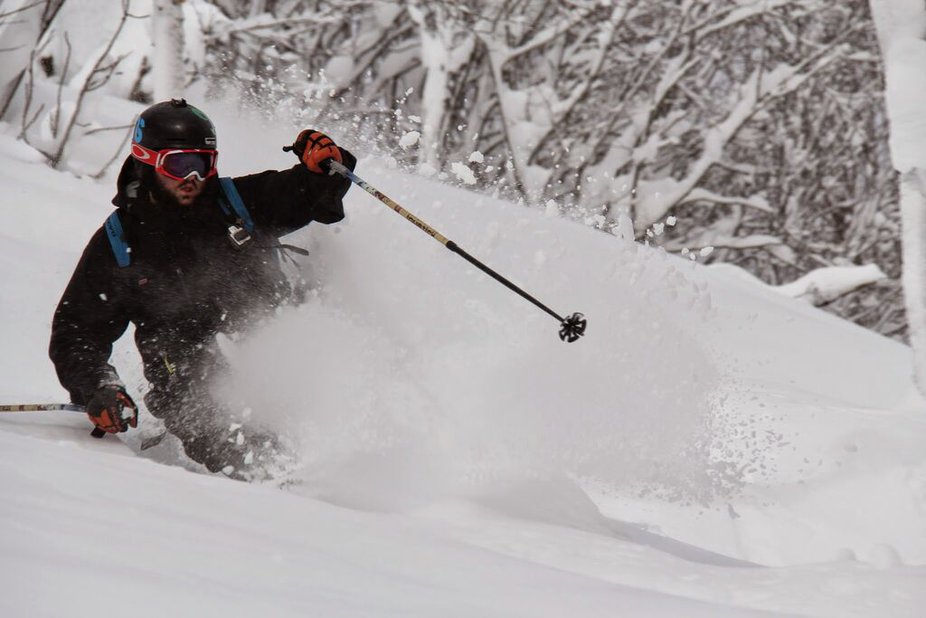 Ross Trees in Japan
What were/are your jobs?
A: I started working at a ski store when I was in High School selling hard goods, and it was super fun but I felt like I didn't get to ski enough as I was working weekends and didn't have too much time off. When I turned 18 I moved out to Nelson for College in the Ski Resort Operations and Management Program. After I graduated from college I decided that I wanted to work in Avalanche Control or Backcountry Guiding and that one of the best ways to get into that industry is to gain experience in Ski Patrol.
When working as a Patroller there is always a decent list of things that need to be done. It all depends on the hill you're working at and your experience as well. Mount Washington was a super interesting experience as it barely snowed when I worked there, and it would have tons of people so there were always a good amount of first aid calls which is first priority.
Now compared to working patrol at Manning Park, it was completely different. I went from working at a Resort that had 30+ Pro Patrol and over 150 volunteer Patrol and 350,000 skier visits to a hill where there was 5 Pro Patrol and only Volunteer Patrol on the weekends. At Manning Park you were more than just Patrol, you could be covering a lifty on lunch break, shoveling out the roof of the day lodge or recording weather even if you didn't have the right qualifications. It was really great to experience the difference of working patrol at a major resort as opposed to a small little hill in the middle of nowhere. If there was one thing that was the same, there was always some snow to dig.
I got my first job as a tail guide working at a small cat ski operation in Japan. I worked mainly as a tail guide with a few days as lead guide. I helped make sure guests were skiing in the right place, load up skis and make run choices with the lead guide, and coordinate with out photographer. In the unlikely case of an injury I would perform first aid and help transport the patient. Safety was the number one priority and with most of our guests being Australian and myself being the only native English speaker I would lead the morning guest briefing and explain the run before we dropped in and answered any questions. I got to work with a very diverse group of people and learned a lot very quickly.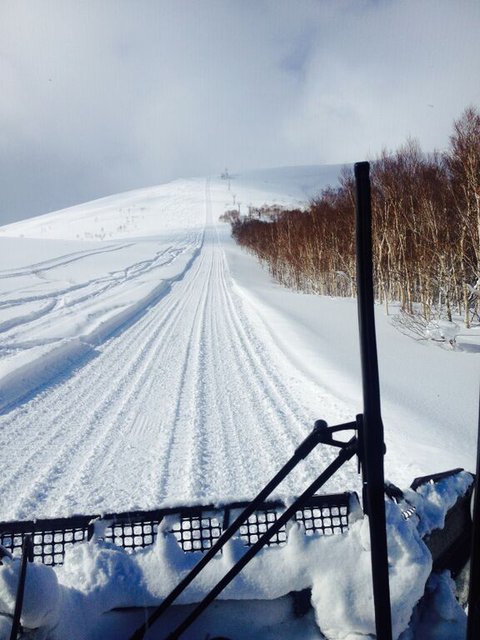 Riding shotgun on the the long ride up to the Summit of Mt. Weiss in the Niseko Area
Why did you choose your career over an average cubicle desk job?
A: I wanted to work in an industry that I was passionate about. I wanted a job that when I woke up every morning, I would be super stoked and excited for work and I wanted to be on skis everyday.
What steps did you take to get to where you are today?
A: The first major step I took, was attending the Ski Resort Operations and Management Program at Selkirk College. One of our classes was Ski Patrol and Avalanche mitigation, which was amazing. We got to do a mock incident investigation at a ski hill and take our AST 1 at Selkirk Wilderness Cat skiing. When we were at Selkirk Wilderness it just kind of clicked, I realized that this is what I wanted to do. I wanted to be working as a guide. I talked to some of my college instructors about how to get into that side of the industry and created a short plan. The first step was getting my advanced first aid course, which I got during the spring after first year. Then with just my first aid course I was accepted to work at Mount Washington for my College Co-op. The plan was to start my training as an avalanche controller there but they never really got enough snow for avalanche control work.
The next winter I moved onto a different resort so I could gain a new and different perspective on working in the ski industry, and that's where I got to do the beginning of my avalanche control work. At Manning Park I learned how to do ski cuts, do full size snow profiles to CAA standards and record weather information. After working at Manning Park I enrolled in the Canadian Avalanche Association Operation Level 1 course at Monashee Powder Snowcats.
After I completed the week long course I was certified to do certain avalanche and weather recording at ski hills, while also holding the entry requirements to work as a tail guide in Canada and as a lead guide in Japan. I was concerned about the 2014/2015 winter in the PNW so I got a working holiday visa to Japan and skied Hokkaido powder all winter while learning the people skills it takes to be a ski guide, and teaching some of the Japanese guides I worked with the snow science side of things.
The biggest help I had was finding a mentor that was willing to help with my career path and set a 5 year plan in place. While the original plan has changed most of the things we discussed are still useful and helped guide me to where I am today.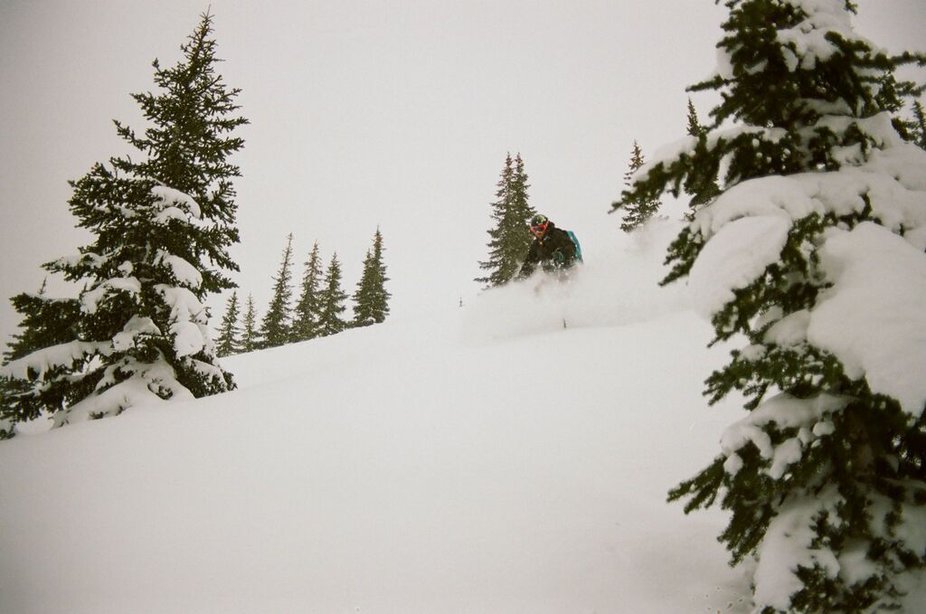 Manning Park Side Country
What are some of the rewards of your job?
A: Well the obvious reward is getting paid to ski, and getting to ski powder before everyone else does. But I think the next best reward is getting to work with other people that share the same passion as you, it makes the job so much more enjoyable and fun.
What are the biggest challenges that you face while working?
A: When working as a guide I think the biggest challenge is managing guest expectations and always keeping them stoked. Sometimes they don't understand why we can't ski certain areas or why it's only boot deep powder and not waist deep. Some guests won't be happy no matter how good their day is, but you just have to focus on some of the other guests and make sure they're still enjoying their time.
After being a tail guide for a season the biggest challenge I think I'll find when Patrolling is the lack of control. When guiding you're in control (for the most part) of your situation, you take steps through out the day to mitigate risks and keep your guest safe. You get to dictate the pace, the runs you do and the order of the group for the most part. When patrolling your totally dependent on other people. You have no control of a 6-year-old kid skiing into a lift shack or another person. The other challenge is dealing with egos, not a major issue but you'd be surprised how some people act when they put on that red jacket.
What's the best day you've had on the job and why?
A: I guess the best day I had patrolling was back at Manning Park. The hill was closed on Tuesday and Wednesday of that week and it started to dump snow the Tuesday night. On Thursday morning I arrived at work to see that it had snowed almost 3 feet of light fluffy powder. The best part was that the road towards the hill from the west was closed due to avalanche danger in the morning, so it was pretty much just staff skiing and some season pass holders that made up before the road closed. We didn't shovel snow at all that day, we made sure that every staff member got enough ride breaks and everyone just had a killer day overall, one of the best days I've ever had in general.
Now for working as a tail guide the best day I had was completely different. In uncharacteristic Hokkaido fashion, it hadn't snowed in almost 4 days, and the sun was really starting to bake away at what remaining fresh snow we had. I had been working pretty much 30 days straight and was told that I wouldn't have to work the next day as everyone cancelled. I ended up getting called into work as 4 people still wanted to go. I was a bit bummed out, but when I got to meet the guys we would be riding with that day they knew the conditions weren't going to be the best but were still super stoked and they were down to go and explore some areas we hadn't been able to explore with a full group. Even though the snow wasn't very good, it was awesome riding with a small group that was super keen and pretty good riders. We got to find some decent snow on some northwest aspects and some nice fall line tree runs that were a bit of a hike out. Sometimes it's the customers that get the guides stoked and that just makes the day so much better.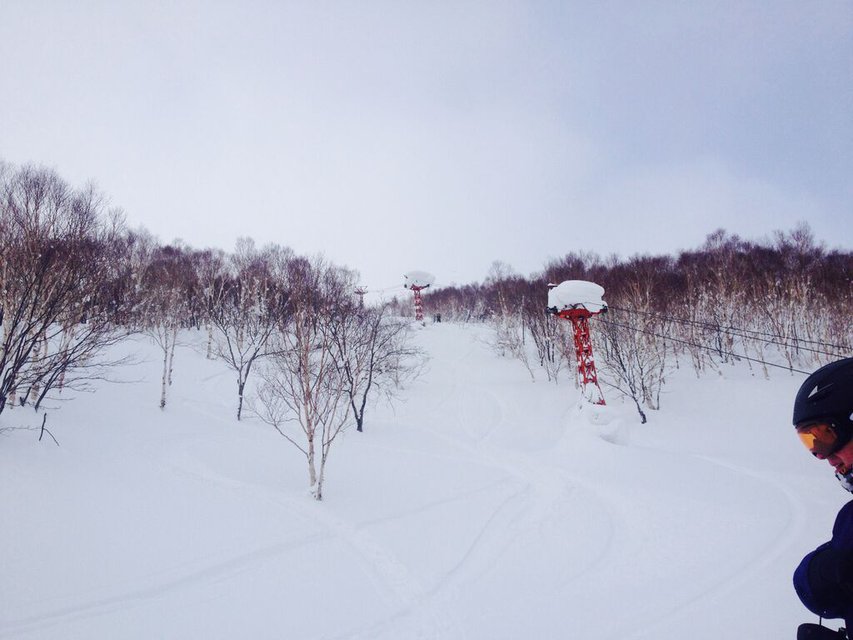 Chair 5 Line at Niseko Adventure Center Cat Skiing
Where do you see yourself in 5 years?
A: Oh man it's constantly changing, but I would like to be certified with my Canadian Avalanche Association level 2, and be at a Canadian Ski Guide level 2, while also pursuing my Association of Canadian Mountain Guides certificate. In terms of employment, I would like to be either working as a cat ski guide, or working as an Avalanche Technician for the Ministry of Transportation either on Kootenay Pass or Duffy Lake.
What advice would you give to someone that is hoping to follow a career path similar to yours?
A: Go talk to your local mountain about their patrol team and see if you can shadow them for a few days. After that find a mentor and start getting the right certifications you need. Spend as much time digging pits and practicing first aid as you can. Always have fun and don't take the job too seriously. Find a good summer job, as you won't be making too much your first few winters.
How has your work as a patroller and more specifically working within the ski industry changed your life?
A: Oh man that's a pretty tough question. I've been involved in the ski industry since I was 14 so I guess you could say my whole life is skiing. I guess the biggest thing that has changed was realizing the importance of doing something that you really enjoy doing. Living a satisfied life type of deal. In all honesty the biggest thing that changed (and is still a work in progress) was my fitness. I never really realized how demanding skiing for 50 hours a week can be. Add on having to trek through deep snow, climb lift towers, and a bunch more physical work. I have to get in much better shape to get to my long term career goals in the ski industry. Overall I just feel a lot more satisfied with my day as a patroller than when I did selling skis and fitting boots.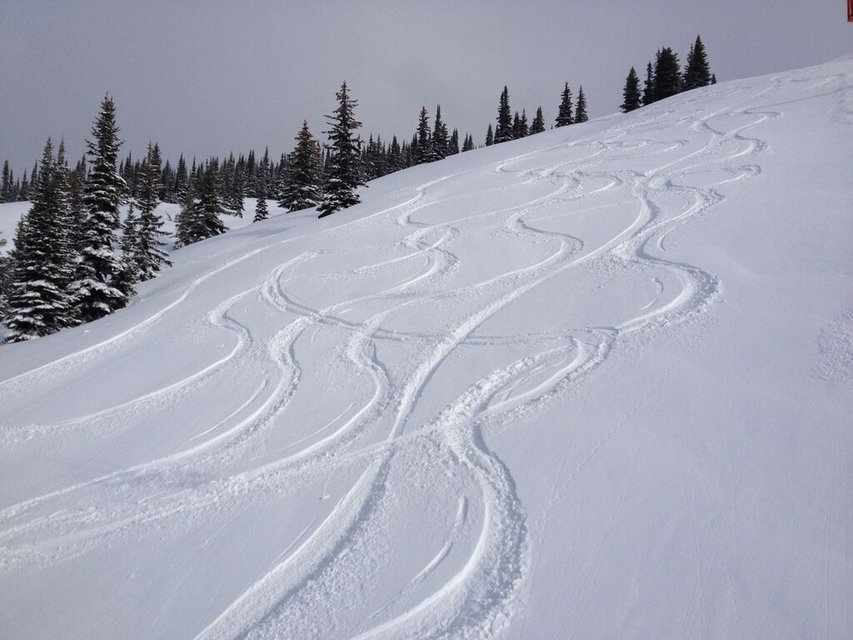 Orange Streak at Manning Park on a late season powder day
Within the ski industry there are hundreds of jobs that you can hold and out of all these positions none may be more challenging than working as a ski patroller. Ski patrollers start their day before you and they don't quit until everyone is safely off of the hill for the night. Often working under some of the most grueling conditions in the industry patrollers are the true definition of grit. Many of the more successful workers at a ski resort start out in ski patrol and work there way into bigger and better positions. Manual labor is never out of the question and you have to always be prepared for the unusual to occur. There is always work that needs to be done on the mountain and patrollers are often forced to handle duties outside the realm of their normal responsibilities. However in the long run a ski patrol position can be extremely rewarding. Early morning powder laps and a job that allows you to ski non stop are just a few of the many benefits one will experience while working patrol.
A strong work ethic matched with an endless commitment to learning has helped Alex start off on the right track in his quest for fulfillment. He is a prime example of someone that has dedicated themselves to their work in order to achieve a dream. You can't be scared to take a leap of faith and move across the world for a job that you've always wanted, Alex is living proof. He is always willing to pick someone's brain for useful information and he is always willing to teach others the lessons that he has learned. We all dream of cat skiing in places like Japan and British Columbia and the two years Alex spent as a ski patroller have set him up for a lifetime of endless powder. With a bright future ahead of him Alex has many options for his career but don't expect to see him hanging up the boots or sitting behind a desk anytime soon.