The northern and southern polar lights have fascinated and hypnotised man for as long as we have graced the planet. The unearthly flame-like lights have been the inspiration of folk tale and legend for generations and since the invention of the camera a holy grail-like conquest for many enthusiast photographers.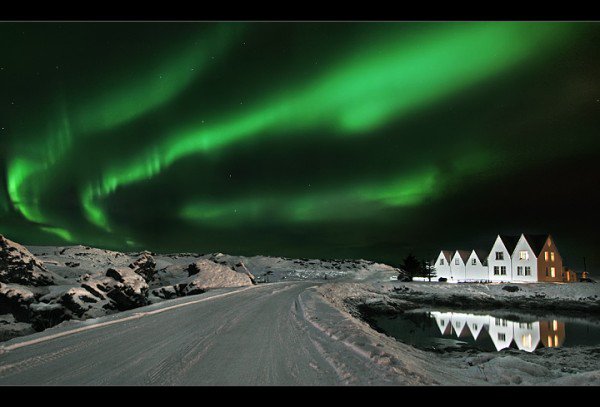 Image by Orvaratli
Named after the Roman Goddess of Dawn (Aurora) and the Greek name for north wind (Boreas) the Northern lights AKA Aurora Borealis, are seen in areas that are within or surround the Arctic circle, for example: Norway, Sweden, Finland, Canada, Alaska etc. Equally the southern counterpart ?aurora australis? is visible from high southern latitudes in Antarctica, South America and Australasia. The mesmerizing wisps are actually solar charged particles reacting with the magnetic field as they make contact with the upper atmosphere gases. The most common lights star-gazers are likely to see are the green variety, with the red variant only appearing in tandem with the green. Sometimes the lights lie horizontally like an expanse of neon fog, other times in vertical streaks dancing their way across the night sky ? whatever the colour or form the results are quite awe striking and will make for the most wonderful of subjects.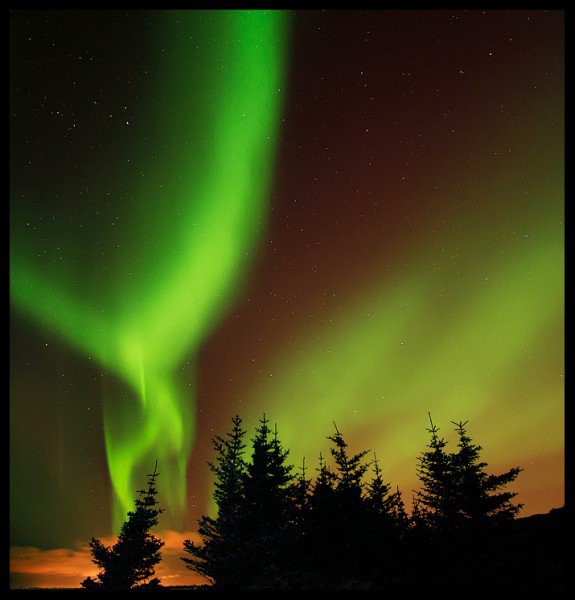 Image by Orvaratli
Spring and Autumn are the best times to witness the event (March to April, and September to October), but if you choose to visit in the winter months you will find the temperatures can be extremely cold often between as low as 35 below, and the days can be shorter with less light. For example at this time of year in somewhere like Sweden the sun rises around 9am and sets about 3pm but the window, this is great for star gazing but will mean your camera?s ISO capabilities will be put to the test.
Both factors will influence your choice of kit so pick a DSLR which can withstand the cold and work at high ISO. Nikon?s revolutionary D3S with 102,400 ISO is a fantastic choice; similarly the Olympus E3 is famed for its ability to withstand extreme conditions. Fast lenses are an absolute must, with a wide angle or fish eye acting as the best choices for capturing that great expanse of night sky. If you?re concerned for your camera or its potential demise in longevity take a fleece blanket or towel and gently wrap it around your DSLR, this is particularly wise for those models sensitive to colder climates.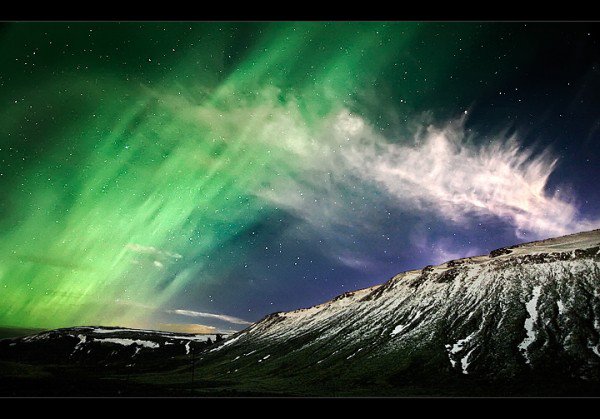 Image by Orvaratli
Battery life is a big issue for any electronic device when the temperature is low so be sure to charge several spares if you are trekking out away from power supplies. Keep these close to your body when not in use.
A tripod is essential for stability and ultimately the success or failure of your shots. Long exposures of 15 seconds plus are going to be needed so a good solid contender that can withstand the cold and can be collapsed and erected with ease is going to be your best ally here. Manfrotto?s carbon fibre line up is definitely worthy of consideration, but ideally avoid anything that is predominantly constructed of metal. Furthermore to ensure the camera suffers minimum camera shake during exposures – which would result in blur ? operate the shutter with a remote control/release or use the unit?s self timer mode.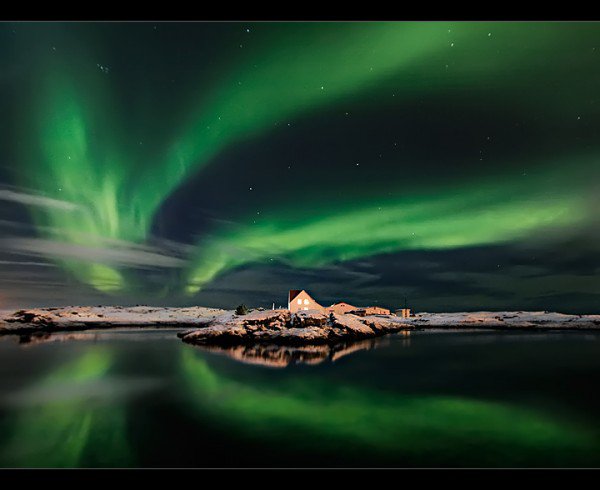 Image by Orvaratli
Common sense would dictate that you do not head out into the snow-capped wildness alone or without at least notifying someone, and a compass or some form of GPS device is essential. Likewise sensible clothing is a must; plenty of breathable, thermal layers, with a waterproof out layer, sensible snow boots, balaclava, hat, scarf and gloves. When it comes to gloves double layered products are superb, especially those with a tip-less outer layer or grip coating – extending a better grip of camera controls to photographers. Lowepro, Peter Storm and Sealskinz in particular all make excellent items suitable for shooters.
In terms of transporting your kits, you are going to want your camera and lenses to be as snug and protected as you are, so this is no time to scrimp. One standout brand noted for its sturdy rucksacks is KATA and in particular the R-family of camera orientated luggage. Insulated with Thermo Shield Technology, the bag protects from the cold as well as knocks and bumps. The bags are cabin friendly (check with airline policy) and feature soft removable padding that cushions valuable items and the bright orange colour of the interior fabric is a boon for night time photographers. Another valuable asset to carry is a light; once away from the light pollution the only available light source will be from the stars, so until glow in the dark controls are invented remember to bring along a torch or if you do forget it a mobile phone will suffice.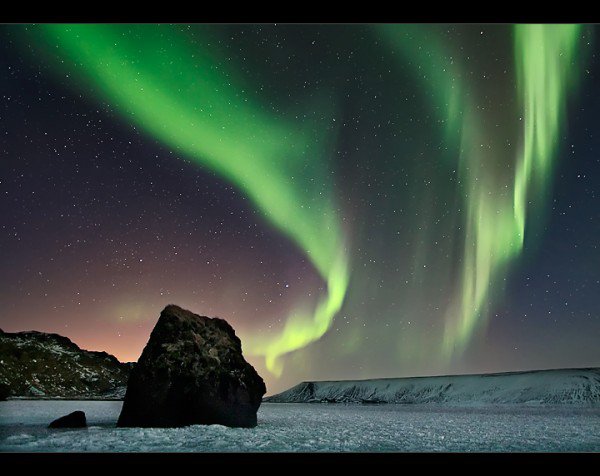 Image by Orvaratli
As well as incorporating the beautiful streams of light which will no doubt fill your shot it will add interest and scale to incorporate a foreground subject such as a tree or cabin. Once you?ve found a good scene, be patient as the aurora borealis can appear in fits and burst over a period of many hours, and sometimes not at all. This is why travelling with a guide or experienced local can be of benefit. Once you do see the glow and take the shot be patient again and stand back from the tripod so your movement does not affect the stability of the capture.
In terms of technique switch to manual mode and open the lens?s aperture as wide as it will go. Next dial in the shutter speed, starting with 15 seconds but extend this duration as needed. It will be too dark for your lens to autofocus so opt for manual focus and adjust the ring with small incremental turns until the correct position is achieved. Keep checking the LCD for confirmation.
Experiment with ISO until it becomes uncomfortable. Some photographers favour exploiting the Noise Reduction mode in these conditions. After each shot zoom in on the LCD to check the level of grain, if things are looking uncomfortable opt for a longer exposure instead of degrading the quality of the shot further.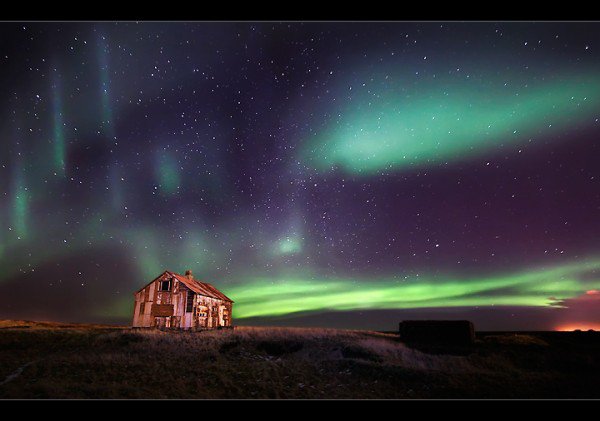 Rusty Old Shack - by Orvaratli
For capturing beautiful star trails in tandem with the lights, take dozens or even hundreds of frames of the same scene of 15 second exposures and flatten and merge them into one individual file in a software package later.
After an evening spent shooting be sure to reintroduce your equipment into warmer environments (i.e. indoors) slowly, to avoid the build up of condensation in the lens. Begin by leaving the camera and lenses by the door, drawing it into the premises in regular stages.
According to experts there is an extraordinary solar storm on the way (which happens roughly every 11 years in the solar cycle) and experts have forecast 2012 will be one of the most prolific seasons to witness the lights. It is during these times that the lights can be seen further outside the usual areas ? especially those with less light pollution. For up to the minute information on flares and sun spots visit http://www.spaceweather.com.
Check out more images by Orvaratli's Aurora set on Flickr.
Post originally from: Digital Photography Tips.
Check out our more Photography Tips at Photography Tips for Beginners, Portrait Photography Tips and Wedding Photography Tips.
An Introduction to Photographing the Northern/Southern Lights