Words by Ben Johnson. Cover Photo: Mike Garceau
_
Towering in at 4,241 feet, with 212 trails, and 7 parks, Killington Resort has earned its title as "The Beast of the East." Killington has played host to the East Coast's most infamous rail jam, Rails 2 Riches, for more than a decade now and has some of the biggest parks and best overall skiing on the East Coast. Whether you're just exploring the park for the first time, looking to get creative with some butters, or a veteran jib rat, you'd be hard pressed to get bored of ripping this behemoth.
Killington is known for its amazing preseason set up and being open earlier than any other mountain in the East. Vermont local and former Superunknown XIV Finalist Zach Masi puts it simply: "Killington is core. Their lifts are spinning the earliest, and they close the latest."
_
https://www.newschoolers.com/videos/watch/796952/The-Weak--Yoke-Boyz-
We couldn't post about Killington without including The Weak. We miss you Ian.
_
But the preseason is just the start for Killington Parks. They offer more than enough options all season with six terrain parks and an 18-foot halfpipe. If you're just starting out, Killington has great parks for the beginner riders. The Easy Street Progression Park is a great way to develop your skills and get you ready for the bigger park features. Located on Ramshead Mountain, this park has plenty of small rails, boxes, and jumps that are perfect for learning tricks. Once you've warmed up on the standard park features you can move on to the "Lil' Stash"; which is an all-natural park full of rock walls, wood jibs and wall rides.
'Timberline' is Killington's intermediate park. It has a nice balance of small and medium features and serves as a perfect training ground. The flow of 'Timberline' makes it really special, it is set up to weave around and is a perfect park to send a train through with your crew. Ripping this park will also set you up for the larger parks that Killington is known for.
_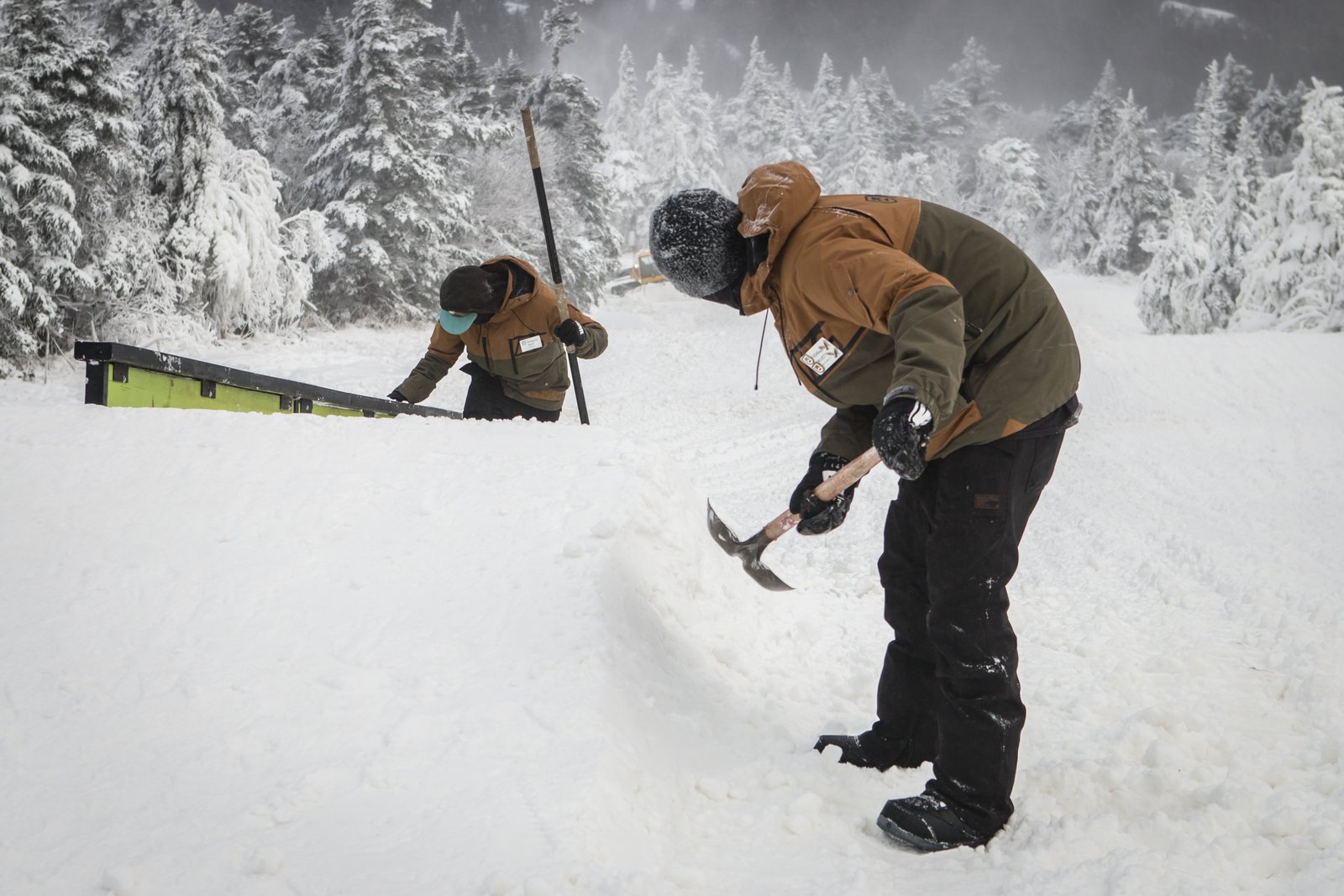 Park crew are always working hard to keep the parks prime Photo: Mike Garceau
_
If you've already got your park legs under you and are looking to rip bigger features, then head to Dream Maker or Astroland. These are the beautifully designed and sculpted parks that Killington is known for. Some of my best days on hill have been spent lapping these parks with friends, but be ready to step your game up. Astroland is located on Ramshead mountain and features a plethora of space-themed rails, jumps, boxes, and jibs. It takes a little getting used to but once you figure it out, it's a great place to spend the whole day. Dream Maker can be found on Bear Mountain and is home to Killington's medium and large features. It's best to take the Skye Peak Express Quad to get up Skye Peak and get access to The Stash and Dream Maker in one lap (AKA "Stash Maker" laps). This year Killington is introducing a tunnel which will connect 'The Stash' and 'Dream Maker' directly, avoiding the need to intersect 'Skyeburst' all together. The flow of Dream Maker is unparalleled, and the KParks team keeps it fine-tuned from first chair to last, seven days a week, all season long.
_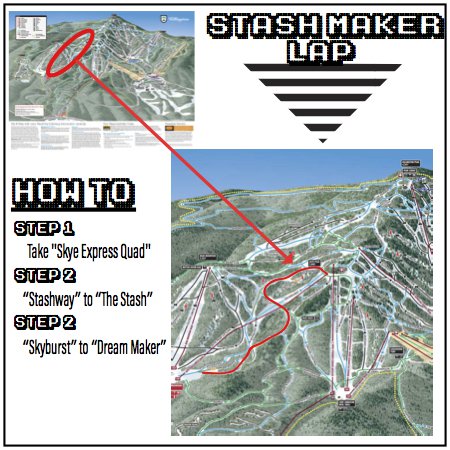 Here's the stashmaker lap. With the new tunnel, will old habits die hard?
_
'The Stash' is a unique twist on the standard terrain park. It's the older, much gnarlier, brother of the 'Lil Stash.' I'd advise taking a run to scope the features on this one before sending it, because tree trunk rails will sneak up on you and could leave you facedown in the powder.
With all these options for parks, it's no wonder Killington produces skiers like Christian Franchino, Ian Compton, and up-and-coming ripper Sam Gnoza. Sam explains, "Growing up in Killington, one of the biggest mountains in the east, prepares you for any terrain you'll come across East or West. From great eastern downhills, stash-maker laps, and outer limits bump runs...never a bad day on hill."
_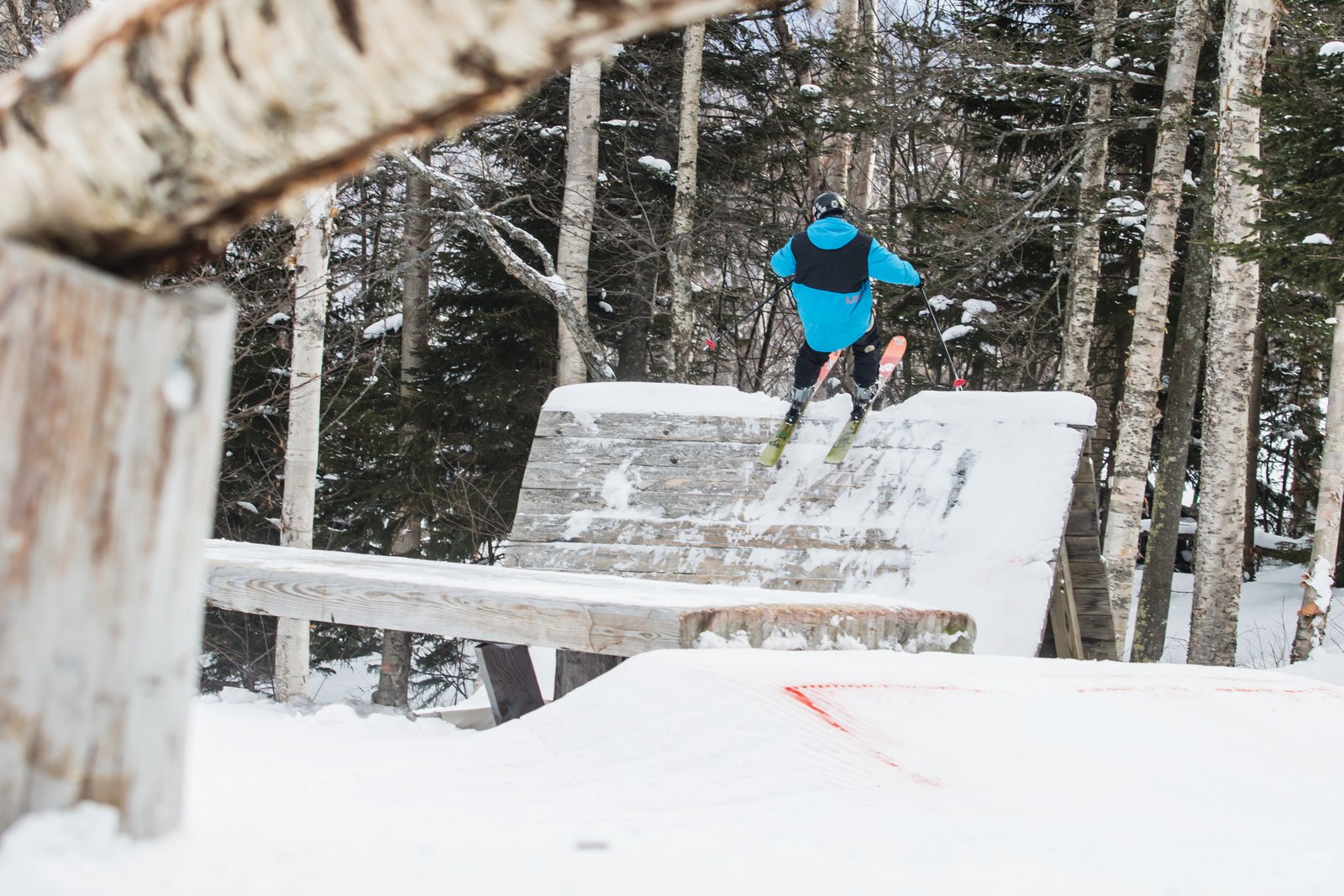 The wallrides in 'The Stash' are not small... keep those edges dulled. Photo: Mike Garceau
_
As a jibber, when looking for all-mountain laps it is best to steer clear of Ramshead and Snowshed as this is where lift lines tend to build up. The best overall run is easily "Great Eastern"; it has tons of side hits and is the longest run Killington has to offer (about 10-15 minutes). If you're taking the lift to Killington Peak, take 'Blue Heaven' and from there you can send it to the parks via 'Pipe Dream' or duck off further to the right for some hidden side hits or glade runs. You could also shoot down the double black region right off Killington Peak, starting with 'Cascade,' but be ready to have some sore thighs at the bottom. If you get blessed with a powder day make sure to go through 'Cable Trail,' and hit all the berms left over from the summer bike track.
And when the skiing's done the fun has just begun. 'The Lookout' is the closest bar and grill to the slopes so it's usually a first stop for locals and weekend warriors alike; it also has the best wings around (and free peanuts if you can't afford real food). Late night it's mandatory to hit up the 'Wobbly Barn' for amazing food and live music. And last but not least, 'The Pickle Barrel' has the best late night club scene for your apres ski necessities. As Mike Brewer puts it, "The after party is always kickin."
From on to off hill, Killington Resort has everything you could ask for. The parks are killer and the all-mountain trails are endless with plenty of hidden gems. Make sure to pencil this resort into your next trip, it's a fun one.
_
Sponsored Content