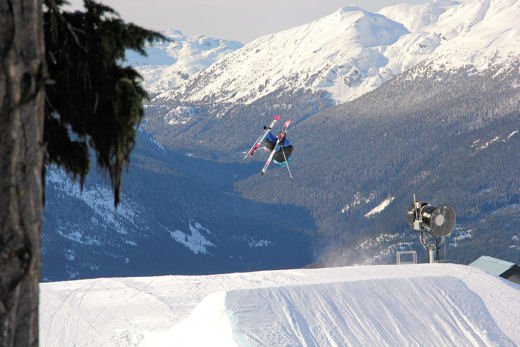 Amplid is extremely pleased to announce that Canadian ripper Ahren Stein has joined the Ambush Team. Hailing from the flat lands of Ontario, Ahren has been making the annual pilgrimage to the bad lands of Whistler to work on his park and backcountry shredding skills for the last couple of seasons. Ahren?s hard works seems to be paying off as he?s now the owner of a ballistic Switch Dub 10 as well as a bag of tricks that it would take me a month to reel-off. Everybody at Amplid is stoked to have Ahren on the team and we can?t wait to see his progression over the next season. We caught up with Ahren and asked him a few questions about life, skiing and pirate get-up…
 
Tell us a bit about yourself?
I'm Ahren, I'm from Cookstown and I'm 20 years of age.
So you?re from Ontario, Canada which on Google maps looks as flat as a maple syrup covered pancake. What are the mountains and the parks like there?
The mountains are pretty much non-existent, we have small hills and valleys. We do have some pretty banger parks though, Blue Mountain and mslm were awesome places for me to grow up skiing.
How did you get into skiing and particularly freestyle?
My Dad got me into skiing at the tender age of two. I competed in moguls for about 6 years and during that time I started spending more and more time in the park. Stopped competing in moguls, started focusing on more park related stuff.
What?s the scene like at your local mountain in Ontario?
I haven't been around Ontario much for the past couple of seasons, but whenever I go back, there is a new crop of dope little skier kids coming up and killing it.
Last season you were in Whistler for the winter, how was that?
Best season of my life, it was whistlers second snowiest winter on record. I skied tons of deep pow and of course got to ride their world class parks whenever the snow wasn't falling.
Did you get into the famous Whistler backcountry much?
I got a taste of it, not nearly enough though. I?ll be getting out there lots more this winter.
What are your plans for the coming winter?
Lots of skiing, lots of traveling, lots of fun!
Are you planning to ride any comps or shoot any vids?
I?ve got some comps lined up, hopefully dew tour qualifiers, Aspen Open, Mt. Snow Open and maybe a few others. As for video, I'll be shooting with the Westward Crew again; they are some seriously talented kids behind the lens.
How does a kid from Ontario, Canada end-up sticking switch dub 10s?
Practice.
Do you have a list of tricks you want to stick during the season? If so, what?s on the list for 2011/12?
I don't have an exact list but I definitely want to work on my rail game. Some better right-side tricks and a few more doubles are on my mind.
What amplid skis are you shredding this winter and why?
The syntax's, because they are the best park ski made, period.
Now for the quick-fire questions
Personality or looks?- looks of course
A hook for a hand or a peg for a leg? - A hook hand, the possibilities are endless!
Wealthy and dumb or wise and poor? - Billy Madison
Snowblade or Monoski? - Mono all day
Rare, medium or ruined? - rare.