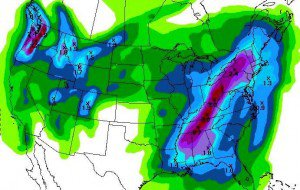 The warmup is brief today and tomorrow as the next shot of cold air is set to move in Wednesday. This shot is much stronger than over the weekend. Highs today could break 60 at the base and 50 on the mountain. As the cold front approaches on Wednesday winds will pick up and highs will be about 10 degrees colder. Then after the front moves through Wednesday night we have really cold air for April on Thursday and Friday. Highs only in the 20′s on the mountain and 30′s at the base.
There will be some light snow with the cold front but this is coming down from the North over land again so it is pretty dry. Then the cold core associated with the main low comes down the coast Thursday and Friday. This is a pattern that has been known to bring some bigger snows to the area, but it depends on how far over the water the low tracks as to how much moisture it can pull in. Expecting snow showers most of Thursday and Friday.
Models are back and forth on the liquid amounts and snowfall. Right now it looks like at least several inches up to a foot on the moutain. We will have to watch this closely this week as to the exact amounts of liquid we can pull in. This will be a nice fluffy mid-winter style powder, another amazing treat here late season.
Saturday and Sunday stay cold but about 10 degrees warmer into the 30′s and 40′s as a very brief ridge builds back in. By Monday night we could see another cold front move through with light snow. Models are all over the place long-range but right now it looks fairly unsettled and cool next week with some more shots of snow.
Another brief ridge could build in for the weekend of the 15th before we could have another cold trough the week of the 18th. I'm still waiting to see if we can get the wavelengths to lengthen around mid-month and get some more more moisture with one of these storms. We still have a chance here at one more big storm with these surges of cold if we can get the jetstream a little juice. Stay tuned……BA