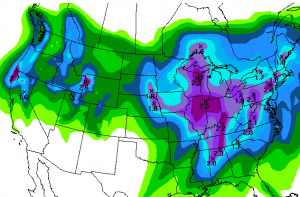 Alpine picked up 3 inches from the weak storm this past Wednesday bringing the April snowfall total to 18 inches.
We will have lots of clouds today & tomorrow as moisture is streaming into the Pacific NW and the Northern tip of CA. The biggest affect on us today and tomorrow will just be some wind and maybe some sprinkles/flurries. Temps will stay around average in the 40′s up on the mountain and 50′s at the base.
The pattern setting up in the Pacific through the middle of next week is one that could be quite snowy for us in mid-winter but it's Spring. Instead we will get moisture but nothing signficant. A ridge is going to form in the Northeast Pacific and will help to push moisture streaming up from the sub-tropics into Northern CA.
Models have been a bit stronger with each run for the moisture pushing in Sunday night into Monday. Snow levels could start out above 8,000 ft. with this warm moisture and then fall through the day on Monday. Up top where it is all snow we could pick up as much as 6-9 inches by Monday night. The amounts will be less as you come down the mountain with exact amounts depending on how fast the snow levels fall.
This moist flow will continue through Wednesday with another wave of moisture on Wednesday. With some colder air pushing down from the North by mid-week the snow levels could be as low as lake level, but this is another weak shot of moisture so I'm only expecting light snow accumulations. The temperatures next week will stay around average in the 40′s & 50′s except for Monday when they will be about 10 degrees colder with the passage of the storm.
Things look to quiet down a little Thursday-Saturday as another large low pressure spins into the Gulf of Alaska. This will setup a pattern similar to this past week where the Pacific NW gets storms and we are on the Southern edge. Once again we will have to watch exactly how far offshore the ridge sits as to how far South the moisture can come. The unreliable long-range models do show the ridge slightly further offshore and if that's the case then it could be a bit colder and snow showery the last week of the month.
Looking at the teleconnections for the end of the month and going into May they show a crashing Arctic Oscillation and North Atlantic Oscillation, as well as the Pacific North American going positive. This may all be in response to the stratospheric warming over the Arctic that could displace cold Southward over the Eastern US. That is a pattern similar to January where the ridge builds along the West Coast. If that happens it should finally bring us some Spring skiing weather. BA