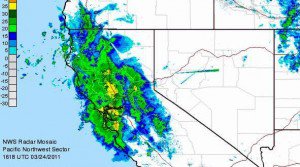 Alpine Meadows picked up another 19 inches in the past 24 hours bringing the total for storm #1 in this series to 26 inches. It also brings the weeks total to 136 inches, the month's total to 240 inches, and the season total to 748 inches up top! This is the biggest season since 1994-95 right now and should be the biggest since 1982-83 by the time we are all done as we should break 800 inches by this weekend.
The storm moving in today could be the strongest since mid-February when we had a 24 hour snowfall report of 37 inches on 2/18. With liquid amounts of 1.5 inches or more we could easily pick up 3 feet up top by morning. It is windy this morning as the storm approaches and the heaviest snow will push in this afternoon. We should see snowfall rates of 2-4 inches per hour this afternoon with up to 2 feet possible just by tonight.
Snow showers will continue all day Friday into Friday night dropping another 1-2 feet by Saturday morning. I'm expecting snowfall totals of 3-4 feet at the base and 4-5 feet up top by Saturday. That is on top of the 136 inches we already picked up the past 6 days. We have a couple more smaller storms that keep the snow going Saturday and Sunday. We could pick up another 1-2 feet over the weekend from the Saturday and Sunday storms bringing the 5 day totals to 7-9 feet by the time we start the calculations Monday morning.
There will be a lot of calculating to do next week as we see where we stand compared to other epic winters. The good news is that we will be doing it under sunny skies and nice temperatures as the ridge moves back in finally after being absent for almost 6 weeks. We should have nice weather most of next week with highs in the 40′s and maybe even 50′s at the base and an unbelievable base to start with this spring.
That won't be the end of the snow for the season but it should be the end of the massive storm cycles. With a progressive flow I'm expecting small storms to hit us every so often with quick shots of colder air and snow starting as early as the first weekend in April. If you love powder get your fill this weekend and if you love spring skiing it's just around the corner. BA