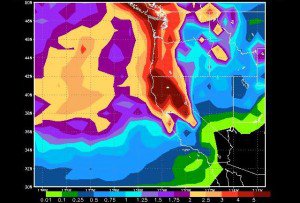 We have a series of storms on the way starting tonight, and we will transition back into a colder pattern by the end of this week that could last a while. As you can see in the 10 day precip map there could be enough precip to bring 4-5 feet over the next 10 days.
We start tonight with a fast moving storm that will bring 6-9 inches to the mountain. Things should clear out pretty quickly on Monday with sun and a fresh blanket of powder and highs near 40 degrees.
Next storm is about 36 hours behind this one and ready to move in Tuesday night. This storm is stronger and will bring a decent snowfall to the mountains. Models are averaging enough liquid for 12-18 inches on the mountain with some showing enough to bring us 2 feet of snow. This storm will last into the day on Wednesday before clearing out.
The storms over the past couple of weeks have been a little mild. This is due to the location of the ridge up near Alaska leaving the Pacific wide open for storms to come across the middle and pick up warm moisture before hitting the Pacific NW. We have been on the South side (warm side) of the storms where a weak cold front gets dragged through as the storms head East. This storm pattern will change on Thursday.
A ridge will begin to build out around 150-160w and will expand Northward. This will begin to push the storms up towards Alaska and then dows the West coast. The trough along the West coast will dig deeper and that will bring a return of colder weather by this weekend and into the following week. That means a return to highs in the 30′s on the mountain.
The first cold storm is arriving on Friday and could move slowly inland over the weekend. Right now next weekend looks like a cold and snowy weekend. Some models showing several inches in a snow showery pattern and others, like the one in the picture, are showing several waves of moisture that could bring a couple of feet.
The colder pattern looks to continue into week 2 and beyond as the ridge stays out in the Western Pacific. We should continue to see storms dropping down the West coast into CA. The difference in March is that a cold pattern is highs in the 30′s & 40′s with a stronger sun as compared to the 20′s & 30′s with a weaker sun in previous months. So when it's not snowing it will still feel pretty nice outside. The cooler temps will aid in keeping the above average snowpack in place into April. BA