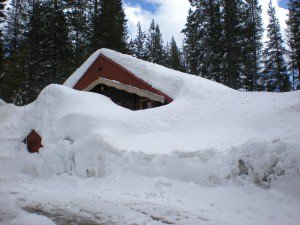 Alpine picked up 28 inches in the past 24 hours bringing the storm total to 54 inches and the 7 day total to 9 feet on top. There is a ton of snow still to come this week as Alpine is quickly approaching 700 inches on the season. The mountain is buried in massive amounts of fluffy snow.
NWS reported a pressure reading in the center of the storm around 2 a.m. of 981 mb. That is a category 1 hurricane pressure and one of the lowest recorded pressures recorded in the past several decades according to the NWS. This has caused the high winds that closed the resort for the day.
The center of the low is moving Northeast through Northern CA and is pushing a cold front towards the Sierra. That will increase the snowfall intensity this morning. Heavy snow will continue through the day and into tonight as the front is slow to move through. Once the cold front clears the snow becomes showery overnight and into Monday.
Total liquid on the models through Monday morning is at 2-2.5 inches, so expecting an additional 2-3 feet on the mountain. Snow ratios above 7000 ft. will be around 15:1 so light snow but not as light as the last storm. Weekend storm total on the mountain should end up around 6-7 feet.
Cold unstable airmass and a continued moist flow off the Pacific will continue the snow showers into Monday night. We could pick up several more inches Monday and Monday night. Tuesday looks like the one short break before the next storm moves in as early as late Tuesday night.
The first wave in the next series of storms pushes in by Wednesday. This first wave doesn't look as strong with several inches likely. Next wave moves in on Thursday and is strong and lasts through Friday. This one could drop around 2-3 feet. The third wave moves in on Sunday and models are not in agreement on the strength.
This series of storms Wed-Sun is going to drop several more feet on top of the massive amounts we have already received in the past week. Looks like we could finally have a break after next weekend, but it may not last as we could see storms return the first week of April. BA