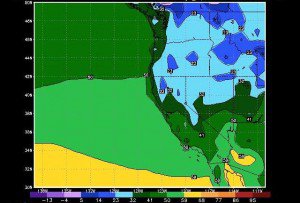 Mother Nature may be playing a nice little April fools joke on us today. Inversions kept temps in the 50′s on the top half of the mountain overnight and highs today could break 60 degrees. It will be a different story over the weekend as a cold front moves through on Saturday bringing colder temperatures and blustery weather.
Winds will pick up today ahead of the cold front and then the cold front pushes through during the day on Saturday. Not expecting much snow with this storm, maybe a dusting on the mountain. Highs will only be in the 30′s up top over the weekend and 40′s at the base. With the gusty winds wind chills could make it feel even colder so dress appropriately this weekend.
The ridge returns to start next week as we begin this progressive weather pattern of brief ridges that bring warmer weather for a few days followed by troughs that bring colder weather. High's will rebound back into the 40′s up top and 50′s at the base for Monday-Wednesday before another cold front moves through Wednesday night. This will bring the return of highs in the 30′s & 40′s for Thursday through next weekend.
The cold front Wednesday night into Thursday also has a better chance at bringing accumulating snow to the mountain. We could pick up several inches or more with this storm so we will have to watch it closely over the next few days.
Another ridge will move in to start the week of the 11th. This ridge could be flatter as the jetstream continues to push storms towards the Pacific NW. That means it could not get quite as warm as with the previous ridges. Another cold trough could dig down the coast later that week bringing more cold air and the chance of snow.
The jetstream is not as strong as we go through April so the storms with each of these troughs are not that strong. As we go towards mid-month we could see a little boost in the jetstream if the MJO continues to strengthen & cycles through phases 7, 8, & 1 and causes convection in the tropics. If not the trough the week of the 11th, then possibly the next for the week of the 17th could be stronger and bring us one last shot of bigger storms. BA