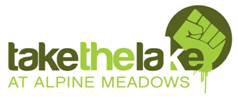 Alpine Meadows & Take The Lake Spring Break Present AM Open Jumpline Competition
Big Jumps, Big Prize Purse, Big Competition Answer the Call for New Spring Break Contest
Lake Tahoe, CA – Alpine Meadows Ski Resort has sounded the competition alarm by announcing the A.M. Open Jumpline Competition, taking place Thursday, March 25 through Saturday, March 27. Top ski and snowboard competitors can expect a triple jumpline judged by some of the industry's most sought-after judges. A $12,000 purse is on the line; and the top finishers of both the ski and snowboard divisions will walk with the winnings.
Contest venue crafted by jump-building legend
Whether they've been seen on film, in print, or ridden in the Shreadows Terrain Park, Alpine Meadows' big jumps are legendary. Park designer Jonahs David is known throughout the globe for pushing together jumps that launch pro skiers and riders into the stratosphere – and the A.M. Open Jumpline contest will bring out his best work. "Big jumps and jumplines are definitely my specialty," said David. "There's a lot of fun in building the perfect air, and there's definitely a select group of athletes who know how to ski and ride really well in a big air jumpline. Competitors will definitely be stoked by what I have planned A.M. Open Jumpline," he added.
"There is definitely a demand within the contest circuit for this format," said Jen Kotter, an action sports industry expert and an A.M. Open managing consultant. "In addition to making the contest unique to the Tahoe scene, the triple air competition showcases the progression of aerial finesse in skiing and snowboarding of today," she added.
X Games and Dew Tour veterans line the judging panel
Some of action sports' most in-demand pro judges will give the nod to top competitors. Among them include Dew Tour and Winter X Game veteran judges Shawn Carney and Tom Zikas; and former Winter X Games skiers Evan Raps and Mike LaRoche. Carney and Zikas have traveled the globe in search of the perfect air or cab 900; and Raps and LaRoche know what it takes to pull off a flawless switch nosegrab 1080. Those with the right mix of trick execution, amplitude, fluidity, and difficulty will qualify for the Saturday championship rounds for a shot at the cash and the podium.
Competition registration details
Registration fee is $100 and includes the Thursday, March 25 practice day; the Friday, March 26 qualifying rounds; and for those who qualify, the Saturday, March 27 finals. Mountain access is provided to all competitors for Thursday and Friday and to finalists for Saturday. Competitors can enter at SkiAlpine.com.
A.M. Open Schedule
Thursday – Practice rounds:
Practice is available for registered competitors only from 10am to 4pm
Friday – Qualifying rounds:
Qualifying rounds – Practice times available from 8am to 9am; competition starts at 10am. Each competitor will receive two qualifying runs.
Saturday – Competition finals:
Practice times available from 8am to 9am; final competition rounds start at 10am. Each competitor will receive two final runs.
The A.M. Open awards ceremony starts at 4pm on the Alpine Meadows sundeck or in the Last Chair Bar & Grill if weather is inclement.
Ranked as a top winter resort, Alpine Meadows Ski Resort is situated in the picturesque Tahoe National Forest and offers skiers and snowboarders 2,400 acres of terrain. With 14 lifts, more than 100 trails, and majestic views of Lake Tahoe, Alpine Meadows is accessed via Interstate 80, 45 miles west of Reno, NV and 200 miles east of San Francisco, CA. Alpine Meadows' parent company is San Francisco, California based JMA Ventures, LLC. JMA is a full service real estate investment firm, serving as managing member of over $500 million in existing projects. Visit SkiAlpine.com or call 530-583-4232 for more information about Alpine Meadows.