AESTIVATION - PART II
a european ski movie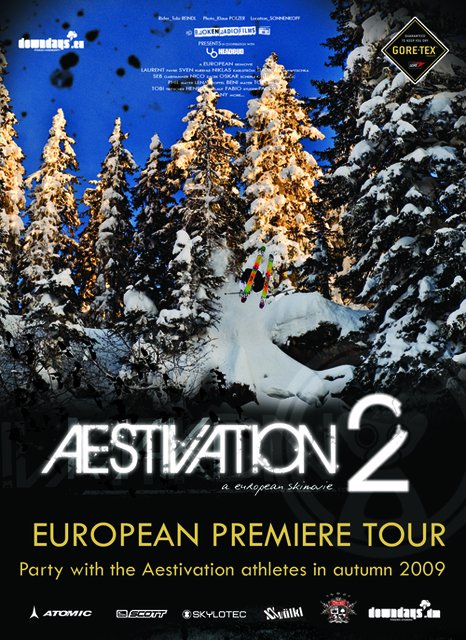 While our current movie AESTIVATION II is in the last steps to get finalized by Max & Moritz Garhammer, we are proudly presenting you guys the first & best opportunities to enjoy this masterpiece:
AESTIVATION - PART II: THE OFFICIAL PREMIERE TOUR DATES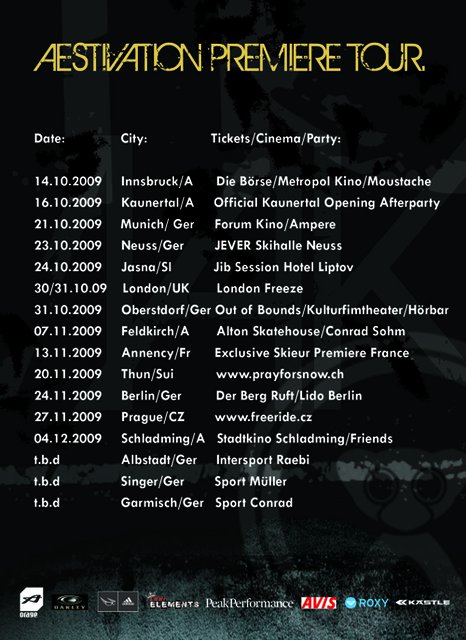 The full HD Skimovie that will be dropping in autumn 2009 is again featuring the best talent from all over the Alps and Scandinavia. After resting and refining their strengths for another summer, the AESTIVATION athletes crawled out of their holes and nests in late autumn, to produce the much anticipated second edition of AESTIVATION.
Again, our movie will be brought to our viewers FOR FREE through various European freeski magazines as well as our online partner http://www.downdays.eu. But the first, most comfortable and the most fun possibility to see the movie will be during at the AESTIVATION PREMIERE TOUR.
Get ready for the World Premiere, happening in Innsbruck on october 14th. We start the evening with an autograph session at "Die Börse", before we move to the Metropol cinema at 20.30 o'clock. Get your Tickets at the Börse from now on!
For more information and changes check our facebook group.
Greetz,
Die AESTIVATION Crew