words by Jeff Schmuck
action photos by Felix Rioux
scenic & lifestyle photos by Jeff Schmuck
Charles Gagnier and I are sitting in the backseat of Felix Rioux's rental car, and we're much closer than any two men outside of Pier 39 in San Francisco should be. The Orage European Open has just ended in Laax, Switzerland and Felix, Charles, Anais Caradeux and I are en route across Switzerland to France, first to drop off Anais at her beautiful home in La Clusaz before heading onto Sainte Foy for a private Salomon shoot set up for Charles, Sammy Carlson and Fabien Maierhofer.
There were a host of options for me during the week between Euro Open and the fabled Candide Invitational, and they weren't easy to choose from. The boys from Raiders.ch had invited me to come out on some shoots around Switzerland with them, there was the Newschool Picknick in Austria, the Salomon shoot in Sainte Foy, or I could have played tourist with Joe Schuster and Shay Williams in Zurich and Geneva. Although the latter seemed most tempting, at the behest of Felix and the Salomon crew, I was leaning towards Sainte Foy. I figured it would be the best way to score some juicy content for the site, and the thought of just chilling out at a resort in France and not having to cover another event was mighty appealing. All that considered though, it was one phone call that pushed me over the edge.
"Dude I just talked to Sammy and he's sooo stoked you're coming to Sainte Foy," Felix said.
"I'm not 100% I'm going man, I still have to figure things out."
"Yeah but if you don't come, Sammy will be the only person there who doesn't speak French, so he really, really wants you to come."
I couldn't leave my boy hanging. After all, living in Montreal, I know first hand on a day-to-day basis what it's like to be surrounded by Frenchies when you can barely speak a lick of it. I was going to Sainte Foy.
I knew it'd be a decision I would regret for seven long hours when Felix informed during the awards ceremony at Euro Open that we'd be leaving at 6am the next day. As he gave me the bad news, I carefully surveyed my surroundings…Russ Henshaw had just won slopestyle and was loudly claiming from the podium that he'd honor the 10% rule later that night at the bar, AJ Kempainnen and I had just met some fairly attractive ladies who wanted to party with us, and as always, Matt Margetts was grinning mischievously at me. Fuck it, I thought, I'm staying up all night.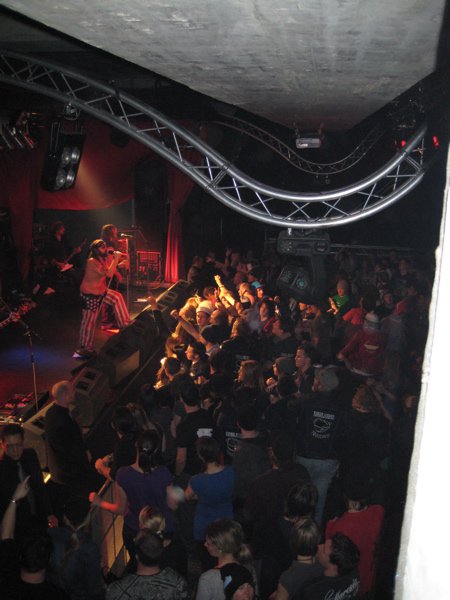 Partying in Switzerland with Turbonegro on stage
Bad move. With the four of us and all our gear crammed into the car and me with no sleep and a liver full of Red Bull and vodka, Charles and I were reduced to sharing a single seat in the back while Felix and Anais manned the front. When I travel I try to make a point of staying awake as much as possible so I can take in my surroundings, but on this venture it was not to be. Sitting completely upright and as stiff as a board, I managed to sober up, get some sleep, wake up hungover, and then sleep some more (on a side note, only now do I realize why I have been able to sleep anywhere in any position since then).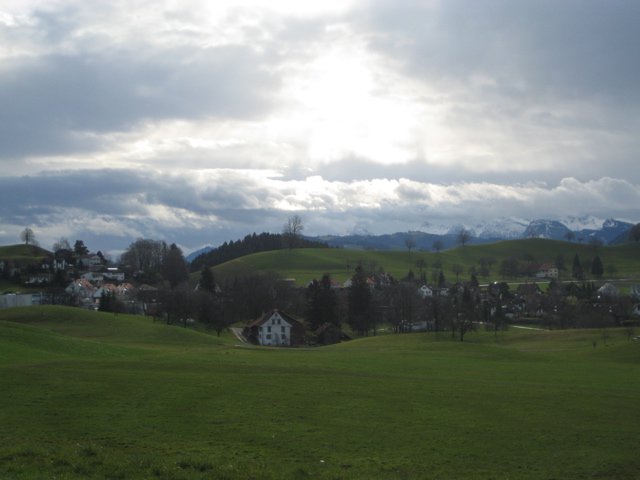 I did manage to wake up for a bit to take some scenic shots near the Switzerland/France border though, including this one.
As Charles killed it on Pacman on his PSP and Felix drove like only a true Quebecer can, we made our way across Switzerland, through Geneva and up the steep, narrow and absolutely terrifying French Alp death roads (which are everything they say there are) towards La Clusaz.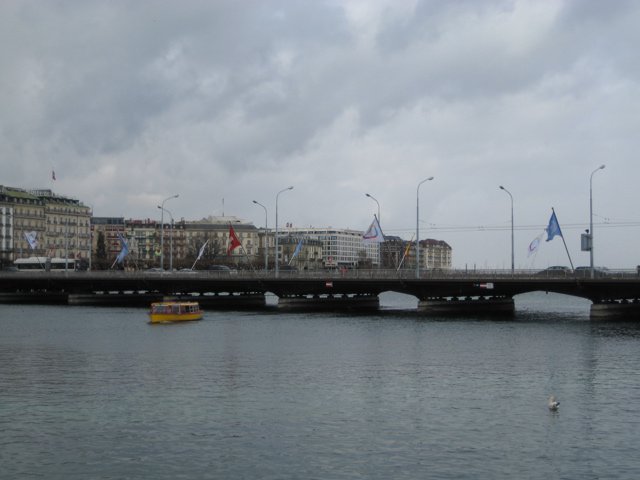 Geneva, Switzerland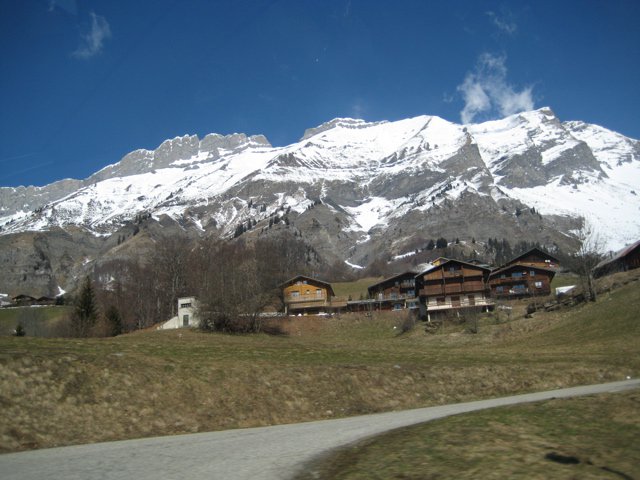 The steep ascent to La Clusaz
As I watched my knuckles turn blue during our ascent, Anais pointed to a section on the side of the road with a hundred drop off that had been roped off, evidence that someone was coming down too fast and had plunged off the side to God knows what fate. As Anais told Felix in French what had apparently happened, they giggled. I didn't. 
As we rolled into the absolutely stunning town of La Clusaz, home of the incredibly talented and hospitable Candide Thovex, we were greeted by Franck Caradeux, Anais' father. Franck is a local ski rep in town and pretty much as nice of a guy as you could ever meet. He insisted we have some lunch before continuing on our way and I happily scarfed down my first meal in France: a melt in your mouth steak, garlic mashed potatoes and the finest bread and cheese I think I've ever had. Thanks again Franck.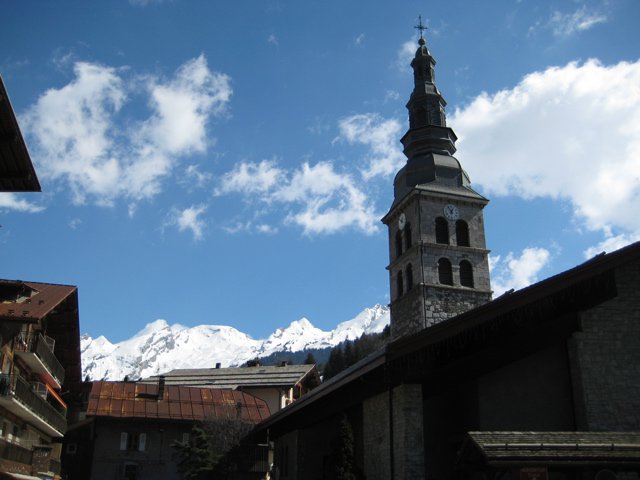 La Clusaz, France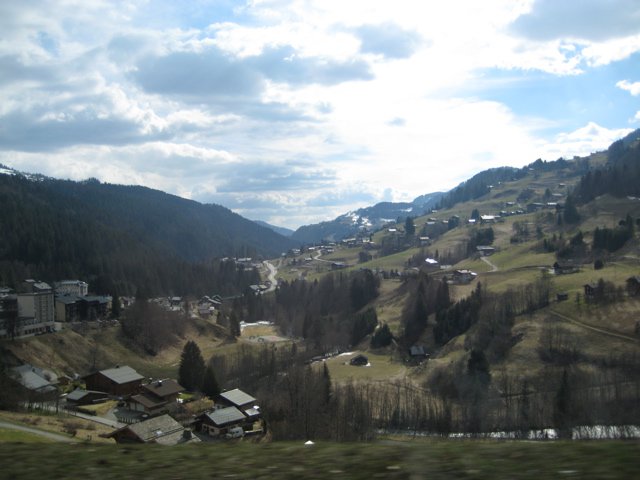 We then made our way down the other side of the valley on more narrow roads, around more winding switchbacks, with more massive drop offs on the side. On the way, we passed through a series of amazing little ski towns with gorgeous chalets and hotels and more ski shops than Seattle has Starbucks. It was on this road that I fully came to realize how popular and important skiing is in Europe. Over there, it's not just a sport…it's a way of life.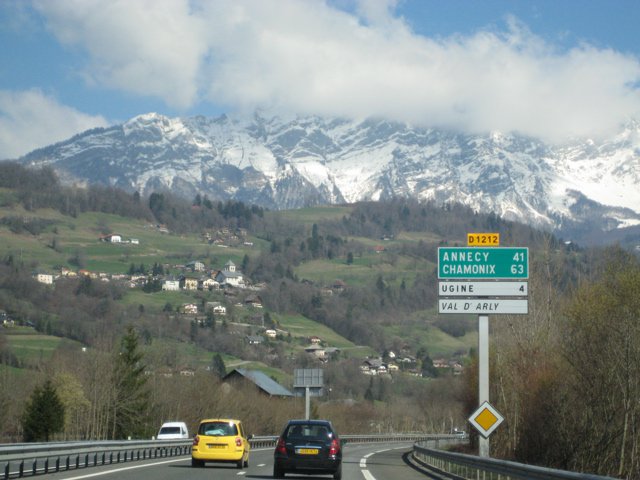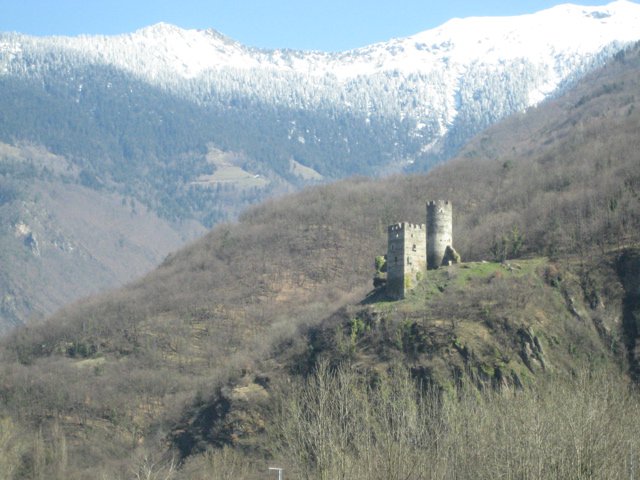 We then passed through Albertville (home of the 1992 Winter Olympics) followed by a long valley shimmering with old villages, picturesque churches and abandoned castles before seeing the turn off to Sainte Foy.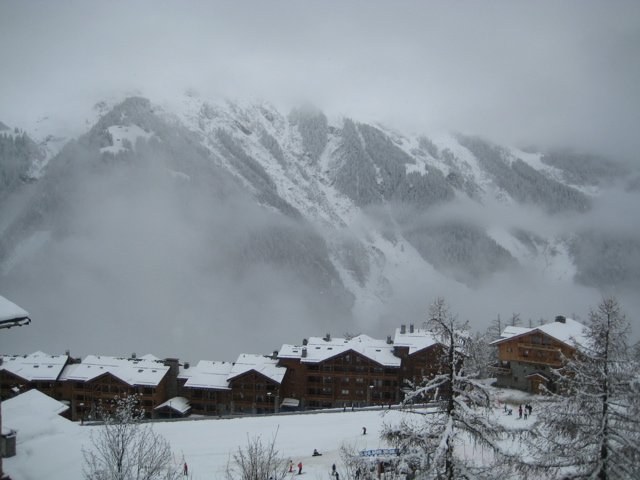 The village of Sainte Foy
Sainte Foy is a tiny ski resort with not-so-tiny terrain rising high above it in pretty much the middle of nowhere. Because the slightly hidden turn off is half an hour before Tignes and Val D'Isere, two of the biggest and most popular resorts in France, Sainte Foy seems to goes rather unnoticed (which is precisely the reason Salomon chose it), save for the decent amount of British tourists who flock to the area annually (which on another side note, was a plus for Sammy and I because it meant most people there were able to speak English).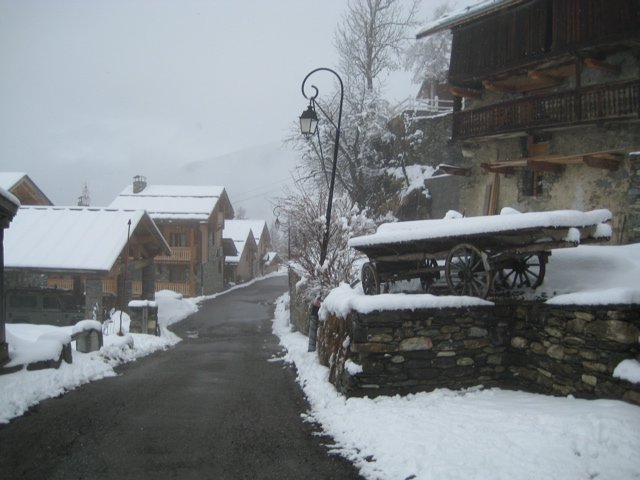 Upon arrival, we met up with Fabien and some of the crew from Salomon's head office in France including product manager and shoot coordinator Yo (aka Lionel Favret) and Dominique Daher, one of France's most well-renowned ski photographers. Arriving shortly thereafter was Dominique 'Dome' Janiszewski, Sammy's filmer (who is the fucking man, pardon my French), who along with Sammy and Nate Abbott would later go onto win the Jon Olsson Super Sessions, and last but not least, Pasty C himself, who gave me a great big bear hug when he saw me and excitedly explained to me just how stoked he was that I came.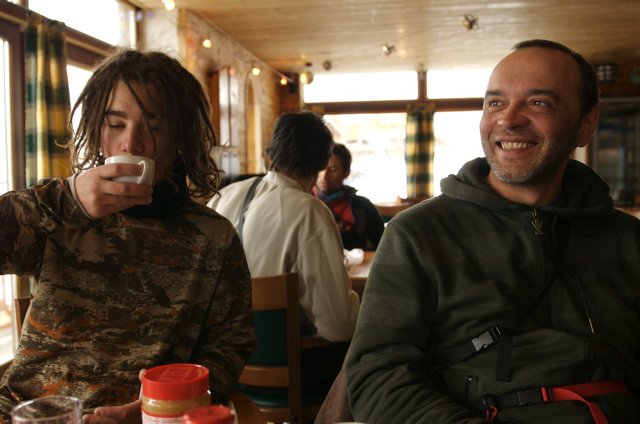 Sammy and Dom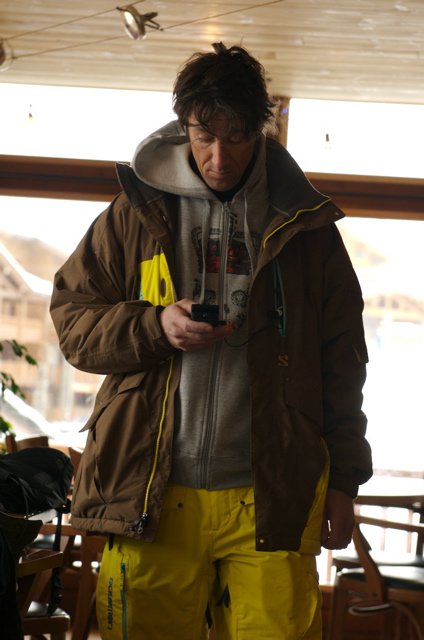 Yo...working while playing
The plan was then revealed. With jump design suggestions from NS' own Doug Bishop, Felix and the boys from Salomon had the resort crew carve out a 100-foot stepdown just outside of the boundary. The weather wasn't looking too good but we were going to hope for the best and do our damndest to get some solid sunset shots. There was a heli on standby to film and shoot from, and Dom was eager to test out filming with paraglider Antoine Montant in preparation for JOSS.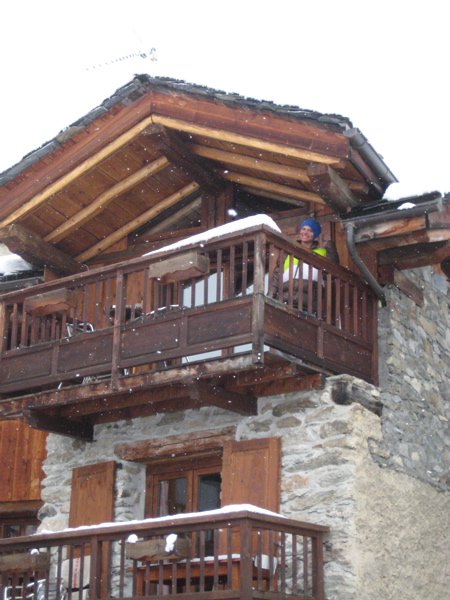 Charles in front of the chalet
After a long travel day Felix, Dom, Sammy and I then retreated to our chalet, which was as old-school ski village in Europe as you could get, complete with a cobblestone exterior and wooden skis hanging from the walls in the living room.
The next morning was plagued by fog and snow, so after a quick look at the jump the shoot was called off for the day and the crew headed out in search of some pow lines, which Fabien and Sammy had no trouble finding.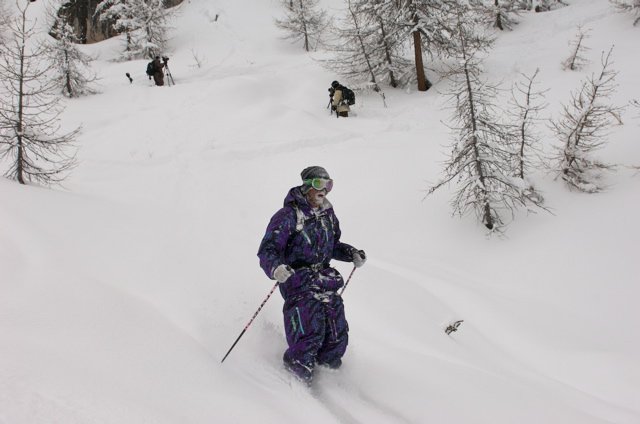 Fabien scores some pow
Following another mellow night complemented by a great dinner courtesy of Salomon, the second day dawned a little less cloudy but everyone was optimistic about the possibility of the sun making an appearance. We headed down to the café for breakfast where we grabbed some croissants and baguettes, at which point Sammy ran outside and started digging in the snow to find the jar of peanut butter he buried there the day before. Sammy loves peanut butter.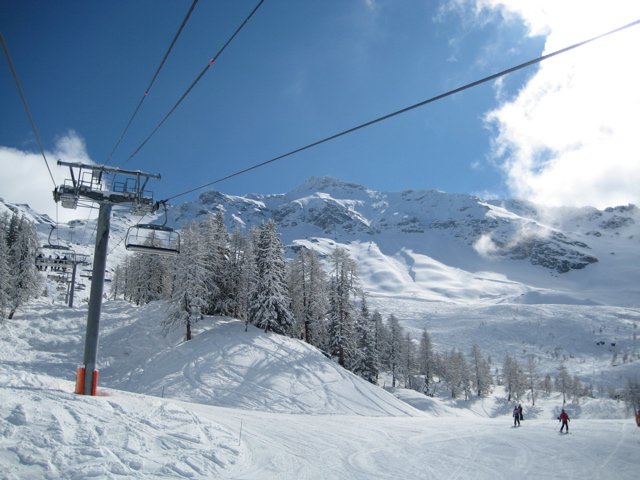 We then got on a series of lifts before making it up high up into the alpine where the magnitude of Sainte Foy that was hidden by the clouds the day before was finally revealed to us. Huge peaks littered with cliffs, boulders, crevasses and epic powder fields were everywhere to be seen, and the heaps of snow that had fallen over the last few days made everyone involved hesitate to go straight to the jump.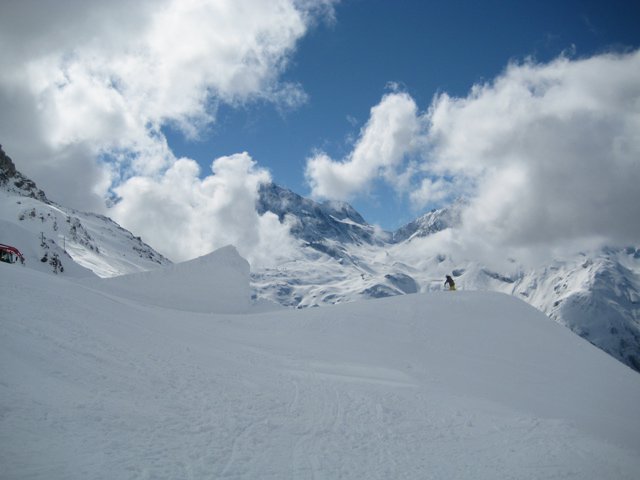 As we approached the behemoth, Sammy, Charles and Fabien began to grin, which was followed by more of the same from Felix and the Dom's as the clouds began to disperse and the sun finally revealed itself. After a brief discussion between the three athletes it was decided that a decent amount of maintenance was still needed before the jump was good to go, so the boys got right to work.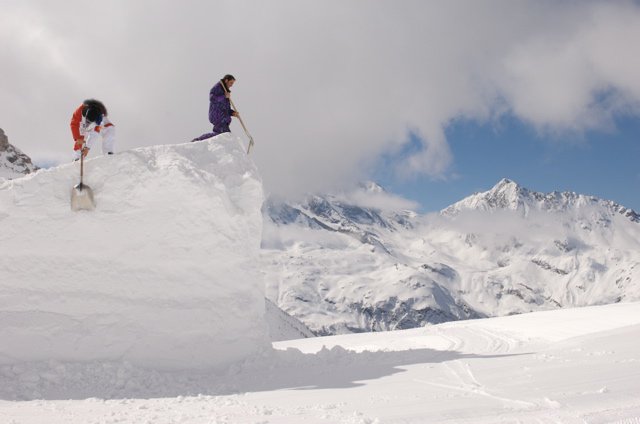 Charles and Fabien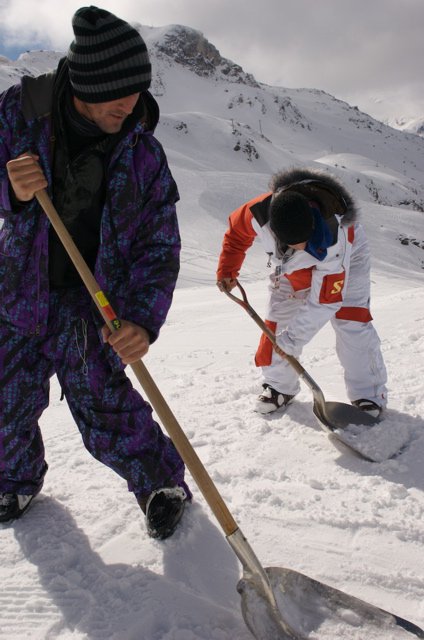 Fabien and Charles began giving the take-off and landing some TLC while Sammy, with a shovel in hand and his A+ brand of ADD in tow, jumped in and out the cat and on and off the jump directing traffic. Sammy then insisted we take a few powder runs which Felix and I had no objections to, and after a few laps and some more work we were ready to go.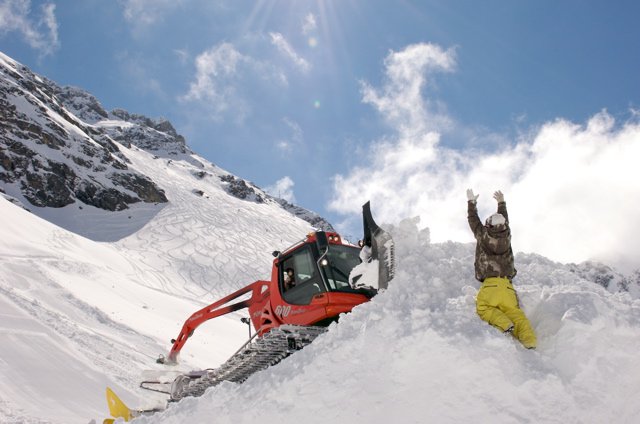 Sammy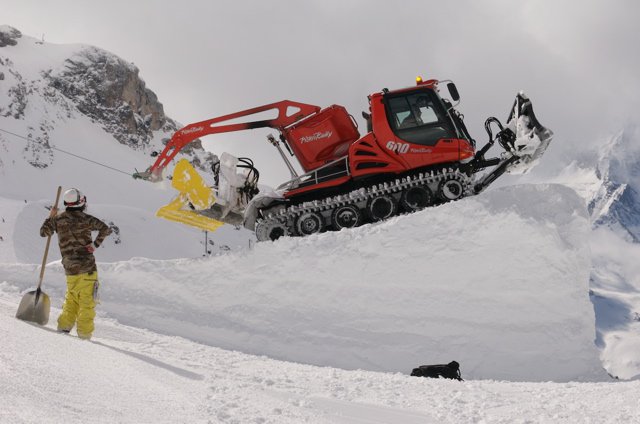 With the breathtaking backdrop of the French Alps behind us (which I later discovered was actually the backside of La Grave that people actually ski down, which still blows my mind when I look at the pictures), Sammy, Charles and Fabien got warmed up.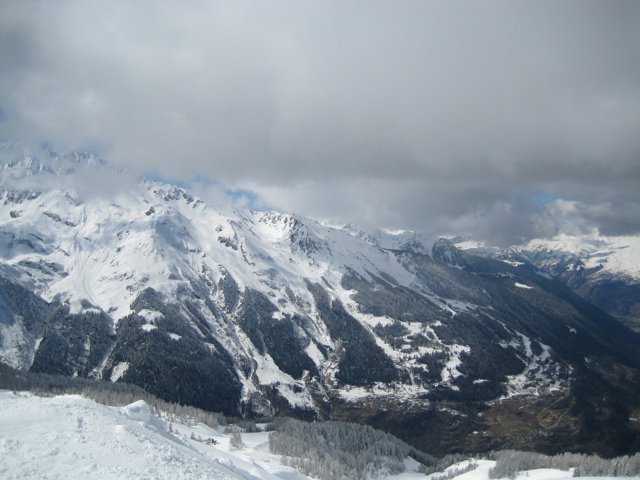 backside of La Grave
The initial session saw many a flatspin 3s and 5s and trademark switch 5s complete with the high safety poke from Sammy, while Charles and Fabien were both on the switch 5 program as well, with Charles throwing in some variations on the octograb for good measure. And before shutting things down for the day, the heli made an appearance in the late afternoon, which helped the Dom's and Felix score some epic shots.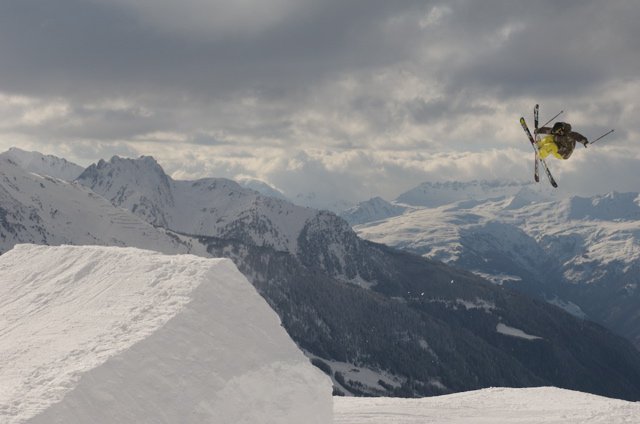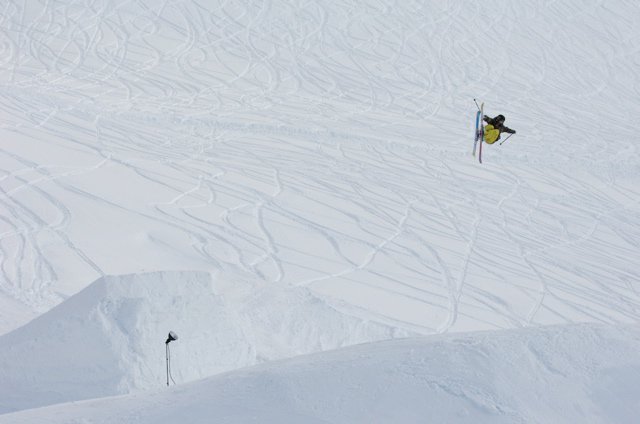 Sammy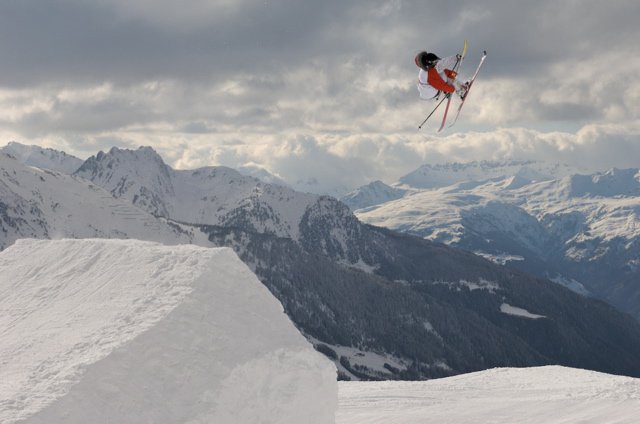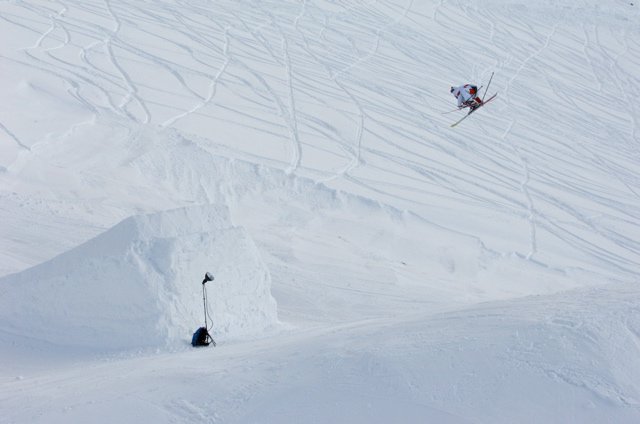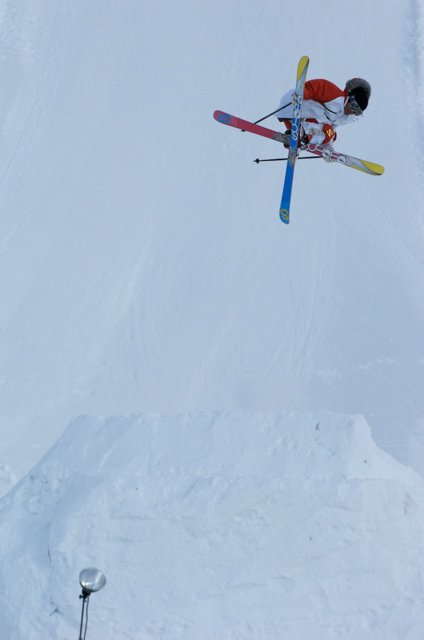 Charles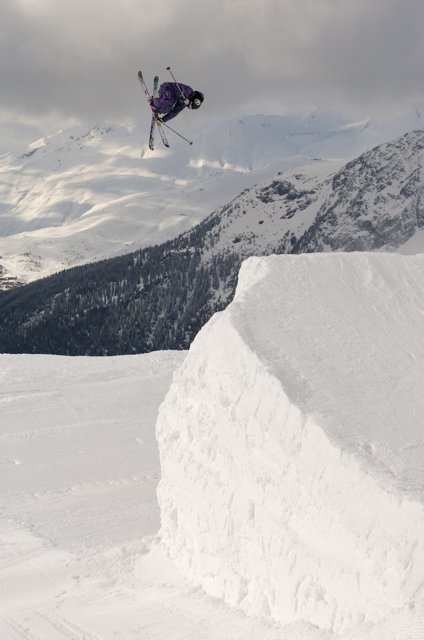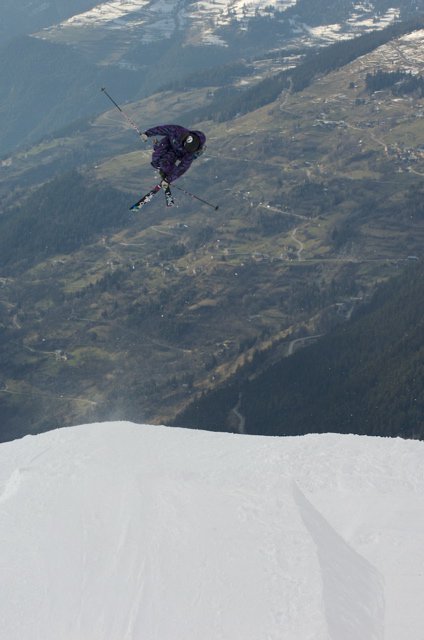 Fabien
So after a long day at the office we headed into the neighboring town for another fantastic dinner (the food in France is always fantastic though), and more importantly, some internet. There was little internet access to be found at the resort, which as one can imagine, created quite the issue for a Newschoolers.com employee and almost forced me to leave the shoot to hang out in Paris for a few days (where I imagined internet was a plenty) so I could get some work done. However with some gracious assistance from the Salomon boys I managed to find an internet café near our chalet that was run by a cute French girl.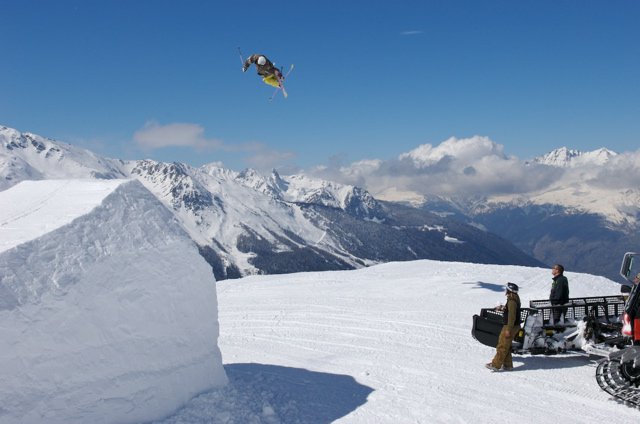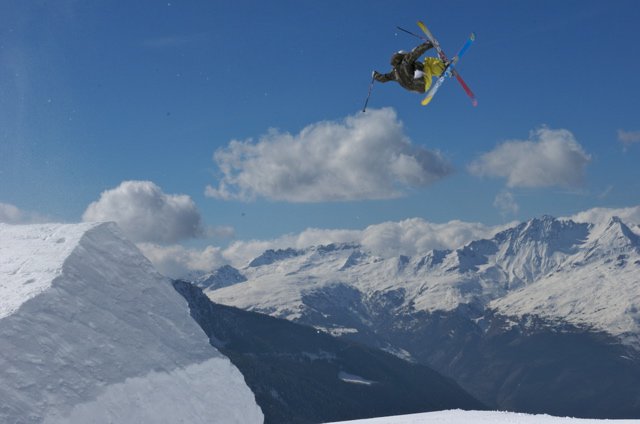 Sammy
The third day dawned bright and sunny, making it game time for all. The boys went right to work and repeated their tricks from the previous day, only bigger and better, before moving onto some switch 9s and 10s.
Charles
With the session in full swing, Dom and Antoine then fired up the paraglider and got the sickest shots of the shoot by far, and you can be sure to check a few out of them this fall in Poorboyz' new flick Reasons along with the full meal deal in Dom's new movie Up In Snow.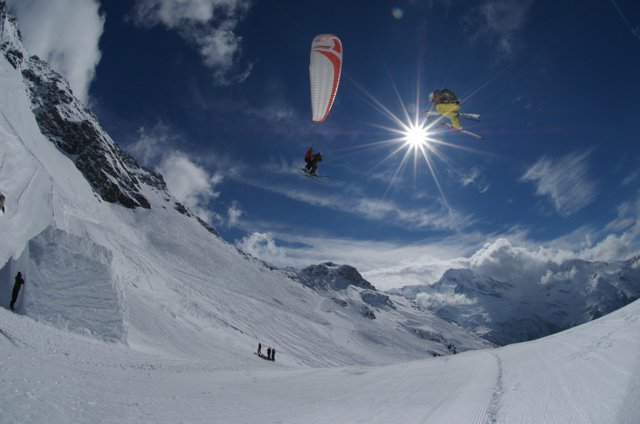 Sammy, with Dom and Antoine Montant on paragliding duty
As the day went on the sun began to dip and the clouds began to fade, giving every photographer present a good-sized boner as the sunset was sure to be epic.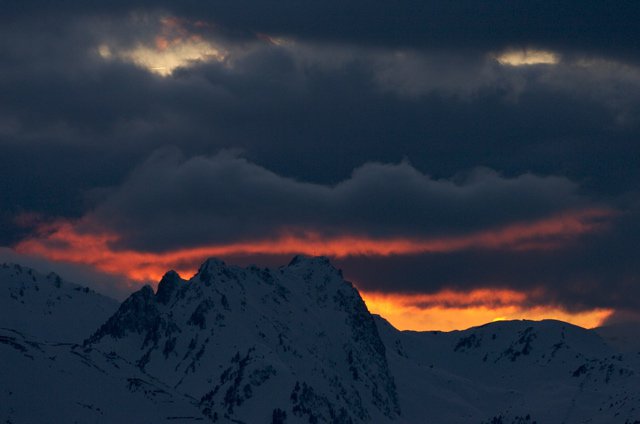 You'll have to stay tuned for the choice sunset shots.
Fabien had headed down a bit early so it was up to Sammy and Charles (who unfortunately tore his ACL on the jump the next day while getting a few last shots) to put on a show. And being the hard working athletes that they are, neither failed to disappoint and Felix and Dominique proceeded to score some of the best ski photos I've ever seen, making for a highly successful shoot for Salomon, and a wonderful time had by all.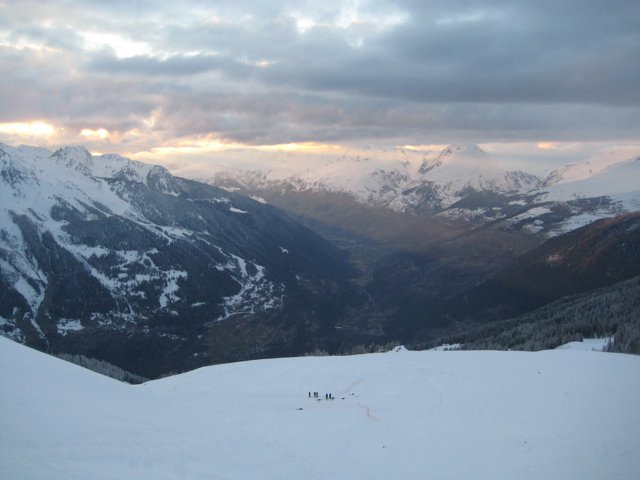 The crew heads home as the sun goes down behind the Alps.