Acclaimed Artist Steve Balok Releases Limited-Edition, Autographed Prints of Tanner Hall, Tom Wallisch, Sammy Carlson and John Spriggs
Nationally renowned artist Steve Balok is bringing his art to the sport of freeskiing. Balok recently unveiled his collection of Color Pencil drawings, including a Portrait of freeskiing sensation Tanner Hall during IF3 in Montreal.
Steve Balok is well known for his drawings of iconic NASCAR drivers and is one of NASCAR's official artists. Now starting a new chapter of his career Balok has cracked open the door to the Free Ski world. With the amazing ability to capture faces, expression and excitement Balok has created Four new drawings of the most popular and influential figures in the sport of Free Skiing, including: Tom Wallisch, Tanner Hall, John Spriggs, and Sammy Carlson.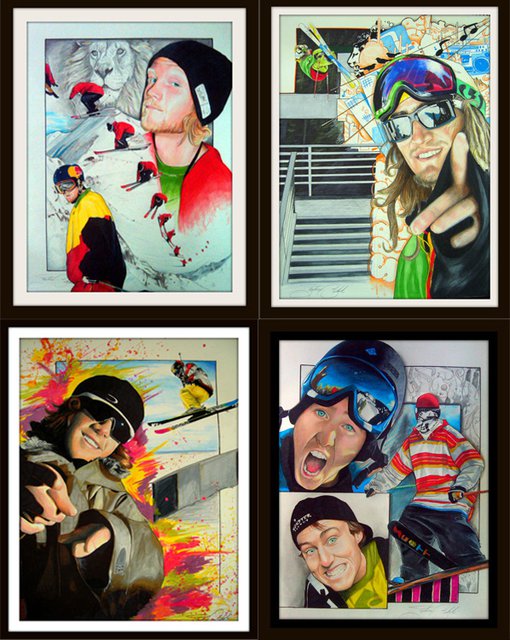 "I have always had a passion for freeskiing, and when I saw the response that some of my drawings were getting on various ski websites, I thought this could be a great project for everyone," said Balok.
Tanner Hall had actually known about Steve for a few years, as a drawing that Steve sent to him in 2008 hangs on the wall at his home in Park City. When asked about Steve, Tanner explained, "Steve's work speaks for itself. I couldn't be more stoked to partner with an artist of his caliber and help more freeski fans enjoy his work."
The Drawings are Limited Editions, with only 150 prints of each athlete. Both the Athlete and the Artist have signed each of the prints. The athletes and Steve Balok are proud to offer these to the Public. They are all numbered and printed on Museum quality 100lb paper and are available at http://flowmotionclothing.com/ArtWork_Prints.html for $99.00 each.