The Austrian Freeski Open presented by ATOMIC has been the most important freeski event in Austria for years. Once more this season 80 riders representing 12 nations gathered in Mayrhofen's Penken Park to battle for the prestigious titles and a total purse of 15.000 US Dollar. The riding level was accordingly high throughout all three contest days, that took place on a slopestyle course consisting of two rails and two big kickers.
Elias Ambühl surprises everybody
The Austrian Open culminated in the men's final last Friday. The feld of competitors consisted of 15 invited top pros, among them ATOMIC team riders Beni Mayr and Tobi Tritscher, and the best 15 riders from the previous qualification including Elias Ambühl. The 16-year-old from Grisons, who rides for the team of ATOMIC Switzerland, proved at once that the contestants from the qualification were on par with everybody else. With a perfect run including a super clean Switch Double Cork 1080° Japan, currently one of the most technically challenging tricks in freeskiing, Elias took the lead in the first round and never let it go until the finish. Second
became Elias' older brother, Andri Ambühl, in front of Beni Mayr, who was content with his third place. The Munich local and member of the ATOMIC European Team had been injured earlier this season and just came back to full force in the official training at the first day of the Austrian Open.
Successful Rookies and Ladies
The men were not the only successful ATOMIC riders, however, the Rookies and Ladies were as impressive. 15-year-old Markus Obwaller of the ATOMIC Austrian Team claimed the title in the Rookies' section and Chrissy Huber of the ATOMIC European Team became fourth in the Ladies' Competition, though it was her first contest after a long injury lay-off. Additionally Marco Möschl, who was best non-sponsored rider as second place finisher of the Rookies, won a one-year equipment deal with ATOMIC. Once again the Austrian Freeski Open were a great event that inspired every rider. Most of all Elias Ambühl, of course: "The Austrian Open are simply fantastic. They were my first big contest of the season and I am immediately in the top spot. I hope I can continue like that!" Beni Mayr was content, as well: "Following my injury lay-off a third place finish is a big success. Now I am looking
forward to the up-coming events as I am really going to charge this season."
About Beni Mayr
Beni Mayr is without a doubt one of the greatest talents of the German-speaking freeskiing scene. Accordingly the Munich native has already collected many trophies, for example he became German Slopestyle Champion in 2008 and was voted "Freeskier of the Ye"r" by the fans at the year's end. At the age of three Beni stood on skis for the very first time in the hills around Munich. Soon he switched to the real mountains and started a typical racing career. Later on he changed to traditional freestyle. However, his run in the German National Team in moguls was soon
stopped by a severe knee injury. Thus he came to freeskiing three years ago and it seems the Senior at high school finally found his passion. The 19-year-old refers to the X-Games and filming in Alaska as his biggest goals and he may well succeed, if he continues to progress as fast as in recent years. And should he really become the next superstar, he will appreciate the lifestyle, as the surf fan dedicates himself to partying, too.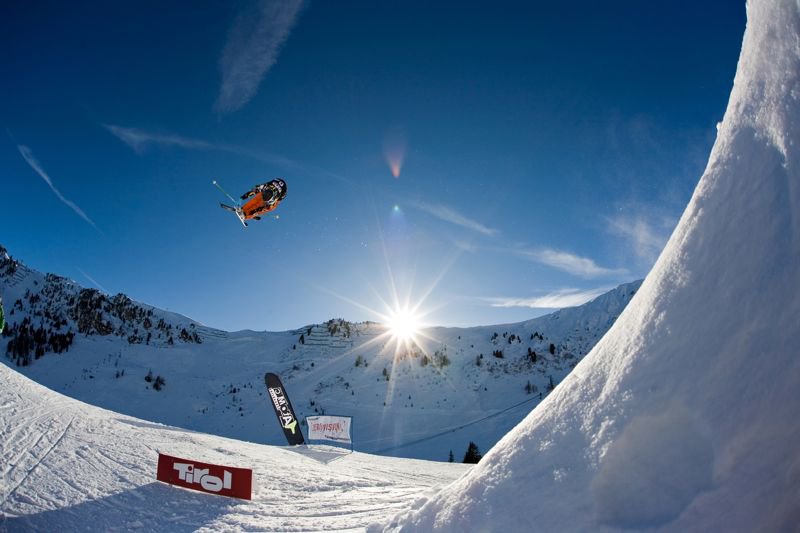 About Elias Ambühl
According to his genes, Elias Ambühl should rather carve through gates instead of jumping over kickers, since his father used to ski in the Alpine World Cup for the Swiss National Team. Thus it came as no surprise that Elias started his skiing career in racing. However, when his older brother Andri switched to freeskiing, Elias voted for freedom on two boards, as well. And he was right, as the young boy from Masein, a small village close to Chur in Grisons, soon started to collect respectable results. Among others he became Swiss Champion in Big Air and Slopestyle. After finishing school last summer, the 16-year-old member of the ATOMIC Team Switzerland now fully focuses on his freeskiing career. Therefore he plans to spend his summers in New Zealand in the near future. The table-tennis fan ambitiously strives for his goals and thus he hopes to spend more time in the backcountry aside from all the contests, because he ranks versatility as the most important skill in skiing. A skill he particularly admires in Andreas Håtveit.
ATOMIC: Passion, Innovation and Performance since 1955
ATOMIC manufactures products which are perfectly tailored for ski racers and freeskiers, cross-country skiers and backcountry skiers, beginners and World Champions alike. Every ATOMIC product is much more than the sum of its component parts, not only incorporating the know-how of creative experts, but also embodying the passion for skiing of each and every ATOMIC employee. ATOMIC is based in Altenmarkt, in the heart of the Alps, where snow is always nearby and where each new idea can be tested right there and then, 365 days a year. Thanks to a combination of experience, innovation and passion, ATOMIC has been synonymous with winter and skiing since the company was founded in 1955.
Austrian Freeski Open Results
Men's Results
1. Ambühl Elias - SUI
2. Ambühl Andri - SUI
3. Mayr Beni - GER
4. Scherlin Oscar - SWE
5. Hollaus Patrick - AUT
6. Holzmann Marlon
- AUT
7. Mononen Jussi - FIN
8. Gehring Xavier - GER
8. Hyysalo Pekka - FIN
10. Leppänen Roope - FIN
Ladies' Results
1. Michel Nina -SUI
2. Stoffel Lena - GER
3. Romani Canisia - NED
4. Huber Christina - GER
5. Behnd Evelin - SUI
Rookies' Results
1. Obwaller Markus - AUT
2. Möschl Marco - AUT
3. Mahler Kai - SUI
4. Gerhart Julius - AUT
5. Mangold Tobias - GER
For further information about the Austrian Freeski Open 2009 presented by ATOMIC please visit http://www.austrianfreeskiopen.com.